L'Oreal betting big on domestic beauty industry
By HE WEI in Shanghai | China Daily | Updated: 2021-02-18 07:32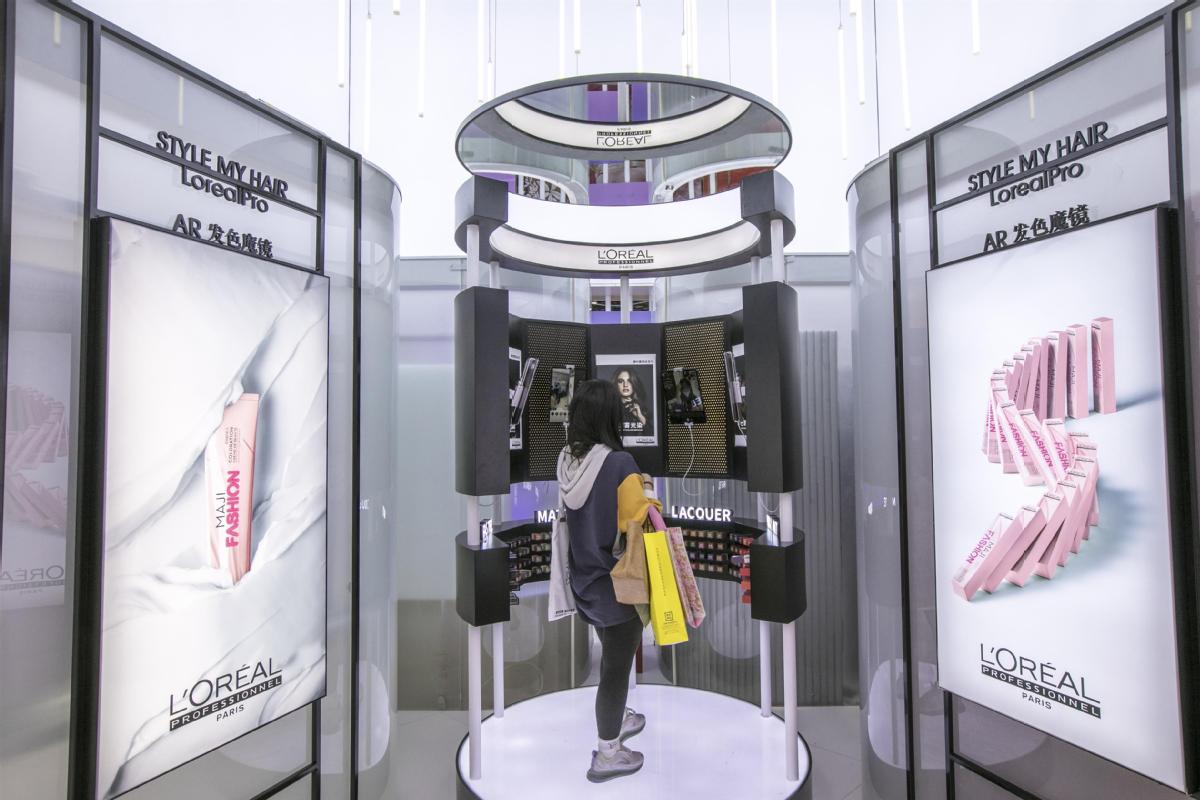 Skincare and beauty company L'Oreal Group is working hard to carry out its "good consumption "pledge made during the China International Import Expo, with a torrent of new store openings and campaign launches targeting the Chinese market within a month.
The development comes after L'Oreal last week reported "spectacular" sales in the country, propelling the group's fourth-quarter business performance.
Just days ahead of the Lunar New Year, a 3CE Stylenanda flagship store was launched in Shanghai's downtown Xintiandi area, where customers can purchase a variety of cosmetics by 3CE, a brand originally from South Korea and later acquired by L'Oreal.
As 3CE Stylenanda's largest flagship store in China, it features four themed areas-a courtyard labyrinth, a space with futuristic cars, an area imitating a watery space and another recreating the scenery of Jeju Island, South Korea.
To celebrate the opening of the Shanghai flagship store, the brand launched a limited-edition 3CE collection exclusive to the city.
Such robustness is reflective of L'Oreal's overall strength in China, where 27 percent year-on-year growth was achieved in the fourth quarter of 2020, compared with its 4.1 percent dip globally.
"The market recovered significantly in the second half, growing over 4 percent in the year, boosted by strong omnichannel demand for selective brands and very dynamic e-commerce," the company said in a news release on Feb 11.
L'Oreal Group Chairman and CEO Jean-Paul Agon said recently that consumption was key to economic recovery and proposed its "good consumption" framework in Shanghai to ride the trend.
"China and the European Union can draw many lessons from each other," Agon said. "For example, the EU's experience in safety and regulation can be a good reference for China, while China's success in enabling digital consumption can inspire Europe."
For instance, Miss M, which the company says is its first-ever virtual host, brought to life MG beauty masks after first appearing during the third CIIE in November.
Customers are now likely to run into Miss M any time of the day as they watch the brand's livestreaming sessions, a ubiquitous practice in China's retail landscape today to retain and attract users, according to MG's brand director Li Xiaomei.
"While the artificial intelligence-backed Miss M is designed to give more detailed introductions of products, we now view her as being more than a virtual assistant. Instead, she's the bridge connecting the brand and our customers," Li said.
Li added that the brand is considering more dedicated columns and video channels to better engage with customers keen to learn about skincare tips and the vast array of masks and skincare products the brand is poised to offer.
During the latest CIIE, L'Oreal highlighted its participation not as a beauty company, but as an "ecosystem", meaning a comprehensive approach to co-creating content, experience and beauty tech with technology startups, consumers and other partners.
For instance, it set up a Beautytech Lab to present beauty-tech innovation and strategic transformation achievements from deeply integrating AI, augmented reality, the internet of things, 5G and other cutting-edge technologies with beauty products, use and consumption scenarios, marketing models and supply chains.
In Shanghai, it rolled out China's first "Super Lab" featuring 3D and VR technologies by its SkinCeuticals brand, which is known for brightening skin tones.
With the aid of Chinese tech startup ArchiFiction, L'Oreal presents a seamless space where customers can touch and feel products and immerse themselves in vivid brand storytelling and product introductions without needing wearable gadgets.
They are then redirected to a QR code, allowing instant purchases and immediate home delivery.
"The naked-eye 3D+VR experience, which first entered commercial use in China, helps us build strong online and offline interconnectivity, bringing consumers a disruptive immersive entertainment retail experience," said Wang Minli, general manager of the SkinCeuticals brand in China.