Wang Yi: Put people first with vaccines
By LIU YINMENG in Los Angeles | China Daily Global | Updated: 2021-02-18 12:25
China's State Councilor and Foreign Minister Wang Yi on Wednesday called for enhanced international cooperation on COVID-19 vaccines and emphasized a people-first approach in the fight against the pandemic.
"In the face of this pandemic, nothing matters more than the people, and nothing is more valuable than human lives. This is a relay race of working together to save lives. It is not a zero-sum game where one's gain means the other's loss," Wang said.
Wang made the proposals at the United Nations Security Council's open meeting during which the 15-member organ addressed equitable access to vaccines in regions affected by conflicts and insecurity.
Wang stressed the need to "replace division with solidarity" and stay on the right path of cooperation. He said countries need to resist prejudice and respect science, in addition to rejecting misinformation and attempts to politicize the pandemic.
"In this regards, members of the Security Council must lead by example," he said.
Wang said vaccines are "powerful weapons to defeat COVID-19", but there are several urgent issues related to them that need to be addressed, the first of which is the deficit in production capacity.
For the vaccines already put into urgent and conditional use, countries should increase supply by boosting domestic production and ensure international cooperation in the form of commissioned and joined production, Wang said.
The second issue that Wang highlighted is the distribution deficit. Vaccines are reaching high-income countries quickly, while the world's poorest countries have almost none at all, Wang said. This not only results in an immunity divide; it will also widen the development gap.
"We should come together to reject vaccine nationalism, promote fair and equitable distribution of vaccines, and in particular, make them accessible and affordable for developing countries, including those in conflicts. We must ensure that no country in need of the vaccine is left behind, and no individual waiting for vaccination is neglected," Wang said.
Countries in armed conflict that are affected by humanitarian crises are weak links in the global battle against COVID-19, and they deserve particular attention, Wang said.
He noted the importance for parties to armed conflicts to abide by Resolution 2532, which demanded the cessation of hostilities in all situations on the Security Council's agenda to combat COVID-19. They must walk away from the battlefield of armed conflicts and join the fight against the coronavirus, Wang said.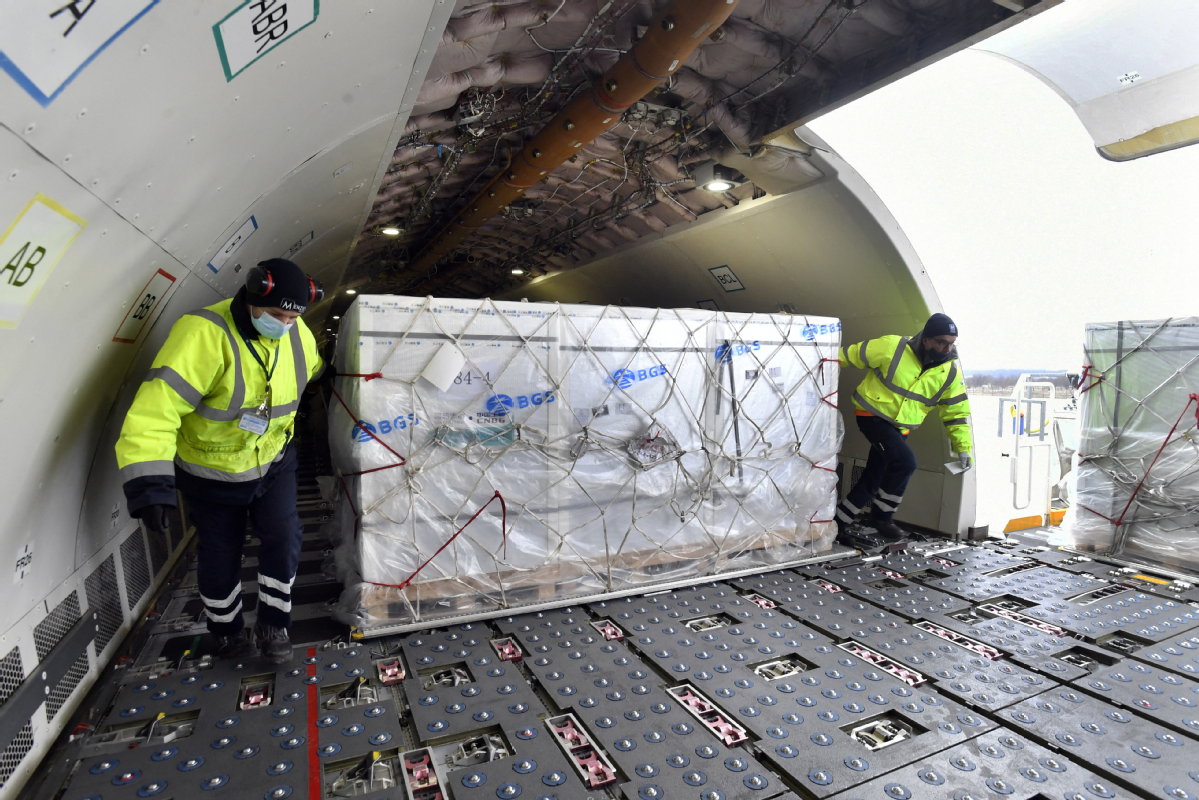 Access to humanitarian assistance, especially for women, children and other disadvantaged groups, is also important, Wang said, adding that the UN should make good use of cease-fires to carry out mediation and advance political settlement.
Wang noted Chinese President Xi Jinping's announcement that China's vaccines would be a public good. China will help realize vaccine accessibility and affordability in developing countries, he said.
China was among the first to join the World Health Organization's Access to COVID-19 Tools Accelerator, an initiative that accelerates the development, production and equitable access to COVID-19 tests, treatments and vaccines, Wang said.
It has also actively launched vaccine research and development cooperation with more than 10 countries involving over 100,000 volunteers of 100-plus nationalities. In addition, China has joined COVID-19 Vaccines Global Access (COVAX) and given it strong support.
"We are making concrete efforts for the equitable distribution of vaccines. At the request of the WHO, China has decided to preliminarily contribute 10 million doses of Chinese vaccines to COVAX, to meet the urgent needs of developing countries," Wang said.
China has donated vaccines to 53 developing countries and exported vaccines to 22 nations, he said. China also has been using its strength in industrial chains to help other countries manufacture vaccines in China, or locally, so as to boost the global production capacity.
Finally, China has decided to join the UN's Group of Friends initiative to donate COVID-19 vaccines to UN peacekeepers, Wang said.
"China's commitment to international vaccine cooperation is not about achieving geopolitical goals, or reaping economic benefits, or attaching political strings. What concerns us most is to ensure that vaccines become accessible and affordable public goods for people of all countries, namely, a people's vaccine," Wang said.
China will work with all parties to step up cooperation on vaccines and COVID-19 preparedness, to foster a global community of health for all and to secure the ultimate global victory against the pandemic, Wang said.