Teacher evokes grandfather's spirit in the classroom
By YANG JUN and YANG WANLI | CHINA DAILY | Updated: 2021-02-23 08:53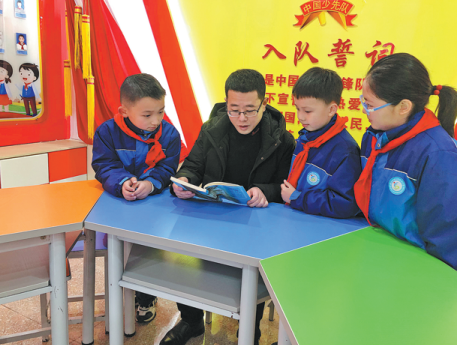 Remembering the time he spent with his grandfather during childhood, Ma Xun reeled off a list of more than 10 historical sites and museums that have a Red Army theme in Zunyi, his hometown in the southwestern province of Guizhou.
"Unlike my peers' grandparents, who usually took their grandchildren to parks or playgrounds at weekends, my grandpa, a Long March veteran, always took me to 'red history' sites and told me stories about his life," the 43-year-old said.
Born in Zunyi in 1921, Li Guang, Ma's grandfather, was orphaned at the age of 2. When he turned 8, his foster parents abandoned him, so he started herding cattle. He often went hungry.
In January 1935, when a group of Red Army soldiers arrived in Zunyi after crossing the Wujiang River during the Long March (1934-35), Li waited to see them.
In a bid to get people to vacate the town, the Nationalist Kuomintang forces had spread a rumor that Red Army soldiers "ate human flesh".
Li wanted to find out if the rumor was true. What he discovered was that the Communists helped seniors, tended the sick and often gave their own rations to people who were hungry.
On Jan 15, 1935, the Communist Party of China began one of its most important meetings in Zunyi, when Mao Zedong, New China's founding father, was elected leader.
It was around that time that Li spoke to a Red Army soldier and volunteered to join their ranks.
As a CPC member for more than 80 years, Li survived the war and never spared any efforts to shoulder responsibility and help those in need.
Starting in 1994, he donated more than 600,000 yuan ($93,000) in total to about 1,700 impoverished students, and voluntarily delivered over 1,000 speeches about the CPC's history to about 100,000 people.
He died on Jan 12 at age 99.
"For me, the spirit of the Red Army has a clear and specific image-my grandfather. He was tough enough to bear so many difficulties that we can hardly imagine and was so selfless that he treated everybody as though they were family members," Ma said.
As vice-principal of Dongfeng Primary School, Ma evokes his grandfather's spirit in his work and encourages students to cherish life and the chance to gain an education by learning more about history.
"My grandfather always asked me to treasure these peaceful times that were gained through the sacrifice of many lives," Ma said.
Since 2007, when he started work at the school, Ma has promoted various activities related to the "red spirit" and patriotic education.
Each of the school's 36 classes has one special lecture every semester, when a student's parent or family member is asked to instruct a class. They decide on the topic based on their own lives or work experiences.
"So far, the most-discussed topics have been about Party history, the nation's history and how the lecturers have been involved in China's development. Students love stories from people they are familiar with," Ma said.
In April, he organized a visit to a factory near the school that manufactures power equipment for space rockets and astronauts' spacesuits.
The trip was warmly welcomed by the students.
"For my grandfather's generation, their love of the country was illustrated by their devotion. In today's society, patriotism is reflected among the younger generation as they are learning more and contributing their intelligence to assist the country's development," Ma said.
In 2016, the education bureau in Zunyi's Honghuagang district, where the school is located, launched a training program for students who serve as "little exhibition guides" at weekends and during holidays.
Some students at the primary school are involved in the program, which helps them gain an in-depth understanding of their hometown's revolutionary tradition and establish clear goals and plans for their futures, according to Luo Weiwei, an official with the education bureau.
Mu Honglin, an 11-year-old who signed up for the program in the fourth grade, said: "I love stories about my hometown. Zunyi is famous as a 'red city', and that spirit is deeply imprinted in people's hearts."
Yang Yang contributed to this story.