PC giant Lenovo striving to cut ecological impact
By MA SI | China Daily | Updated: 2021-03-03 09:31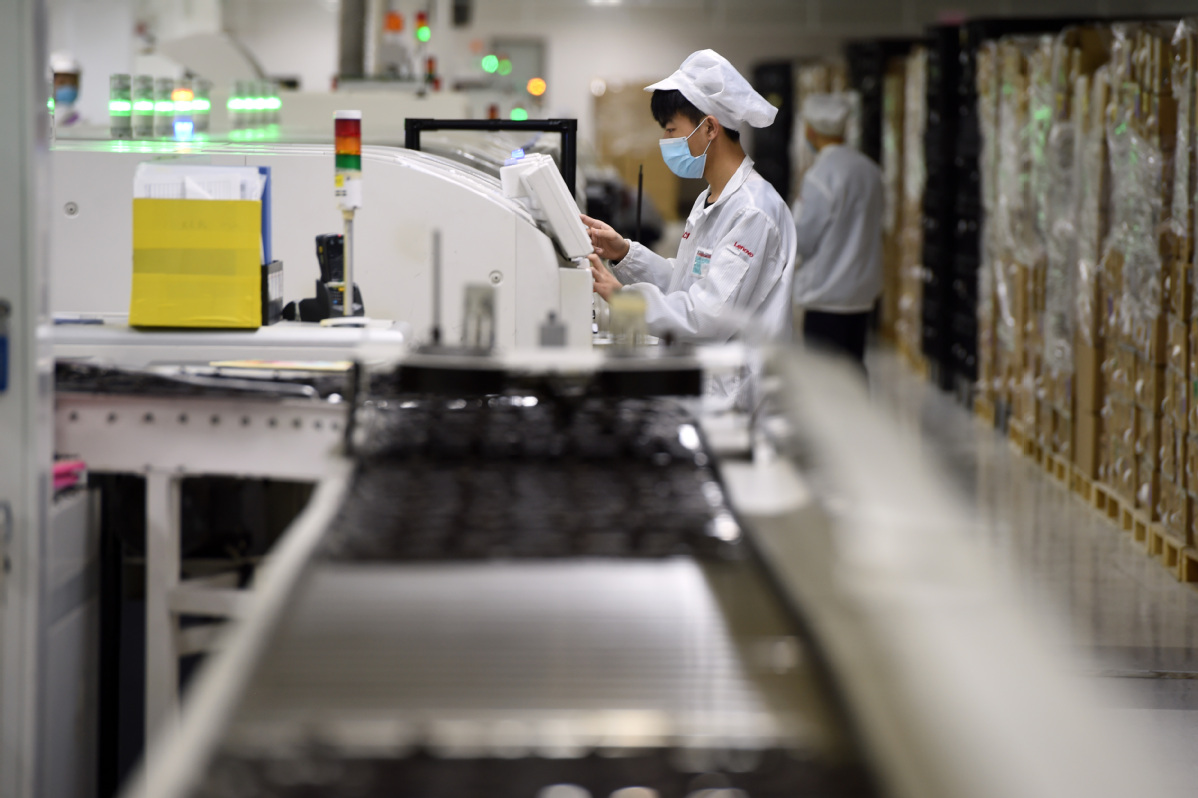 As the world's largest personal computer maker, Lenovo Group Ltd is working hard to cut its carbon footprint and leverage its edge in digital technologies to promote green manufacturing.
Green manufacturing, also known as environmentally conscious manufacturing, deals with green principles that are concerned with developing methods for manufacturing products from conceptual design to final delivery to consumers, and ultimately to end-of-use green disposal, in order to satisfy environmental standards and requirements.
Yang Yuanqing, chairman and CEO of Lenovo, said: "As a leader of a business employing 63,000 people and serving customers in 180 markets around the world, I am acutely aware and focused on the wider role Lenovo plays in the world today. We have a responsibility to all our stakeholders to make progress on our climate change commitments."
During the fiscal year 2019-2020, Lenovo achieved a 92 percent reduction in its scope 1 and scope 2 greenhouse gas emissions relative to the fiscal year 2009-2010, thus meeting its 2020 targets. Scope 1 and scope 2 greenhouse gas emissions are those from Lenovo's internal operations and the direct emissions from its facilities, as well as its energy suppliers and their operational emissions which are attributable to Lenovo's activities.
The company also expanded its commitment to sustainable operations with on-site renewable energy installations like the 3.9-megawatt solar panel array recently installed at its North American facilities in North Carolina, the United States.
The results came after Lenovo's long-term commitment to pioneer and experiment with the latest green manufacturing methodologies. In 2019, the company participated in the eco-design pilot project of the Ministry of Industry and Information Technology, the top industry regulator in China.
After three years of exploration and practice, Lenovo's team successfully demonstrated a green product development concept guided by life cycle assessment principles for microcomputer products, which included design, manufacturing and recycling.
In August 2019, the ministry awarded Lenovo's manufacturing sites in Chengdu, Sichuan province and Hefei, Anhui province with the "National Green Factory" award for successfully applying a green supply chain system. The award is based on the successful application of five criteria: green production, supplier management, green logistics, green recycling and green information disclosure. Moreover, a total of 75 models of its desktop and notebook products were recognized with "Green Design Product "awards.
On the basis of these positive results, Lenovo said it has continued to invest in green manufacturing through energy-saving and environmentally friendly products, explore innovative technology and solutions including recycling electronic waste and reduce emissions through innovations that produce lighter product packaging.
In November 2019, Lenovo announced a strategic partnership with Schneider Electric to develop smart green manufacturing solutions for the Chinese manufacturing sector.
Leveraging the strengths of both companies, the strategic partnerships create powerful synergies by combining Lenovo's industrial internet of things solution with Schneider Electric's smart green manufacturing solution based on EcoStruxure. The combination builds a blueprint that can be provided as a smart manufacturing solution to hybrid manufacturing operations, regardless of the vertical industry they operate in.
In particular, the focus includes artificial intelligence algorithms and big data as it relates to all aspects of efficiency management, predictive maintenance, production quality and other industrial applications.