Virtual healthcare helps save time, lives
By ZHENG YIRAN | China Daily | Updated: 2021-03-09 11:11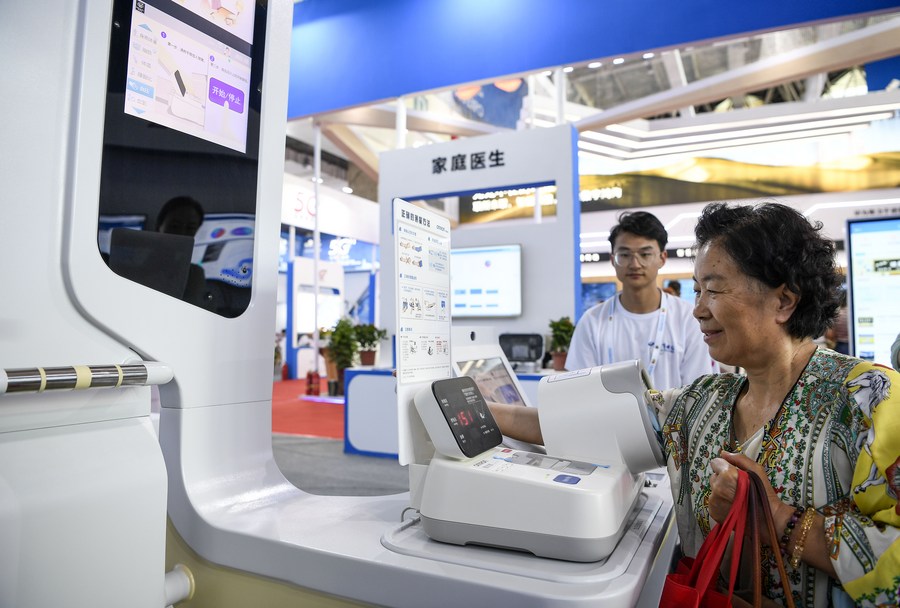 On a typical recent Tuesday afternoon, Wang Nan, a retired primary schoolteacher living in Shaoxing, Zhejiang province, went to a community service station to undergo a regular physical examination.
With a smart eldercare solution launched in the community, the 62-year-old, who has been suffering from high blood pressure for years, no longer needs to visit hospitals to monitor his health.
"I can get thorough body exams in the community and the results, such as blood pressure data, are uploaded to the online smart health management system where my doctor can get access. Once a problem is spotted, I can get medical consultation services online without the need to wait in line at brick-and-mortar hospitals," Wang said.
The smart health community solution was provided by Beijing-based BOE Technology Group Co Ltd, an internet of things company providing intelligent interface products and professional services for information interaction and human health.
Specifically, when the solution is applied in communities, it offers a set of physical diagnostic equipment, such as sphygmomanometers, height and weight scales, Body Mass Index and bone density meters, and noninvasive multiparameter detectors. User data is automatically synchronized to BOE's smart system where users can check results and consult a human or artificial intelligence doctor if necessary.
In addition, BOE's smart health community solution provides automated external defibrillators to seniors living in communities, offering timely cardiac emergency assistance.
Liu Jia'an, senior vice-president of BOE and also co-chief executive officer of the Smart Medicine and Engineering Integration Business of BOE, said: "With the integration of healthcare and technology, together with the leapfrog development of 5G, AI, big data, IoT and life technologies, smart healthcare came into being.
"The rapid development of technology also promoted the effective docking and resource optimization among individuals, families, communities and healthcare institutions, offering strong support to the realization of life-cycle health management," Liu said.
To take advantage of high technology to improve the efficiency of first aid, BOE launched a smart first-aid solution.
During traditional emergency calls, old people dialed emergency numbers, informed the operator of his/her exact location and waited for an ambulance.
In contrast, BOE's smart first-aid solution, which is installed in smart home appliances, mobile apps and mobile mini programs, automatically gets access to the caller's location and health data. Through real-time video calls, emergency call operators are able to learn of on-site situations and guide the caller in self-aid until help arrives.
Furthermore, with such a solution, medical equipment onboard ambulances can monitor patient signs in real time and upload the data to a hospital so that it is able to gain access to the patient's health condition in advance, thus saving precious time.
Wu Yushao, deputy head of the China National Committee on Aging, said that smart technologies solve problems in traditional eldercare, including issues related to home care, travel, safety protection, health management and basic psychological care.
"Modern technologies such as IoT, big data and AI are promoting the 'overtaking-on-a-corner' process in China's eldercare sector," Wu said.
Liu from BOE said that in the future, the company plans to take advantage of biochips, IoT and AI technologies to further optimize its smart healthcare management ecology, bring about "family-community-hospital" service scenario linkage and data exchange, and provide customers with life-cycle medical services running from prevention, diagnosis and treatment to rehabilitation.