Japan's pain still raw a decade after disaster
By WANG XU in Tokyo | China Daily | Updated: 2021-03-12 09:37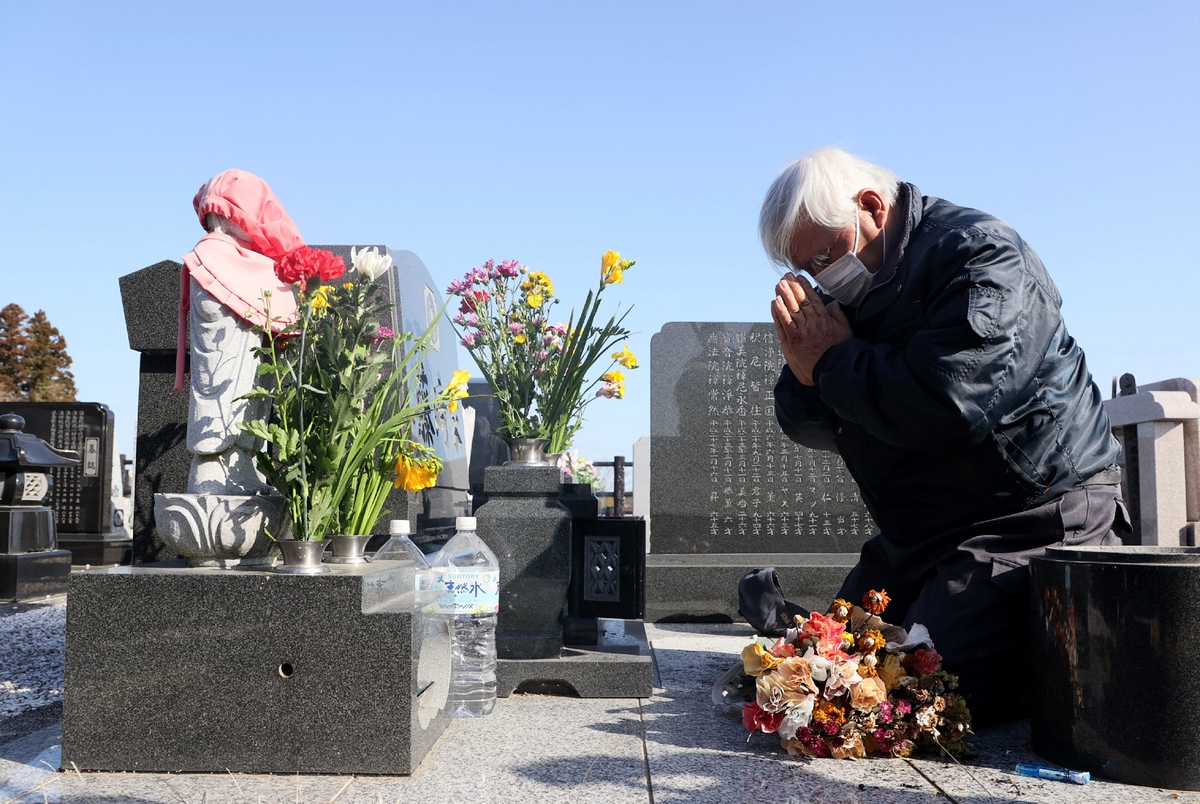 In a nation grappling with consequences, emperor leads mourning for lives lost
Beginning with a moment of silence, Japanese from all walks of life on Thursday mourned the nearly 20,000 people lost to the massive earthquake and tsunami that struck the country a decade ago.
At 2:46 pm, the time the earthquake hit, many of those grieving for loved ones-those killed or never found-joined Japanese Emperor Naruhito and Empress Masako for a minute of silent prayer in Tokyo's National Theater to commemorate the 10th anniversary of the disaster. Their ranks included anti-nuclear activists.
Many more people, like Yasuo Takamatsu, preferred to observe their remembrance at home.
Takamatsu, now aged 64, lost his wife, Yuko, on that tragic day.
On March 11, 2011, one of the biggest temblors on record touched off huge waves that crashed onto the northeastern coast of Japan, destroying homes and setting off a triple meltdown at the Fukushima Daiichi nuclear plant. At least 18,426 people died, mostly in the tsunami, including 2,527 whose remains have not been found. Local authorities still regularly conduct searches in the sea and along the coast for traces of those still missing.
The tsunami barreled into more than 1,600 kilometers of coastline, inundating some communities as far as 10 km inland.
Takamatsu's wife was one of some 2,500 people whose remains have not been found yet across the region. The couple lived in Onagawa in Miyagi Prefecture. Takamatsu has been looking for her ever since.
"I'm always thinking that she may be somewhere nearby," he said.
In order to find his wife, Takamatsu got his diving license and has gone on weekly dives for the past seven years-470 trips and counting.
So far, he has found albums, clothes and other artifacts, but nothing that belonged to his wife.
'As long as my body moves'
He said he will keep searching for his wife "as long as my body moves".
"In the last text message that she sent me, she said, 'Are you okay? I want to go home'," he said."I'm sure she still wants to come home."
After the disaster, the Japanese government expanded the reconstruction budget four times in 10 years and has laid out the equivalent of $2,400 for every person in Japan to revive the northeastern region hit by the tsunami and mitigate radiation at the nuclear plant. The cleanup effort, which involves dealing with contaminated water and solid waste, has been one of the world's most expensive; it has cost some $300 billion so far.
At the ceremony, Emperor Naruhito said that although he felt reconstruction had been progressing, various problems still remain.
"I, together with the empress, would like to continue to listen to the voices of those in the afflicted regions and stay close to them," the monarch said.
Japanese Prime Minister Yoshihide Suga reiterated the government's commitment to leading reconstruction efforts but mentioned little about how to deal with a forest of steel tanks holding more than a million tons of water with radioactive elements that is growing outside the power plant.
The Japanese government and the plant operator, Tokyo Electric Power Company, had said last year they were working on the final details of a plan to dump the massive amounts of radioactive water into the Pacific Ocean, but the decision was postponed several times by protests.
"Scary as it sounds, Tokyo insisted that the water will only retain low levels of tritium, an isotope of hydrogen that experts say is harmful to humans only in very large doses," said Yu Qiang, a researcher of Japan studies at the University of International Relations in Beijing. "However, considering the amount is enough to fill 400 Olympic-sized swimming pools, dumping it into the sea is no longer a domestic problem of Japan but a grave issue that affects the whole marine environment."
Agencies contributed to this story.