Spokesman: SAR electoral changes are China's internal affair
By MO JINGXI | CHINA DAILY | Updated: 2021-03-16 07:10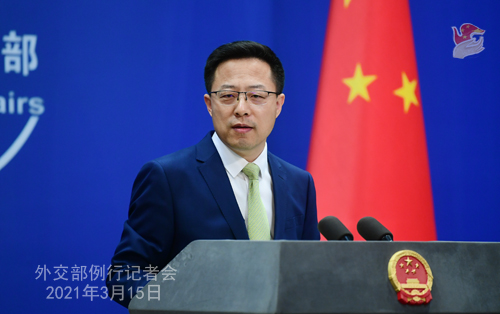 Foreign Ministry spokesman Zhao Lijian said on Monday that the electoral system of the Hong Kong Special Administrative Region is an integral part of China's local electoral system, and its design, development and improvement are entirely China's internal affair.
"China deplored and rejected the move by a small handful of countries trying to denigrate the National People's Congress' decision on improving the electoral system of the Hong Kong SAR," Zhao said at a regular news briefing in Beijing.
He made the remarks in response to a Hong Kong-related joint statement made by the Group of Seven foreign ministers and the high representative of the European Union.
Zhao said that during the 150 years of British colonization, Hong Kong residents had been oppressed and had no human rights or democracy.
"I want to ask the G-7 group why didn't they pay attention to Hong Kong's human rights and democracy during that time period?"
China urged the related parties to face up to the reality that it had been 24 years since Hong Kong returned to the motherland and to immediately stop interfering in Hong Kong's affairs, which are China's internal affairs, Zhao said.
According to Zhao, as China and other developing countries stated during the 46th session of the United Nations Human Rights Council, some countries, who regard themselves as judges of human rights, have been taking a wrong approach of double standards in terms of human rights.
"They use human rights as a tool of bullying and political manipulation while trying to cover up their own human rights abuses," he said, urging these countries to protect human rights with concrete efforts such as taking effective measures to prevent COVID-19 and protect people's lives and health.
Zhao said that the NPC's decision is aimed at upholding and improving "one country, two systems" and safeguarding the long-lasting peace and stability of Hong Kong.
"It is completely constitutional, legitimate and justified," he said.
Cui Tiankai, Chinese ambassador to the United States, said in an article published on Sunday in the South China Morning Post that the purpose of the NPC's decision is to provide an institutional guarantee for the principle of "patriots administering Hong Kong", and ultimately for the long-term implementation of "one country, two systems".
According to Cui, to improve the electoral system is not to deny or abandon "one country, two systems".
"Quite the opposite, it is to return to its very foundation and ensure its development in the right direction. Only on the basis of that can Hong Kong eliminate fundamental instability, avoid unnecessary damage and concentrate on development and people's livelihoods," he wrote.