Agricultural modernization on horizon
By Wei Houkai and Cui Kai | China Daily Global | Updated: 2021-03-18 08:54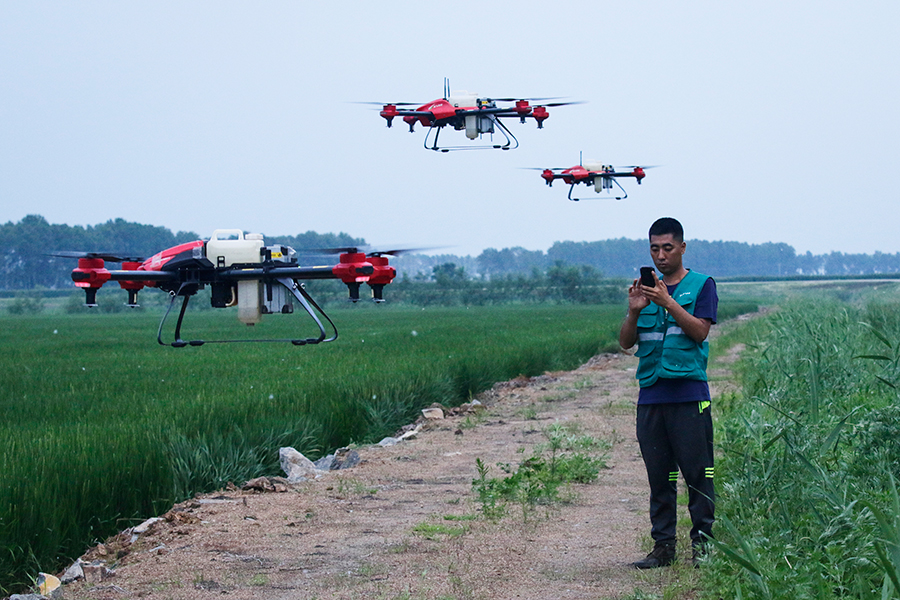 As early as the 1950s, the Chinese government vowed to achieve the goal of agricultural modernization. After nearly seven decades of development, China's agricultural modernization drive has made steady progress, with great achievements.
Output of grain and other staple agricultural products has steadily increased, and agriculture has become more profitable, competitive and sustainable.
From 1953 to 2019, the total output value of China's farming, forestry, livestock and fishery sector grew 4.5 percent on an annual average basis. Few countries in the world could maintain such a high growth rate of their agricultural economy for such a long period.
Progress in science and technology contributed 59.2 percent to China's agricultural output growth, and independently selected species have covered 95 percent of the sown area. China leads the world in terms of genome research and applications for paddy rice, cabbage, tomatoes and cucumbers, and has made breakthroughs in super rice, genetically modified corn and new species of soybean.
Since 2015, China's chemical fertilizer and pesticide levels have recorded negative growth rates. Rotational farming and pilot fallowing programs have been expanded to 2 million hectares. Key regions of the Yangtze River Basin have been subject to a 10-year fishing moratorium.
It is estimated that China has reached the midstage of agricultural modernization. By the average pace of recent years, China is poised to basically attain agricultural and rural modernization by 2035, but progress will vary considerably across regions and sectors. From the late 14th Five-Year Plan (2021-25) period to the early 15th Five-Year Plan (2026-30) period, China's prosperous coastal regions and suburbs of large cities such as Beijing, and Tianjin and the Zhejiang province are expected to basically achieve agricultural and rural modernization as leading areas.
Agricultural productivity is the weakest spot. By the World Bank's World Development Indicators, China's agricultural value-added per labor force was slightly above the world average in 2018, but 22.2 percent below the level of upper middle-income countries and only 12.1 percent of the level of high-income countries.
In China, agriculture continues to employ an outsize share of the workforce. Most farmers are smallholders employed in nonfarming sectors on a part-time basis. According to the World Bank, agriculture employed 25.4 percent of China's total workforce in 2019. In the same year, this percentage was 21.6 percent for upper middle-income countries and a mere 3.1 percent for high-income countries.
The report to the 19th National Congress of the Communist Party of China in 2017 called for turning China into a prosperous, democratic, civilized, harmonious and beautiful socialist country by the middle of this century. Agricultural modernization is an essential element in achieving this vision.
China will become an agricultural powerhouse as long as it strives to enhance the quality, efficiency and competitiveness of agricultural development. It will take time for China to develop into an agricultural powerhouse. According to projections of the Rural Development Institute at the Chinese Academy of Social Sciences, China's agricultural development will join the agricultural powerhouse ranks around 2040-years after attaining the basic level of agricultural and rural modernization.
From the mid-and long-term perspective in the path toward basic agricultural modernization by 2035, China should follow national conditions and historical experiences, safeguard the fundamental interests of farmers, and steer agricultural and rural reforms in the right direction.
The agricultural modernization strategy must prioritize food security, green transition, technology and education. Policy continuation and gradual reform should be carried out through a phased and focused arrangement.
Amid urbanization and the consumption upgrade, food security has come under strain. To ensure food security, China has to protect arable land, build farmland with high standards, improve agricultural infrastructure, apply advanced technology, optimize the product mix and increase crop yields. China should leverage food quota, tariff and nontariff trade measures to regulate grain imports to balance the structure of grain supply and demand.
China also should increase agricultural waste recycling and the efficient use of resources like water and soil. Green and circular agriculture should be developed based on local environmental capacity, the restoration of agricultural ecosystems, and improvement of market-based ecological compensation mechanisms involving various stakeholders.
Finally, China should offer classified policy guidance for regions in light of their comparative advantages, and encourage some regions to take the lead in achieving agricultural modernization. By 2035, all regions should basically achieve agricultural and rural modernization.
Wei Houkai is director of, and Cui Kai is an associate researcher for, the Rural Development Institute at the Chinese Academy of Social Sciences.