'Red tourism' boost expected during CPC centenary celebrations
By ZHAO XINYING | chinadaily.com.cn | Updated: 2021-03-24 13:41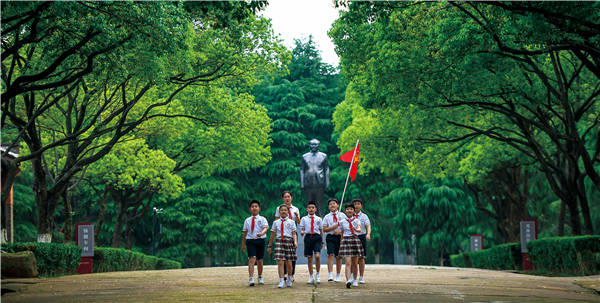 "Red tourism" has developed quickly in recent years and is expected to receive a further boost as the nation celebrates the centenary of the Communist Party of China, a senior official said on Tuesday.
In recent years, people's desire to learn and experience revolutionary history and culture has become stronger, Hu Heping, minister of culture and tourism, said at a news conference held by the CPC Central Committee.
From 2004 to 2019, national red tourism resources continued to expand and tourists got to view an increasing number of precious revolutionary cultural relics, said Hu, who also serves as a deputy head of the Publicity Department of the CPC Central Committee.
The number of such trips made by people increased from 140 million to 1.4 billion over the same period and many red tourism spots, such as Yan'an in Shaanxi province, have attracted people of different ages and nationalities.
In 2019 alone, more than 73 million trips were made to Yan'an, Hu said.
He said red tourism has not only met people's travel needs but also their desire for knowledge on revolutionary traditions. This has resulted in the economic development of old revolutionary areas.
In Pingshan county, Hebei province, where Xibaipo — a place of great significance to the CPC — is located, people have relied on red tourism to develop farmhouses, gardens and tourist shops. This has helped in the employment of more than 80,000 people and increased the income of local residents, Hu said.
There are more than 36,000 immovable revolutionary cultural relics nationwide, and more than 1 million State-owned movable revolutionary cultural relics, he said.
Among the immovable ones are the site of the First CPC National Congress in Shanghai city and Zhejiang province, the Jinggangshan Revolutionary Base in Jiangxi province and the Zunyi Conference location in Guizhou province, he said.
As the centennial birthday of the CPC approaches, Hu said the Ministry of Culture and Tourism will further develop red tourism and provide people with better products and services based on Party history education.
Protection of revolutionary relics will be also strengthened, he said.