Targeted steps unveiled to lift consumption
By OUYANG SHIJIA | China Daily | Updated: 2021-03-26 09:31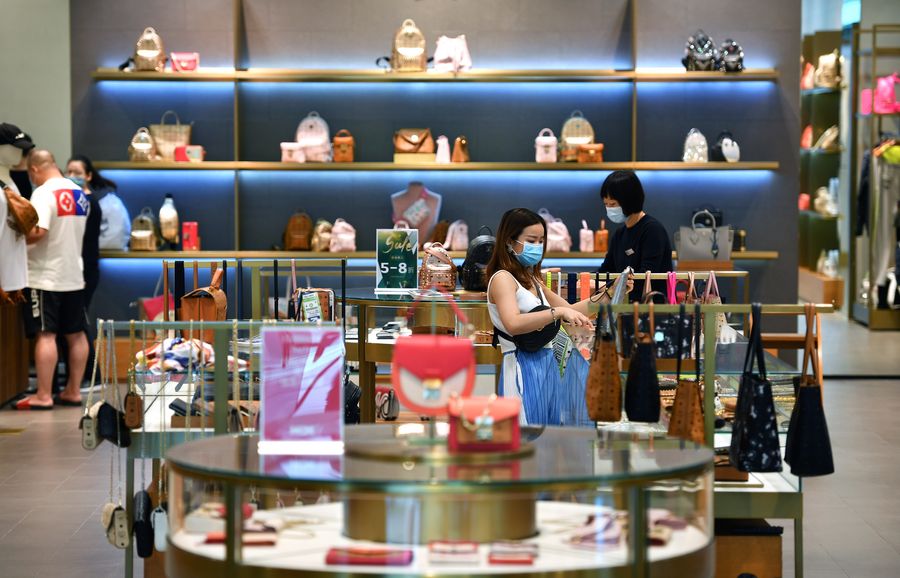 24 new measures to boost domestic demand, high-quality development
China on Thursday announced 24 targeted measures to spur new types of consumption, including accelerated "new infrastructure" construction and pilot programs for digital currency rollouts, as part of ongoing efforts to boost domestic demand and foster high-quality development.
Experts said the new moves are aimed at ramping up demand-side measures and boosting consumption to better unleash pent-up consumer demand, boost innovation-driven development and inject new impetus into the economy.
The country outlined 24 measures to further cultivate new types of consumption and promote the growth of both online and offline consumption, according to a document jointly released by the National Development and Reform Commission and 27 other departments.
According to the document, the measures will help meet residents' daily needs, fully spur consumption and foster a complete system for domestic demand, which is of great importance to build the new dual-circulation development pattern.
New measures include fostering new types of retail businesses, actively developing an internet-powered healthcare sector, boosting the development of digital culture and tourism, stepping up the construction of new types of information infrastructure, building an integrated national big data center system, stepping up the development of 5G networks and 1000M fiber optic networks and developing smart cities and intelligent networked vehicles.
More efforts will also be made to help enterprises improve the development capabilities of smart homes, smart mobile devices and wearables, spur the development of internet of vehicles, set up more electric vehicle charging piles and launch digital currency pilot programs in some cities.
Citing the 2021 Government Work Report, Bai Wenxi, chief economist of IPG China, said the government has set up some key tasks this year, including stabilizing and expanding consumption and ensuring that people have the ability and willingness to spend.
"To further expand consumption, we need to make a big push to increase people's incomes," Bai said."We need to follow the consumption upgrade trend to boost the development of internet-enabled forms of consumption, which will diversify the offerings, better meet consumers' changing demand and foster new growth engines for smooth internal circulation."
After years of development, consumption has become a key growth engine for China. Last year, consumption spending accounted for 54.3 percent of the country's GDP, the highest in recent years, and remained a major driving force for economic growth for the seventh consecutive year, official data showed.
Fu Yifu, a senior researcher at the Suning Institute of Finance, said while online consumption market was hit badly by the COVID-19 outbreak in 2020, new growth opportunities arose from online businesses in fields such as livestreaming in e-commerce, online education, remote working and online healthcare services.
"The new businesses added fresh impetus for the further development of China's consumption market," Fu said. "I believe consumption will further recover this year. On the demand side, the economic recovery has led to a rebound in income growth and boosted consumer confidence and future market prospects. On the supply side, the new types of consumption and government efforts to boost demand will further spur economic growth in the nation.
"It is predicable that the new types of consumption will be an anchor to boost consumption growth."
China's economy is expected to see a major rebound this year, with consumption being the pivot for economic recovery, said a report from the Center for Forecasting Science of the Chinese Academy of Sciences. China's GDP growth rate is expected to grow by 8.5 percent this year, while the consumption growth rate will be between 10.7 percent and 11.7 percent, it said.