Smart home appliances going to head of class
By MA SI | China Daily | Updated: 2021-04-07 10:05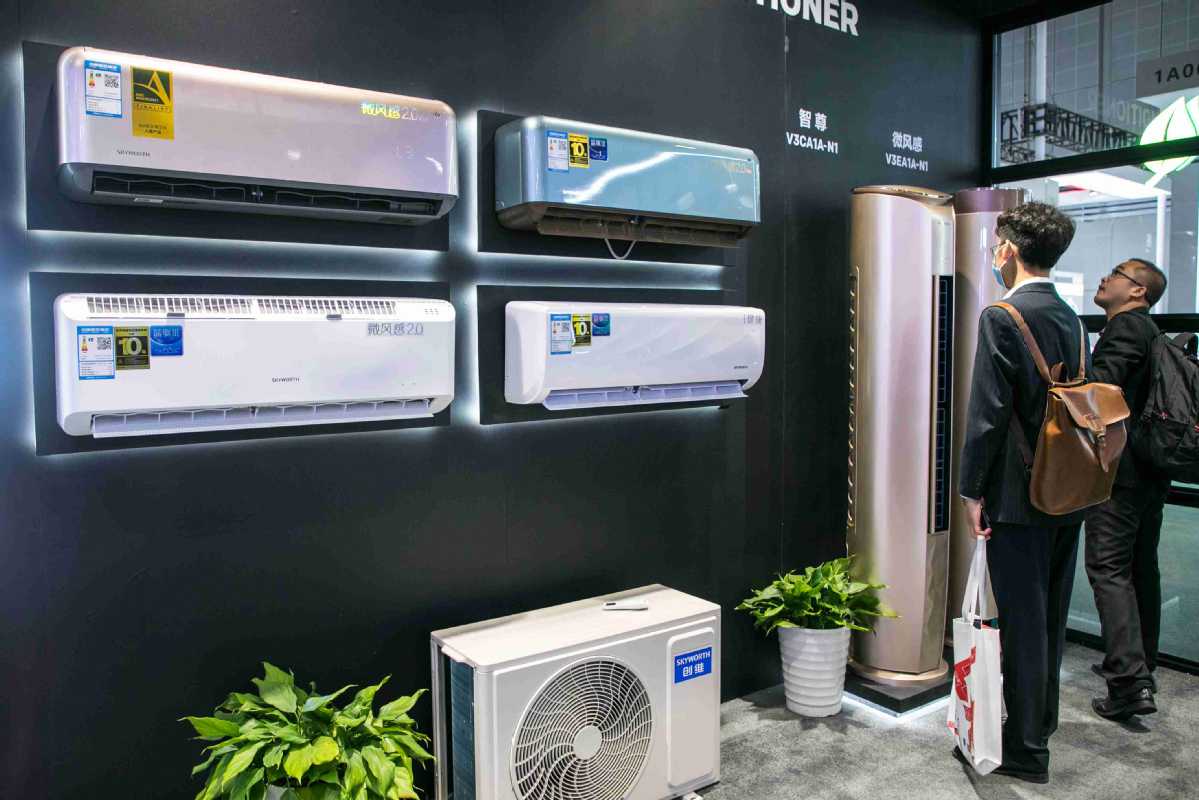 China's home appliance market is expected to return to pre-pandemic levels this year as high-end and smart products grow in popularity, according to a report from the China Center for Information Industry Development, a Beijing-based think tank.
The report showed that the retail sales in China's household appliance market reached 833.3 billion yuan (127.4 billion) in 2020, marking a year-on-year decline of 6.5 percent.
But such figures still showcased strong resilience amid the COVID-19 pandemic, the report said. Affected by the contagion, the first quarter of 2020 saw large-scale contraction with a year-on-year decrease of 35.8 percent in sales of home appliances, but then performance gradually improved. In the fourth quarter, online and offline markets fully recovered, and retail sales reached the highest annual level at 294.1 billion yuan.
It is also worth noting that last year, e-commerce channels accounted for more than 50 percent of retail sales of home appliances for the first time in China. In 2020, online retail sales of home appliances stood at 419.9 billion yuan, marking a year-on-year increase of 14.48 percent and an increase of 3 percentage points over the previous year. By comparison, retail sales of home appliances via offline channels were 413.4 billion yuan-a year-on-year decrease of 21.13 percent.
Rupert Hoogewerf, chairman and chief researcher of Hurun Report, said earlier that 5G, internet of things and big data have huge development prospects for the home appliance industry.
The effect of online channels on the home appliance industry is growing. E-commerce platforms Tmall and JD have become major selling platforms, and the industry is no longer dominated by offline retailing channels such as Gome and Suning, Hoogewerf said.
The report from the China Center for Information Industry Development also showed that the pandemic has reshaped consumer lifestyles, thus promoting changes in the types of home appliances available.
In 2020, the main 4K/8K smart TVs, which feature large screens, ultra-high definition and artificial intelligence, are becoming increasingly popular, as are healthy high-end air conditioners, premium refrigerators with large capacity and disinfection capabilities, and high-end washing machines. Such a shift in preferences has led to changes in the product structure of China's home appliance market and raised average prices.
Data from JD showed that in 2020, sales volume of TVs priced above 10,000 yuan on its platform increased by more than 70 percent year-on-year, and the market penetration rate of WiFi-enabled smart air conditioners increased from 49 percent in the previous year to 63 percent.
Retail sales of refrigerators priced above 20,000 yuan on JD also soared 132 percent last year. Dryers have become the biggest dark horse in white goods market, with market demand expanding significantly and retail sales increasing by 87.4 percent year-on-year.
Li Wenjie, who analyzes the home appliance market for JD, said the outbreak has changed consumer preferences and shopping habits. Chinese manufacturers have to allocate more resources to better exploit emerging opportunities to increase sales and market share, he said.
At the same time, household appliances, such as dishwashers, handheld vacuum cleaners, hairdressing and beauty products and massage chairs also recorded strong sales, which activated the otherwise sluggish home appliance market and also strengthened the role of home appliances in improving people's sense of satisfaction, the report from the China Center for Information Industry Development added.
Experts said the growing desire for smarter and high-end products is expected to continue in 2021, and it is bringing significant opportunities for Chinese and foreign home appliance makers alike.
German home appliance manufacturer BSH Hausgeraete, known for brands such as Siemens and Bosch, said it saw a "significantly growing demand" for dishwashers and dryers in China last year, growing 34 and 59 percent, respectively, as the company was the "strongest non-Chinese home appliance manufacturer in China".
In China, a "significant business recovery" with high growth rates started in last May, more than compensating for turnover losses during the first three months of 2020, BSH said in a statement.
To meet growing demand for its products, Galanz, a Chinese home appliance maker, also built a new plant in 50 days last year in Foshan, Guangdong province. With four new smart manufacturing lines, the base-which is capable of producing a microwave oven each 6.7 seconds-will have a production capacity of 11 million units annually, Galanz said.
To better pounce on the opportunities, Chinese home appliance maker Haier last month also unveiled a roadmap for the next phase of smart home development.
Demonstrating its leadership in smart home scenarios, solutions and technologies, Haier said it aims to deliver a better experience for users across clothing, food, housing, entertainment and transportation.
For example, Haier's air conditioners will automatically activate a sterilizing function based on detected levels of air pollution to remove seven types of common air pollutants, while releasing negative ions to provide a healthy and comfortable air environment for the family.
"At Haier, we have amassed over 36 years of knowledge from serving more than 180 million households, and gathered observations from tens of millions of connected devices. Our roadmap draws upon this insight and experience into the needs of household users, in order to usher in the future of connected smart home appliances," said Wang Ye, vice-president of smart home business at the Haier Home Appliance Industry Group.