Hong Kong tycoon Lai pleads guilty to illegal assembly
By GANG WEN in Hong Kong | China Daily | Updated: 2021-04-08 07:33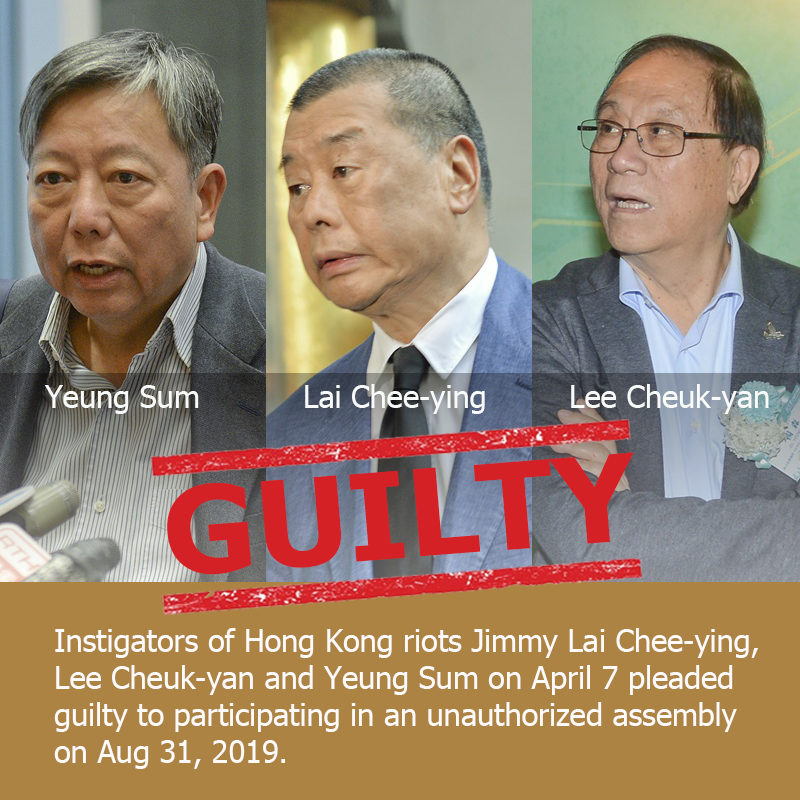 Hong Kong activist and media tycoon Jimmy Lai Chee-ying and two former lawmakers from the city could face up to five years in prison, after they pleaded guilty on Wednesday to a charge of knowingly taking part in an unauthorized assembly amid the city's 2019 social unrest.
Lai, Lee Cheuk-yan and Yeung Sum were arrested on Feb 28, 2020, over an illegal assembly that took place on Aug 31, 2019, when the city was embroiled in street violence.
The case was heard at the District Court in Wan Chai on Wednesday morning.
At the court, the prosecutor played several video clips that showed the participation of the three in the illegal assembly held at the Southorn Playground in Wan Chai district.
The videos also showed that Lai and Yeung were leading protesters in shouting slogans. When the march headed toward the police headquarters in Wan Chai, the videos also showed that the three were taking part.
The unauthorized assembly had paralyzed road traffic in the neighborhood for almost eight hours.
Sentencing in the case is set for April 16, the same day when Lai, together with six former opposition lawmakers, will be sentenced for organizing and knowingly participating in an unauthorized procession on Aug 18, 2019.
Lai and the six others were convicted on April 1 for their roles in the unlawful assembly at Victoria Park of Causeway Bay on Aug 18.
The two cases faced by Lai were part of four court cases in which Lai and a total of 14 other opposition activists were charged over several unlawful assemblies between August and October 2019.
Lai, the founder of Hong Kong tabloid Apple Daily, was arrested in August last year and in February on suspicion of violating the National Security Law for Hong Kong, which came into force on June 30, 2020.