Border agency: 172,000 sought March entry
By HENG WEILI  in New York | China Daily Global | Updated: 2021-04-09 10:40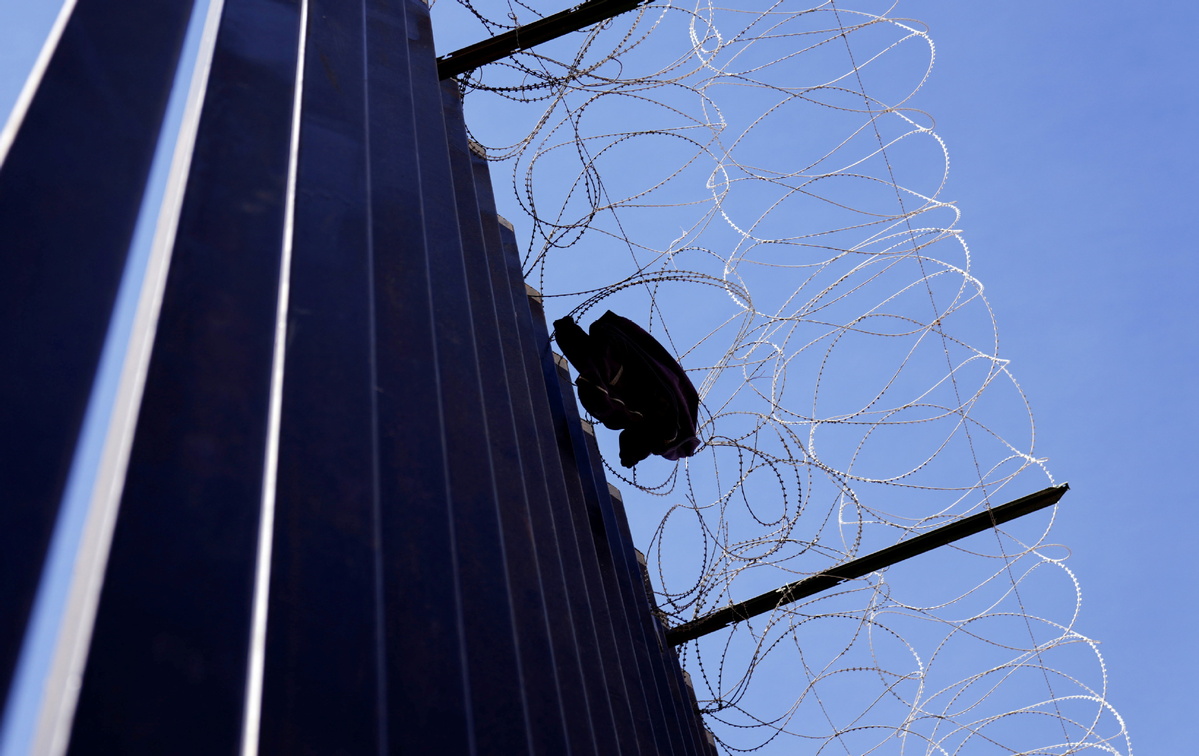 US Customs and Border Protection encountered more than 172,000 migrants attempting to enter the country along the southwestern border in March, according to operational statistics released by the agency Thursday.
The number — the highest in 15 years — represents a 71 percent increase over February.
CBP also continues to see a significant increase of unaccompanied children from Central America at the Southwest border, with 18,890 in March 2021 – a 100 percent increase over February.
"CBP has experienced an increase in encounters and arrests. This is not new. Encounters have continued to increase since April 2020, and our past experiences have helped us be better prepared for the challenges we face this year," said Troy Miller, CBP senior official performing the duties of the commissioner. "We are committed to balancing the need to maintain border security, care for those in our custody, and (keeping) the American people and our workforce safe."
The majority of those encountered on the border are single adults. CBP continues to expel single adults and family units that are encountered pursuant to Centers for Disease Control and Prevention (CDC) guidance under Title 42.
The Biden administration says the Trump-era policy known as Title 42, which referred to a 1944 public health statute to close the border to "nonessential" travel, is still needed to limit the spread of the coronavirus.
Biden officials say that migrants still can seek protection in the United States.
Since the start of the pandemic, more than 8,300 CBP employees have tested positive for the coronavirus, and 28 have died, the agency said.
In March 2021, CBP expelled 103,900 individuals under Title 42, 28 percent of whom were individuals who had been previously deported from the US under the same authority. Title 42 expulsions represented 60 percent of the total encounters for the month.
Although less than 11 percent of encounters in March were unaccompanied children, they make up the largest demographic group of individuals in custody at CBP facilities.
About 17,000 of the nearly 53,000 parents and children intercepted at the border in March, a little under one-third, were sent back under the COVID-19-related public health order, a Biden administration official said during a background briefing with reporters on Wednesday.
President Joe Biden said at a March 25 news conference that, "We're sending back the vast majority of the families that are coming. We're trying to work out now, with Mexico, their willingness to take more of those families back."
Commenting on the discrepancy between Biden's statement and the latest figures, White House spokesman Vedant Patel said that the administration's policy is to expel single adults and families to Mexico under Title 42 if they are caught crossing the southwest border illegally, but he added that does not always happen.
"In the event that Mexico is not able to receive an individual or a family, they are placed in immigration proceedings in the United States," he said in a statement.
"The Biden administration's use of Title 42 is flatly illegal," said Lee Gelernt of the American Civil Liberties Union, who sued the Trump administration over the policy, which the White House is defending in court, the Los Angeles Times reported.
CBP has recently more large groups approaching, especially in the Rio Grande Valley region. The groups of 100 or more individuals had dropped dramatically due to the pandemic, from 216 in fiscal year 2019 to 10 in fiscal year 2020, CBP stated.
As of the end of March 2021, CBP recorded 49 large-group encounters in fiscal year 2021, totaling more than 4,700 individuals.
"In all my 42 years here, I have never seen so many migrants risking their lives to cross the Rio Grande (river) as in the past couple of months," wrote Joe Frank Martinez, an elected Democratic sheriff in Val Verde County, Texas, in an opinion piece for USA Today. The county shares 110 miles of border with the Mexican state of Coahuila.
"I don't know whether to laugh or to cry when I hear Washington politicians arguing whether or not the number of migrants crossing our southern border has reached the point of 'crisis,'" Martinez wrote. "I know there's a crisis. We are living it, every single day."
On Wednesday, a letter signed by 275 sheriffs from 39 states was sent to the president, calling for him to secure the border and stem the flow of migrants.
The US southern border for years has been a flashpoint in American politics, with some staunchly opposed to allowing migrants entry while others cite humanitarian reasons to do so.
House Minority Leader Kevin McCarthy, a California Republican, called on Vice-President Kamala Harris to address the capture of two Yemeni nationals on the terror watchlist who had crossed into California from Mexico.
One suspect, 33, was apprehended on Jan 29 about three miles west from the Calexico Port of Entry. A second individual, 26, was picked up by agents on March 30.
CBP had issued a Monday press release on the arrests but later deleted it, citing national security reasons.
Neither Biden nor Harris, whom the president tasked with overseeing border policy, has visited the area.
McCarthy told Fox News that he requested a classified briefing from the FBI and CIA on the matter and said Harris should attend.
"I know she hasn't been to the border," McCarthy said. "I don't know if she's ever been (briefed) on this, but I think it'd be important that all leaders, because this isn't about Republican or Democrat, this is about the security of our nation. And everybody should be making sure our nation is secure."
Department of Homeland Security Secretary Alejandro Mayorkas was scheduled to travel to the border area on Thursday, to El Paso and McAllen, Texas, events that were closed to the media.
"Closed press? Remember when President Biden promised transparency?" Republican Congressman Jim Jordan of Ohio tweeted.
While the White House as expected has heard criticism from Republicans on the issue, some Democrats believe the administration should not maintain any of Trump's border policies.
US Representative Ilhan Omar, a Minnesota Democrat, on Wednesday criticized the administration for considering restarting construction on former president Donald Trump's southern border wall.
"It's shameful and unacceptable for @POTUS to continue the construction of Trump's xenophobic and racist wall," she tweeted.
Omar was responding to a report by The Washington Times on Monday that Mayorkas told Immigration and Customs Enforcement (ICE) employees last week that he may restart border wall construction to plug what he called "gaps" in the current barrier.
"The president has communicated quite clearly his decision that the emergency that triggered the devotion of DOD (Department of Defense) funds to the construction of the border wall is ended," Mayorkas told employees, according to notes of the ICE session. "But that leaves room to make decisions … (on) particular areas of the wall that need renovation, particular projects that need to be finished."
White House press secretary Jen Psaki addressed the report Tuesday, explaining that Biden "paused" most construction at the wall but that there is still "some limited construction that has been funded and allocated for".
Reuters contributed to this story.