Putin, Merkel urge restraint amid Ukraine tensions
By REN QI in Moscow | CHINA DAILY/XINHUA | Updated: 2021-04-10 07:52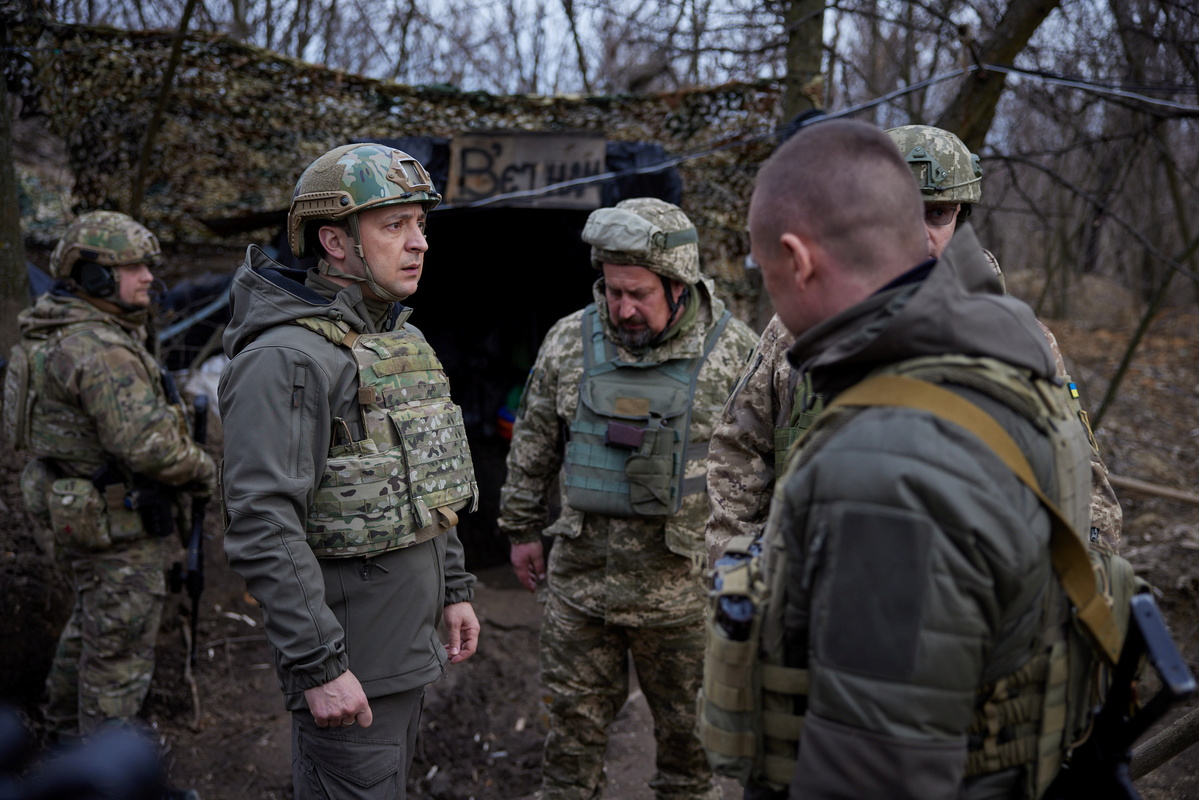 Russian President Vladimir Putin and German Chancellor Angela Merkel expressed concerns over the escalation of tensions in the Donbass region as Ukrainian President Volodymyr Zelensky traveled to the country's troubled eastern frontline on Thursday.
In a phone conversation, Putin and Merkel voiced support for negotiations to fully implement the 2015 Minsk agreements, the only legal foundation for a peace settlement in the area.
Putin noted the "provocative actions" of Kiev, which is now "deliberately aggravating" the situation along the line of contact with insurgents in Donbass.
Merkel's office said she and Putin discussed the increased Russian military presence in east Ukraine, and "called for the removal of these troop reinforcements in order to achieve a de-escalation of the situation".
Putin and Merkel agreed on further close coordination of Russian and German efforts in resolving the intra-Ukrainian crisis.
Zelensky's frontline visit came as fighting between the government forces and militias in eastern Ukraine has intensified in recent weeks and Russia has built up troops along the border, raising fears of a major escalation in the long-running conflict.
Zelensky has urged NATO to speed up the path for his country's membership into the alliance.
Zelensky, accusing Russia of flexing its military muscles, has held a series of calls with Western leaders to rally support for Ukraine.
In a statement on Thursday, Russian Foreign Ministry spokeswoman Maria Zakharova said NATO's support of Ukraine "does not contribute to security" and "the settlement of the conflict".
She added Moscow was concerned about "financial and logistical support of the Ukrainian armed forces by NATO countries", as well as the alliance supplying lethal weapons and Western instructors training Ukrainian military personnel.
Dmitry Kozak, Putin's deputy chief of staff, who is himself Ukrainian, warned Russia will be forced to protect the residents of Donbass if Ukraine launches full-scale hostilities against the region.
Speaking at a panel discussion with political experts in Moscow, Kozak, also the Kremlin's chief negotiator on relations with Ukraine and militias, claimed a ramping-up of the conflict would lead to the end of Ukraine, with the Kremlin forced to stand up for its citizens living in the Donbass territory.
Kozak said the visit by Zelensky is unlikely to lead to an escalation, but the Ukrainian leader is "playing with fire".
Agencies and Xinhua contributed to this story.