Double standards on Japan's wastewater discharge blasted
By ZHANG YUNBI | CHINA DAILY | Updated: 2021-04-15 07:21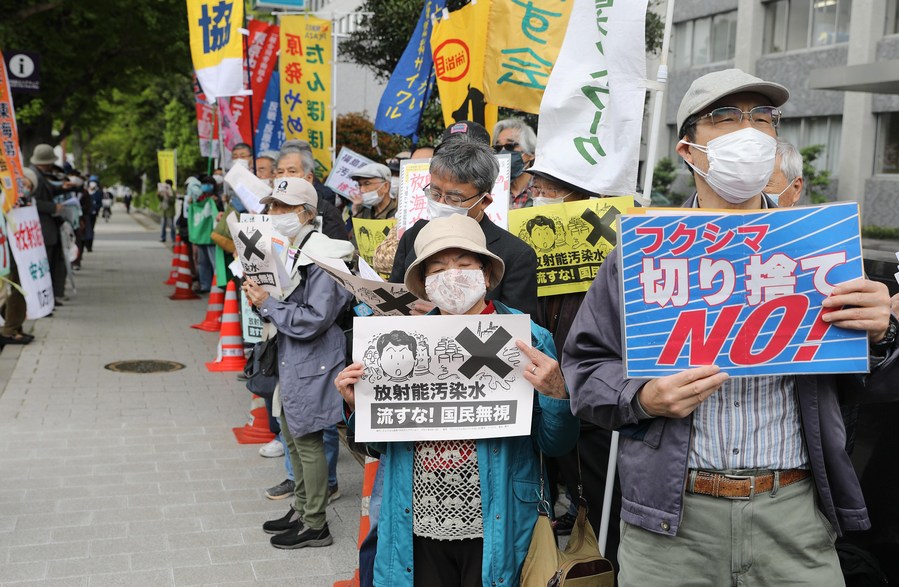 Beijing blasted Tokyo and Washington on Wednesday for adopting double standards on the discharge of Japan's radioactive wastewater, arguing that "the sea is not Japan's dustbin, and the Pacific Ocean is not Japan's sewage".
China vowed that it "reserves the right to make further responses "amid mounting complaints and protests across the globe about the Japanese Cabinet's decision on Tuesday to dump radioactive wastewater from the Fukushima nuclear power plant in the Pacific Ocean.
The discharge is expected to begin in two years and will last for 30 years, and more than 1 million metric tons of nuclear wastewater will be released into the sea, Japanese media reported.
Foreign Ministry spokesman Zhao Lijian told reporters on Wednesday that Tokyo's decision "set a precedent for discharging into the sea wastewater treated for a serious nuclear accident", and "it should not be the whole world" that has to undertake the task of dealing with wastewater for Japan.
Japanese Deputy Prime Minister Taro Aso made headlines on Tuesday for saying "It would be fine if (one) drinks the water".
In response to the comment, Zhao said, "Then he is expected to drink (the wastewater) first."
"Japan should not forget its tragedy in history, not to mention pretending to have no idea of the reality," Zhao said, referring to the lasting trauma of Minamata disease caused by poisonous wastewater discharges that took place in the country in the 1950s.
US Secretary of State Antony Blinken said recently on social media "We thank Japan for its transparent efforts" in the discharge decision.
As for Washington giving Tokyo a green light on its decision to discharge the Fukushima wastewater, Zhao said that US approval "does not equal the approval of the international community".
Since the US values environmental issues, it should act responsibly and prompt Japan to take an honest, scientific and responsible attitude toward prudently dealing with treating the wastewater issue, instead of disregarding principles and adopting double standards, Zhao said.
South Korean President Moon Jae-in ordered officials at a meeting on Wednesday to look into ways to refer Japan's decision to the International Tribunal for the Law of the Sea.