Pudong to be hub for technological innovation and further opening-up
By SHI JING in Shanghai | China Daily | Updated: 2021-04-22 07:40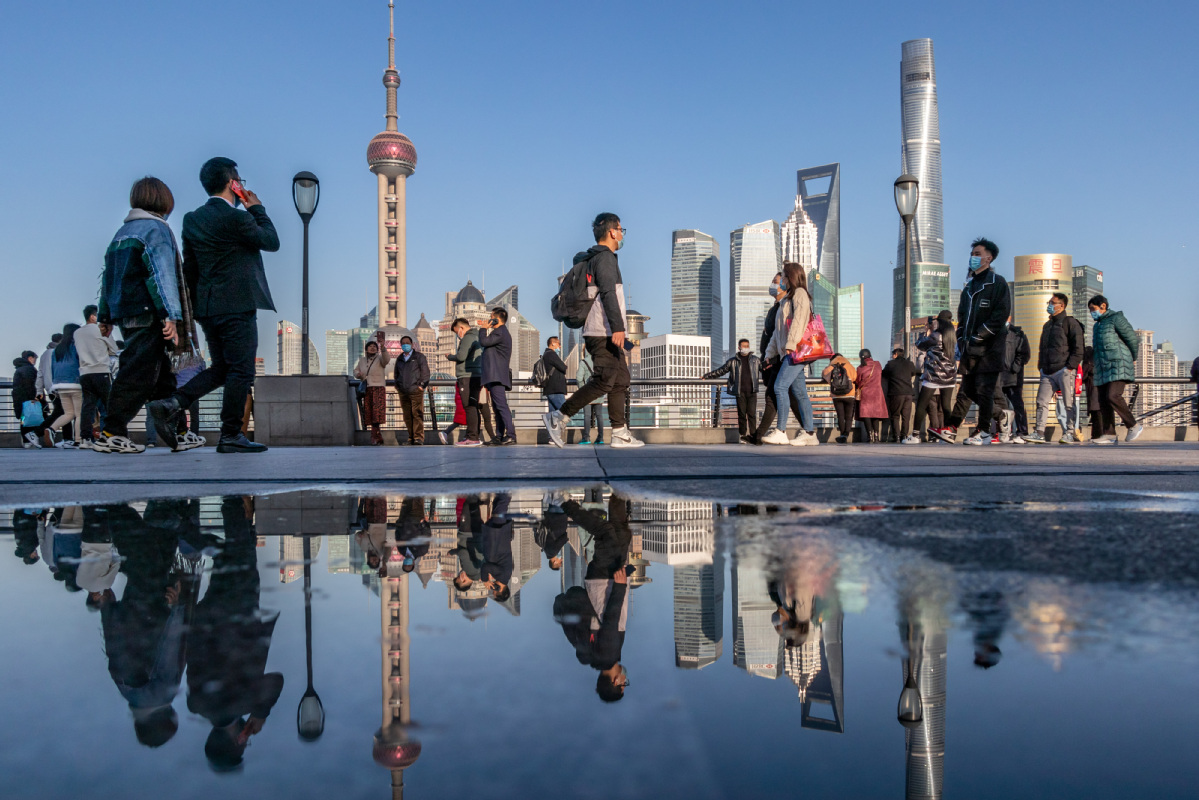 Pudong New Area, the reform and opening-up showpiece in Shanghai, is expected to be a major hub for technology innovation and further opening-up, local officials said on Wednesday.
An advanced manufacturing industrial cluster featuring six major hardcore industries will lead the future development of Pudong, according to a plan. A complete chipmaking industrial chain, which will be globally competitive, shall be set up in Pudong, with annual output reaching 350 billion yuan ($53.9 billion) by 2025. Output of innovative drugs is expected to reach 200 billion yuan by 2025 while that of the domestic commercial civil aviation industry will reach 50 billion yuan.
An industrial cluster led by new energy vehicles will come up in Pudong, with annual output reaching 150 billion yuan in the next five years. Annual output of smart manufacturing will reach 220 billion yuan by 2025, while information service providers in Pudong are expected to attain total income of 600 billion yuan in 2025.
By the end of 2025, Pudong will be home to more than 8,000 high-tech companies, as forecast by the plan. To better nurture entrepreneurship, there will be 200 incubators in Pudong in 2025.Meanwhile, a complete technology investment system will be established in the area to give more play to funds of funds, venture capital firms and banks so that more Pudong-based technology companies can go public.
"Major breakthroughs in fundamental research, core technologies, product innovation and initial application of products can be expected in Pudong in the next few years. We will also see the gathering of high-end innovation resources, flexible transformation mechanism for innovation results, a vibrant innovation and entrepreneurship ecosystem, and close integration of technological innovation industries," said Zhou Zhengyu, deputy head of Pudong's technology and economic committee.
High-level opening-up will be another feature in Pudong's development over the next five years, which is aimed at building the area into a center for global resources allocation. Systematic opening-up, which will better connect the domestic and international rules, should be deepened to help Pudong gain a more competitive edge in the global market. The free trade zone should thus experiment with more pioneering policies, said the plan.
The financial industry will play a key role in allocating resources worldwide. To that end, up to 1,250 financial institutions with banking or securities licenses will operate in Pudong by 2025, accounting for two-thirds of the city's total. The region will also be home to 150 international asset management firms and 15 leading fintech companies.
Trade structure in the area will be further optimized. During the 14th Five-Year Plan period (2021-25), Pudong will account for 60 percent of Shanghai's total import and export value. The balance of offshore trade in the area should reach 400 billion yuan by 2025.
Over the next few years, Pudong will also become an ideal destination for international investment, trade and startups, said Zhang Maolin, deputy head of Pudong's development and reform commission. The area should provide a world-class and top-notch business environment.
"New discoveries, inventions, ideas and products shall spring up here. More unicorn companies and emerging industries shall be nurtured and growing in Pudong," said Zhang.