May Day domestic trips up 119.7% over 2020
By Cheng Si | chinadaily.com.cn | Updated: 2021-05-06 07:43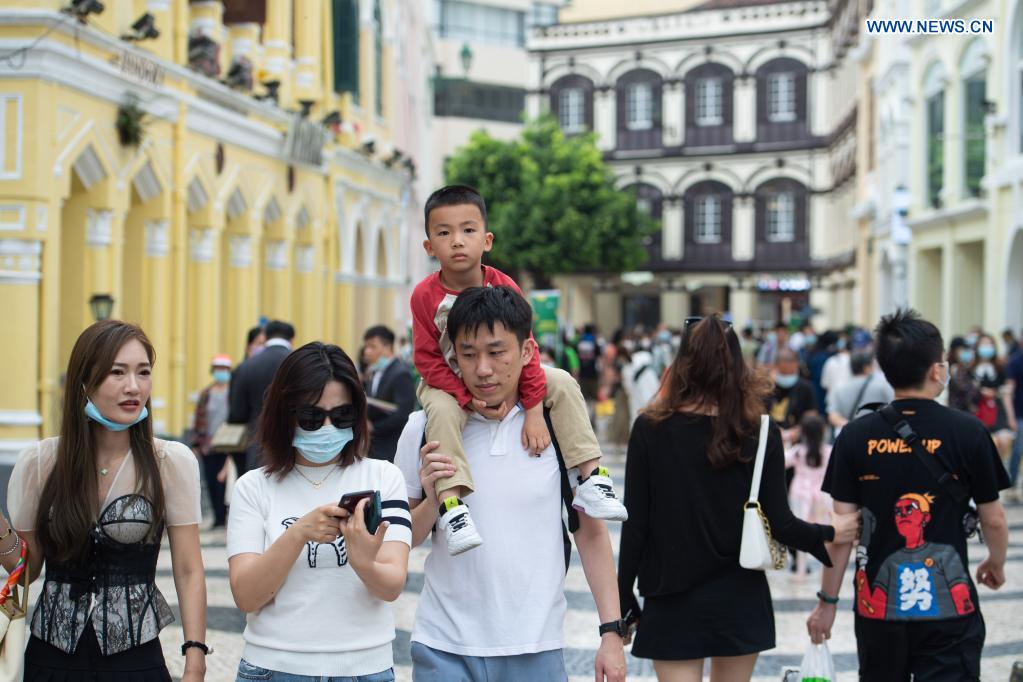 The just-ended May Day holiday has embraced a robust and ever stronger recovery in the tourism market, boosting confidence for the future development of the sector, which once weathered hard shocks amid the novel coronavirus epidemic.
The latest figures by the Ministry of Culture and Tourism on Wednesday show that about 230 million domestic trips were made over the five-day holiday — from May 1 to 5, marking a year-on-year rise of 119.7 percent. The domestic tourism market has so far recovered 103.2 percent compared to pre-pandemic levels.
Tourism-related revenue made over the break reached over 113 billion yuan ($17 billion), up 138.1 percent year-on-year, reaching 77 percent of the level before the pandemic.
Travel agencies also registered a good performance over the five-day break.
Figures from Trip.com Group, an online travel service provider, show that orders on its platform for the holiday rose by 270 percent, even growing by 30 percent over the same period in 2019, before the novel coronavirus pandemic broke out.
It said that though the ministry required tourism attractions nationwide to strictly control the visitor flow over the break by ordering travelers to make reservations before trips, people still showed great passion for sightseeing.
Trip.com said that at its platform, single-day orders for attraction tickets during the break even rose fivefold over the same day in 2019.
Travel methods have also changed, according to travel agencies. Trip.com Group said that thanks to the toll-free policy on highways nationwide, trips by passenger car surged, along with the market for rental cars.
It said that growth of orders for car rentals for the holiday marked the highest rise of 330 percent on a single day compared with same period of 2019.
Sales of air tickets and high-rated hotels also saw an upswing over the break. According to Qunar, another online travel agency, its platform saw reservations for holiday air tickets rise by 30 percent and those for hotels by 40 percent over 2019.
It said that travelers also spent more money over the holiday whose average expenses — about 1,713 yuan — reached a record high compared with same holiday in previous years.
Lan Xiang, Qunar's director of big data, said that though industry insiders had already given an optimistic forecast for the tourism market over the May Day holiday, the robust recovery has further cheered them up.
"The life cycle for domestic tourism has shown a good trend, indicating that people's desire for travel has not been hampered by the fear of the novel coronavirus pandemic and has been stimulated after they have stayed at home for a rather long time," he said. "It's a triumph for the whole industry."
In addition to traditional popular attractions highlighting breathtaking natural views and culture such as Sanya in Hainan province and the Palace Museum in Beijing, destinations famous for "red tourism" were also favored by travelers over the holiday.
According to Tuniu, an online travel agency, it received numerous orders for tour packages to "red tourism" attractions even two or three months ahead of the May Day holiday as people's respect for the martyrs of the Communist Party of China has grown stronger when the Party will welcome the 100th anniversary of its founding this year.
Zou Qingling, CEO of Lvmama, also an online travel agency, said that, "The topics related to the Party's approaching 100th anniversary on July 1 have gone viral online recently, focusing more attention on these attractions."
A report by Lvmama on Wednesday shows that Tian'anmen Square in Beijing, Shaoshan in Hunan province and Deng Xiaoping's hometown of Guang'an city in Sichuan province have been listed as the top three popular attractions for "red tourism" in the break.