Long March rocket debris falls back to Earth; most of it burns up
By ZHAO LEI | CHINA DAILY | Updated: 2021-05-10 09:16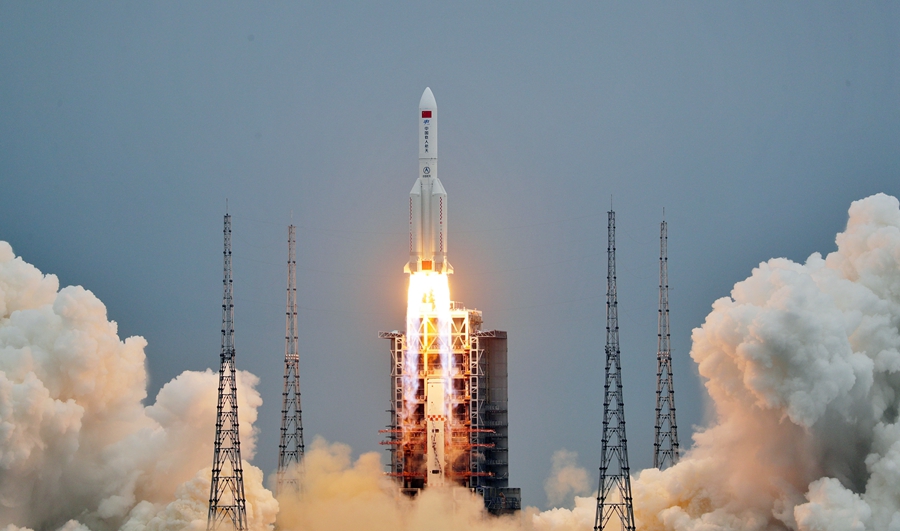 Debris from the recently launched Chinese Long March 5B carrier rocket fell back to Earth, into the Indian Ocean, on Sunday morning, with most of the remnants burning up during reentry, according to the China Manned Space Agency.
The debris reentered the atmosphere and crashed at 10:24 am (Beijing time), the agency said in a brief statement, which pinpointed the site at 2.65 degrees north latitude and 72.47 degrees east longitude. No additional details were provided.
The coordinates indicate the crash site as waters near the Maldives.
About 30 minutes before the crash, the agency published a notice saying the reentry would occur sometime between 9:57 am and 10:27 am.
The reentry put an end to concerns in foreign media of the possibility of debris crashing over an inhabited area.
The Long March 5B lifted the core module of China's space station into a low-Earth orbit on April 29.
A Long March 5B is 53.7-meters long and has a core-stage diameter of 5 meters. The rocket is propelled by liquid oxygen, liquid hydrogen and kerosene and weighs about 849 metric tons at liftoff.
It has the most powerful carrying capacity of the Chinese launch vehicles and is essential to China's space station program because it is the country's only launch vehicle capable of putting large space station parts into orbit.
When asked about potential risks of damage on Earth from the rocket's debris at a news briefing on Friday, Foreign Ministry spokesman Wang Wenbin said China "is paying high attention to the atmospheric reentry of the core stage" and stressed that the odds of damage "are very low".
"To my knowledge, this type of rocket has unique designs (to make sure) that most of its parts will be burnt up during the reentry process," he said.
The space station's core module, named Tianhe, or Harmony of the Heavens, is 16.6 meters long and 4.2 meters in diameter. It is the biggest and heaviest spacecraft China has ever constructed and will be central to the space station's future operations, given that astronauts will live there and control the entire station from inside. The module also will be used to carry out scientific experiments.