Experts: Steel price rises a short-term worry, fears over shortages unfounded
By LIU ZHIHUA | China Daily | Updated: 2021-05-12 08:22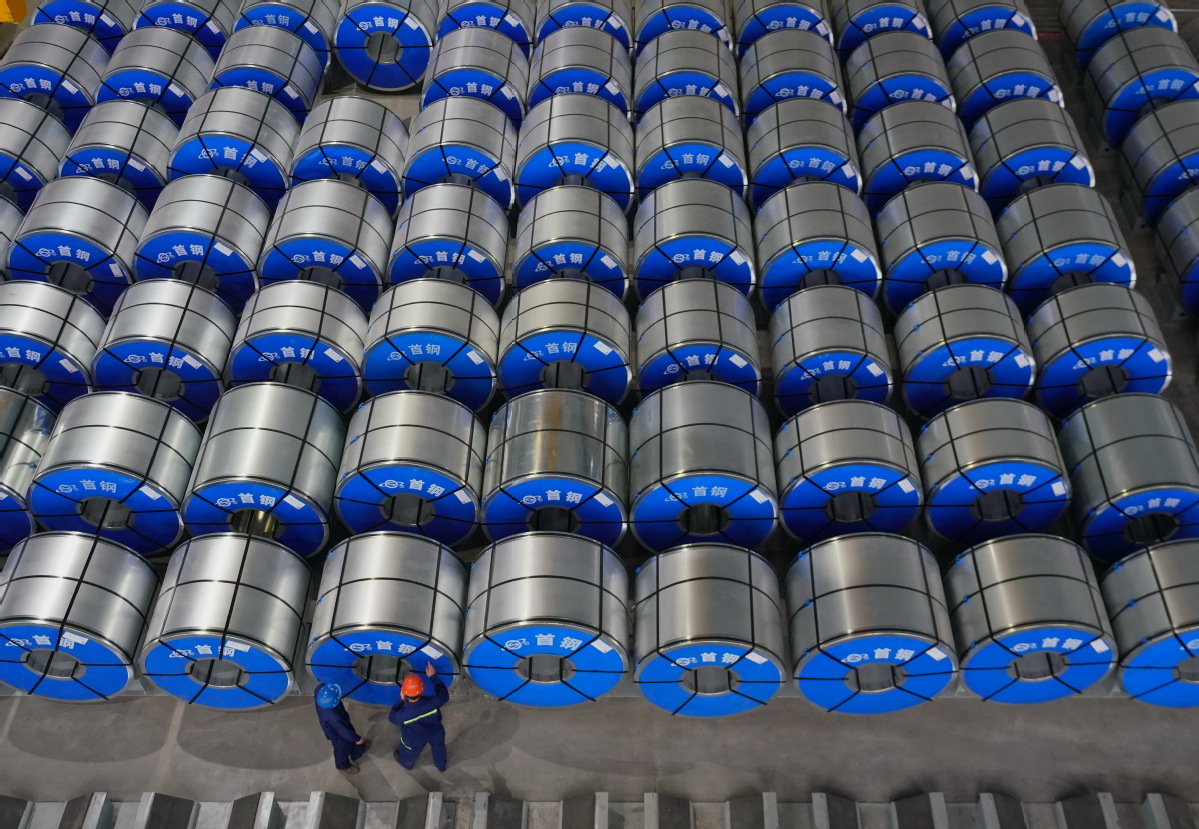 Apprehensions about a steel shortage in China are unfounded and the recent price increases have largely been a result of short-term market-related factors, experts said.
"There is no shortage of supplies. The price surge is not an exact reflection of the current supply and demand situation," said Wang Jing, an analyst with the Lange Steel Information Research Center.
On Monday, steel product prices, tracked by the center, rose by 6,510 yuan ($1,013) per metric ton on average, an intraday increase of 6.9 percent. That was higher than the historic high seen in 2008, said experts. Prices of Grade-3 rebar rose by 389 yuan per ton, while hot-rolled coil prices rose by 369 yuan per ton. The main futures for iron ore, hot-rolled roil and rebar all rose to their daily limit.
Share prices of key steel enterprises have also soared in recent days, even as market analysts issued warnings about abnormal price fluctuations.
Shenzhen-listed Beijing Shougang Co Ltd said in a statement on Monday that the company's operations, internal conditions, and external business environment have not seen any major changes recently.
The company said its revenue for the first three months of the year rose to 29.27 billion yuan, up 69.36 percent on a yearly basis. Net profit attributable to shareholders rose by 428.16 percent on a yearly basis to 1.04 billion yuan.
According to Wang, the short-term steel price surge is largely due to the apprehensions about supply shortage. China has said that it would look to peak carbon emissions by 2030 and achieve carbon neutrality by 2060. The government is also planning to probe the steel industry's capacity reduction programs.
The Ministry of Industry and Information Technology had earlier announced stricter rules for capacity swaps. Steel capacity swaps mean swapping new capacity in return for closures elsewhere with specific replacement ratios.
According to the rules that will take effect on June 1, the general replacement ratios for capacity swaps will be no less than 1.5:1 in key areas for air pollution prevention and control, which include the Beijing-Tianjin-Hebei region and the Yangtze River Delta region. For other areas, the general replacement ratios will be no less than 1.25:1.
Xiao Yaqing, minister of industry and information technology, said recently that China is determined to curb crude steel production to ensure a year-on-year output fall this year.
The added significance on capacity control has to some extent fueled market expectations on higher product prices, said Wang.
Xu Xiangchun, information director and analyst with iron and steel consultancy Mysteel, said the authorities are not planning to curb production of all steel mills, but rather speeding up technology upgrades in the sector.
For instance, steel mills with high environmental protection performance are often exempt from the curbs, he said.
Wang said a decline in steel output will not occur in the short term, and supplies will not be crimped as some people expect. Influences from the global market demand and inflation are also weakening, she said.
According to the China Iron and Steel Association, key steel mills produced about 2.4 million tons of crude steel in April, up 19.27 percent from a year earlier.
By May 7, total steel inventories in 29 key cities across the country reached 14.19 million tons, up 14,000 tons from the previous week, and posted positive growth for the first time after successive declines for eight weeks, data from the Lange Steel center showed.