China and Russia begin work on 4 high-power nuclear units in 2 cities
By ZHENG XIN | China Daily | Updated: 2021-05-20 08:31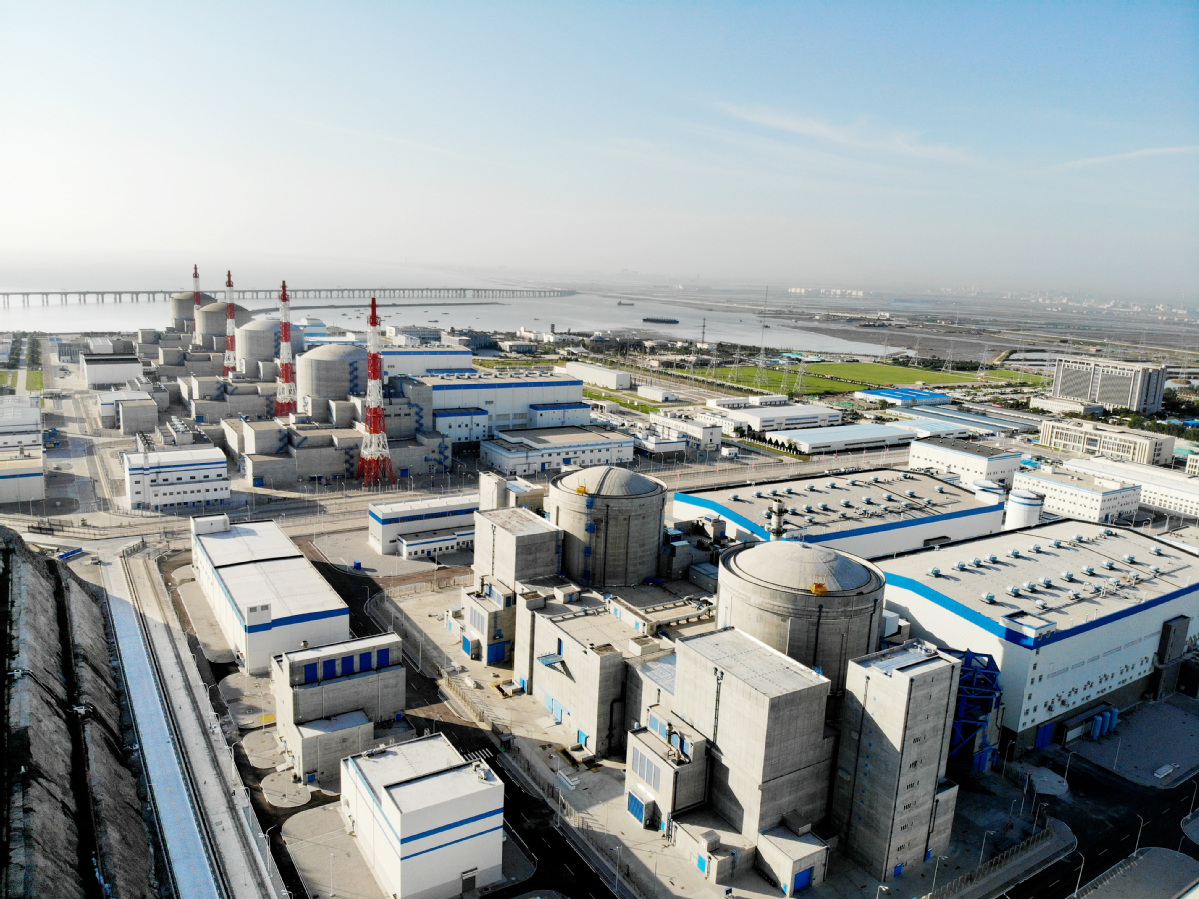 China and Russia commenced work on their biggest nuclear energy project on Wednesday under which Moscow would jointly build four high-power nuclear units in two Chinese cities.
The projects not only represent a high level of cooperation between the two countries but also promote further upgrading of bilateral ties, said experts.
Work on the units 7 and 8 of the Tianwan nuclear power plant and on the units 3 and 4 of the Xudapu nuclear power plant commenced on Wednesday. Chinese President Xi Jinping and Russian President Vladimir Putin jointly witnessed the opening ceremony of the nuclear energy cooperation project via video link.
All four units, which will be constructed by China National Nuclear Corp, use Russian-designed VVER-1200 third generation nuclear technology. The Tianwan nuclear power plant is located in Lianyungang, Jiangsu province, while the Xudapu nuclear power plant is in Huludao, Liaoning province.
Nuclear energy cooperation is a traditional priority area of cooperation between the two countries, and has developed rapidly in recent years, attracting a lot of attention from the two heads of state, said experts.
Wei Hanyang, a power market analyst at Bloomberg New Energy Finance, said Russia was one of the first nations to support China's nuclear developments, and the project in Jiangsu province uses Russian technology.
"Nowadays, although China relies more on domestic technology for expanding its nuclear plants, Russia will still have a role to play as the growing market requires a high portion of clean energy," he said.
"The upcoming challenges will be more on the demand side, which means stagnant demand growth in the northeast parts of China may not justify the full operation of a new nuclear plant."
Therefore, Xudapu may consider sending extra power to the northern grid where Beijing and Tianjin intersect, he said.
After the completion of the four units, carbon dioxide emissions will be reduced, reflecting the Chinese government's determination to achieve the goals of peaking carbon emissions by 2030 and reaching carbon neutrality by 2060, he said.
In June 2018, China National Nuclear Corp and Russia's State Atomic Energy Corporation agreed to jointly build the No 7 and No 8 power units at the Tianwan Nuclear Power Plant, and the No 3 and No 4 power units at the Xudabu Nuclear Plant in Huludao, Liaoning province. The total deal cost was estimated at 20 billion yuan ($3.1 billion).
Foreign Ministry spokesman Zhao Lijian said that the event, the first bilateral online exchange between President Xi and President Putin this year, is of great significance for leading the China-Russia comprehensive strategic partnership of coordination for a new era to maintain a high level of development.
He stressed the smooth start of the four units demonstrates the significant achievements of China-Russia cooperation on high-end equipment manufacturing and technological innovation, and will promote the upgrade of bilateral cooperation in various fields.