WHO validates second Chinese jab, hoping to provide boost for COVAX
By Angus McNeice in London | China Daily Global | Updated: 2021-06-01 22:53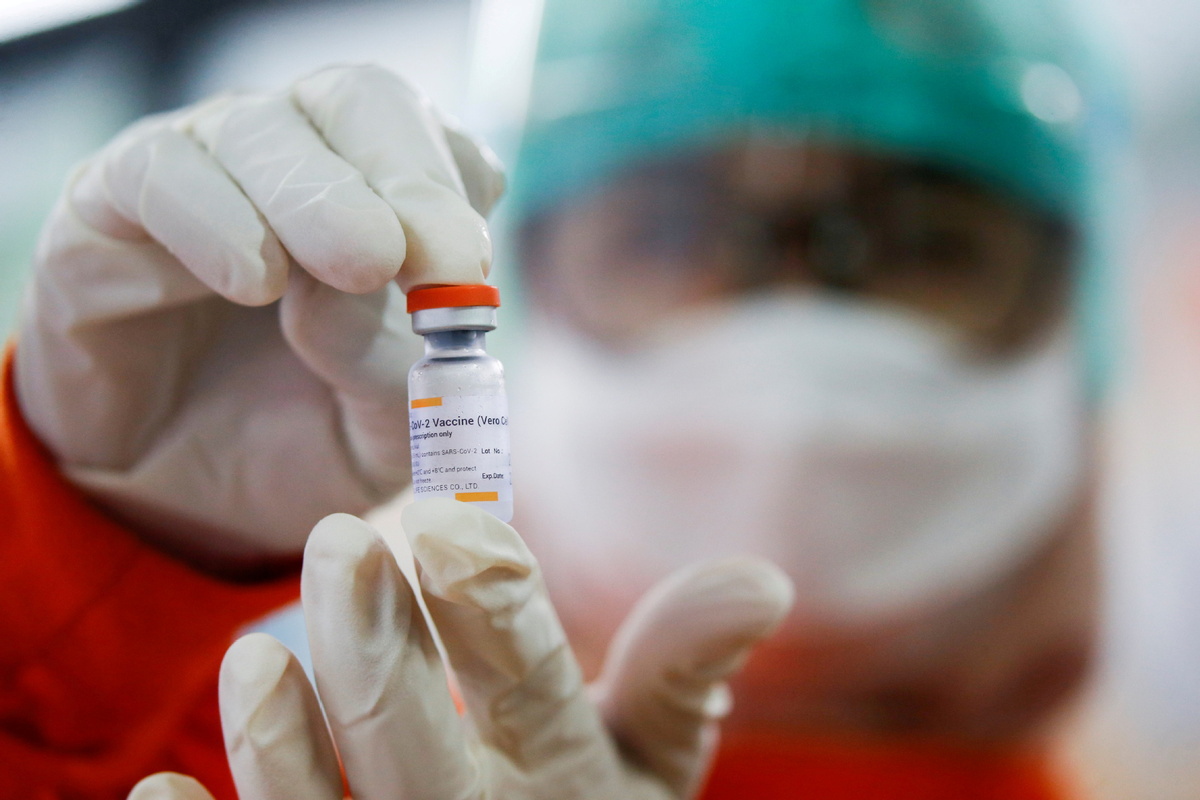 The World Health Organization, or WHO, has approved the COVID-19 vaccine from Chinese pharmaceutical company Sinovac for emergency use.
The Sinovac-CoronaVac vaccine is the second China-made COVID-19 vaccine to gain authorization from the world health body, after a separate treatment from drug company Sinopharm was validated in early May.
The Sinovac vaccine is already in use in many different nations whose own health authorities have granted approval for the jab. The recent move by the WHO means the jab may now be used as part of the international COVAX project, which oversees the equitable distribution of vaccines around the globe, especially in developing regions.
WHO officials emphasized the important role that Chinese treatments are set to play. China is manufacturing the Sinovac and Sinopharm vaccines in large quantities, and they can be stored at normal refrigeration temperature for extended periods, making them ideal for distribution in areas that lack sufficient cold-chain infrastructure.
"The world desperately needs multiple COVID-19 vaccines to address the huge access inequity across the globe," said Mariangela Simao, who is the WHO assistant-director general for Access to Health Products. "We urge manufacturers to participate in the COVAX Facility, share their knowhow and data and contribute to bringing the pandemic under control."
Health experts have warned that distribution of Chinese vaccines under COVAX cannot come soon enough, as the project has been hit by severe delays to supply.
"Sinovac could have quite a big impact because it can be stored closer to room temperature, so you can use it in remote regions of the world quite easily," Caroline Casey, lead COVID-19 analyst at science analytics company Airfinity, told China Daily in a previous interview.
COVAX had hoped to ship 252 million COVID-19 vaccines in the first half of this year, although as of Monday, just 77 million shots have been distributed. The project is heavily reliant on COVID-19 vaccines manufactured in India, which installed an export ban earlier this year in order to combat severe domestic outbreaks, leading to a shortfall in supply.
On Tuesday, the WHO said efficacy results for the Sinovac jab showed the vaccine prevented symptomatic disease in 51 percent of those vaccinated, and prevented severe COVID-19 and hospitalization in 100 percent of the studied population. Real-world data shows that efficacy in preventing symptomatic disease may be higher than trials suggest. Last month, Indonesia's health ministry said the vaccine showed 94 percent efficacy at preventing symptomatic infection in 120,000 vaccinated healthcare workers.
On advice from its Strategic Advisory Group of Experts on Immunization, which is also called SAGE, the WHO recommended use of the Sinovac vaccine in people aged 18 and older, in a two-dose schedule, with a spacing of two-to-four weeks.
While few adults over the age of 60 years old were involved in late-stage clinical trials for the Sinovac vaccine, the WHO said it is not recommending an upper age limit for the vaccine. This is because the vaccine is already in use in many different nations, and data from national health authorities suggests the vaccine is likely to have a protective effect in older people. Sinovac said that, as of late last month, over 430 million doses had already been administered in China and abroad.
"There is no reason to believe that the vaccine has a different safety profile in older and younger populations," the WHO said in a statement. "WHO recommends that countries using the vaccine in older age groups conduct safety and effectiveness monitoring to verify the expected impact and contribute to making the recommendation more robust for all countries."
Along with the Sinovac and Sinopharm jabs, the WHO has so far given emergency approval to vaccines from Pfizer, Moderna, AstraZeneca, and Johnson& Johnson. A third Chinese vaccine, from CanSino Biologics, has submitted clinical trial data for review.