Wudongde power station starts full operations
By ZHENG XIN | CHINA DAILY | Updated: 2021-06-17 08:23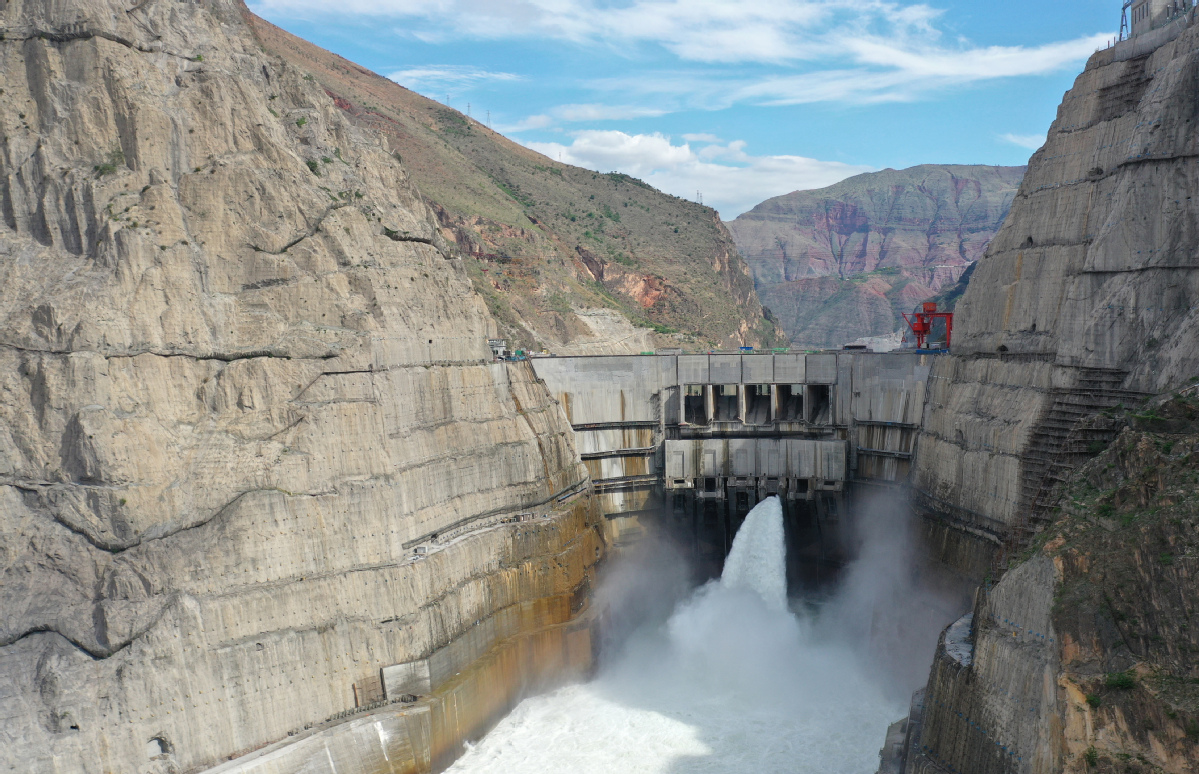 Wudongde Hydropower Station, China's fourth-largest and the world's seventh-largest hydropower project, will play an integral part in the nation's efforts to cut its carbon footprint from the power sector and achieve carbon neutrality by 2060, experts said.
The hydropower station commenced full operations on Wednesday after a 72-hour trial operation, according to China Three Gorges Corp, its operator. It is expected to produce 39 billion kilowatt-hours of electricity every year, equivalent to a reduction of 12.2 million metric tons of standard coal and more than 30.5 million tons of carbon dioxide emission every year, it said.
The first unit of the Wudongde Hydropower Station was put into operation last June and has produced 24 billion kilowatt-hours of power so far. The clean energy has been transmitted to China Southern Power Grid to help develop the Guangdong-Hong Kong-Macao Greater Bay Area and other areas.
The major hydropower project, which will also serve as an important part of the Yangtze River Basin flood control system, will benefit local people while injecting vitality into the development of southwest regions in China.
"The new dam will mainly support Guangdong province, and help alleviate the recent power shortage issues in the coastal economic engine," said Wei Hanyang, a power market analyst at Bloomberg New Energy Finance.
"Wudongde Hydropower Station is also one of the few large dams that are closer to economic centers, which means that in the future, other clean energy resources need to be developed if China wants to continue with lower carbon emissions in the energy mix.
Wudongde Hydropower Station, when seen from above, appears as an eggshell stationed at the Jinsha River's V-shaped valley. The eggshell shape is the best design considering the location, which can achieve the maximum balance between security and economic factors, the operator said.
Spanning the Jinsha River in the upper stretches of the Yangtze River, construction on the station saw its main work start on Dec 16, 2015. It is designed as a concrete double-curved arch dam with a maximum height of 270 meters. The foundation bed of the dam is only 51.41 meters thick, which makes the hydropower station the thinnest 300-meter arch dam in the world at present.
The dam also marks the world's first to be fully built by low-heat cement, which can help reduce the dam's temperature stress significantly as the big temperature differences between day and night and low humidity will lead to cracks if ordinary cement is used.
Wudongde Hydropower Station, together with Baihetan Hydropower Station, Xiluodu Hydropower Station and Xiangjiaba Hydropower Station, will form a cascade of power stations on the Jinsha River. The cluster will have an installed capacity of 46.46 million kilowatts, which is equivalent to twice the output of the Three Gorges Dam in the middle reaches of the Yangtze, and will generate about 190 billion kilowatt-hours of electricity annually.