Cartier finds great potential for luxury in China
By ZHU WENQIAN | CHINA DAILY | Updated: 2021-07-01 09:02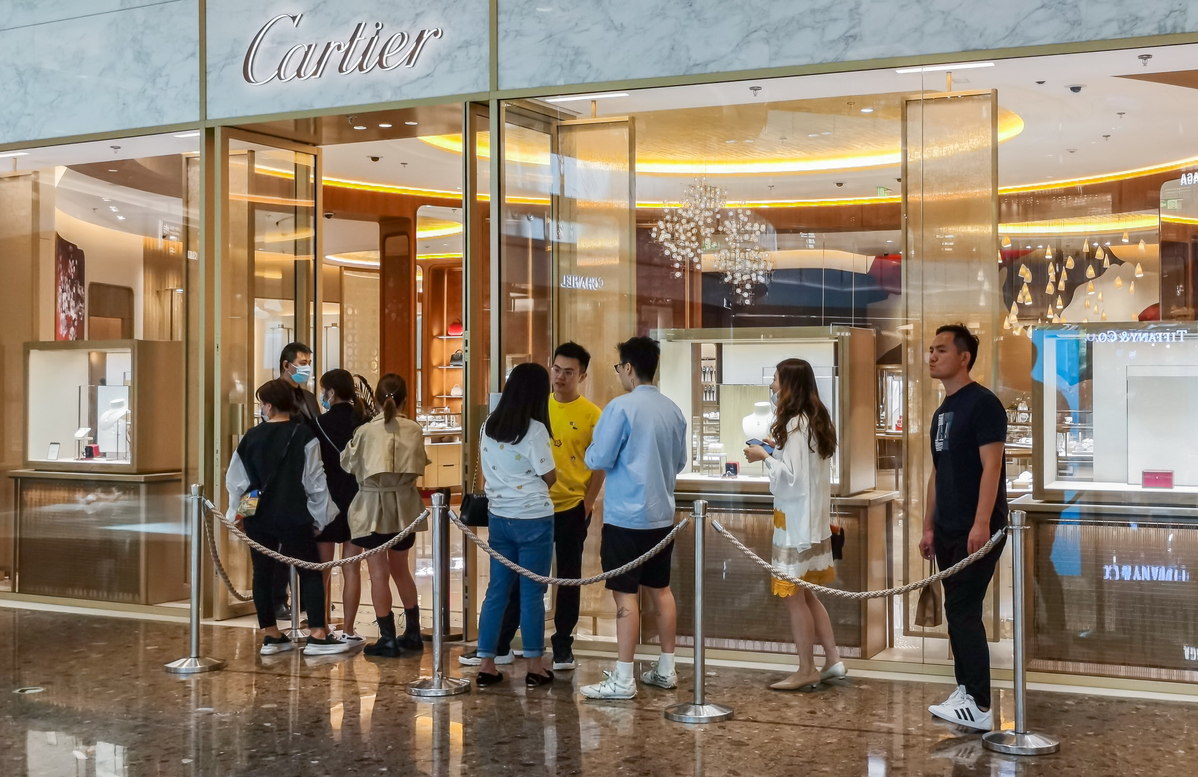 Cartier said China is the first market to offer the French luxury goods brand a robust rebound in sales since the COVID-19 pandemic broke out.
Cartier's sales via e-commerce in China also saw a phenomenal rise since the outbreak, prompting the company to solidify its plans to raise investments in the country.
The company attributed its solid performance in China to pandemic-related travel restrictions globally, which led Chinese shopaholics who used to travel to other countries frequently, to buy luxury goods at home instead.
"COVID-19 has changed market dynamics, but China is continuing its growth. We can see that it has been an accelerator," said Cyrille Vigneron, CEO and president of Cartier International.
"We have opened a couple of new stores in China already. Because of the phenomenal growth and number of visitors, the traffic is just enormous, and we are renovating and expanding our existing stores. Sales mostly came from retail, but e-commerce had a very phenomenal acceleration, especially through our flagship store on Tmall, which had fantastic results," he said.
For e-commerce, besides its official online store on Alibaba's Tmall, where it offers a wide range of jewelry, watches and leather goods, Cartier has launched a mini program on WeChat. The mini program has enabled the brand to interact more with customers online, the company said.
Cartier also said it is witnessing a boom in the offshore duty-free and travel markets in Hainan province. In the next few years, as Hainan aims to develop into a global free trade port, growth prospects will be high in the region, Cartier said.
"Among today's visitors there could be potential customers who may buy jewelry or luxury products in the future. So, prospects for growth in Hainan are really strong," Vigneron said.
As China is still regarded a middle-income country, hundreds of millions of people have the potential to increase their personal income substantially, given the prospects for sustained economic growth in the era of bilateral and multilateral free trade agreements, and the dual-circulation development pattern.
It is reasonable to assume many people will likely have the means to afford luxury products in the future. Demand for cosmetics, fashion, watches, accessories, jewelry and other luxury goods is expected to rise, which will likely translate into more customers and higher sales for Cartier in China in the future, Vigneron said.
Compared to other countries, Cartier said its customers in China are relatively young.
Vigneron said: "Seventy percent of our Chinese customers are millennials, and 25 percent are Generation Z customers. We are a younger brand than people think. We have to be relevant to them (millennials and Gen Z), and we have to be on the media platforms they use.
"The ecosystem is also evolving in a certain way. A lot happens on China's major social media platforms such as Weibo, WeChat, Red and Douyin. They have their own logic and they grow super fast.
"Doing things right in China is important not because you did it right in Europe or in the United States or Japan. China has its own logic and dynamics that you have to understand and follow."
International travel is expected to recover gradually once restrictions are lifted, said a report by consulting firm McKinsey& Co.
"That said, Chinese consumers remain the biggest growth opportunity for the luxury sector. Brands, clearly, will need a new approach to attracting luxury shoppers," said Daniel Zipser, senior partner at the consultancy.
By 2025, Chinese consumers are expected to spend 1.2 trillion yuan ($186 billion) on luxury goods, according to research firm Statista.