Sportswear firms' performance wins investor hearts
By WANG ZHUOQIONG | CHINA DAILY | Updated: 2021-07-01 09:26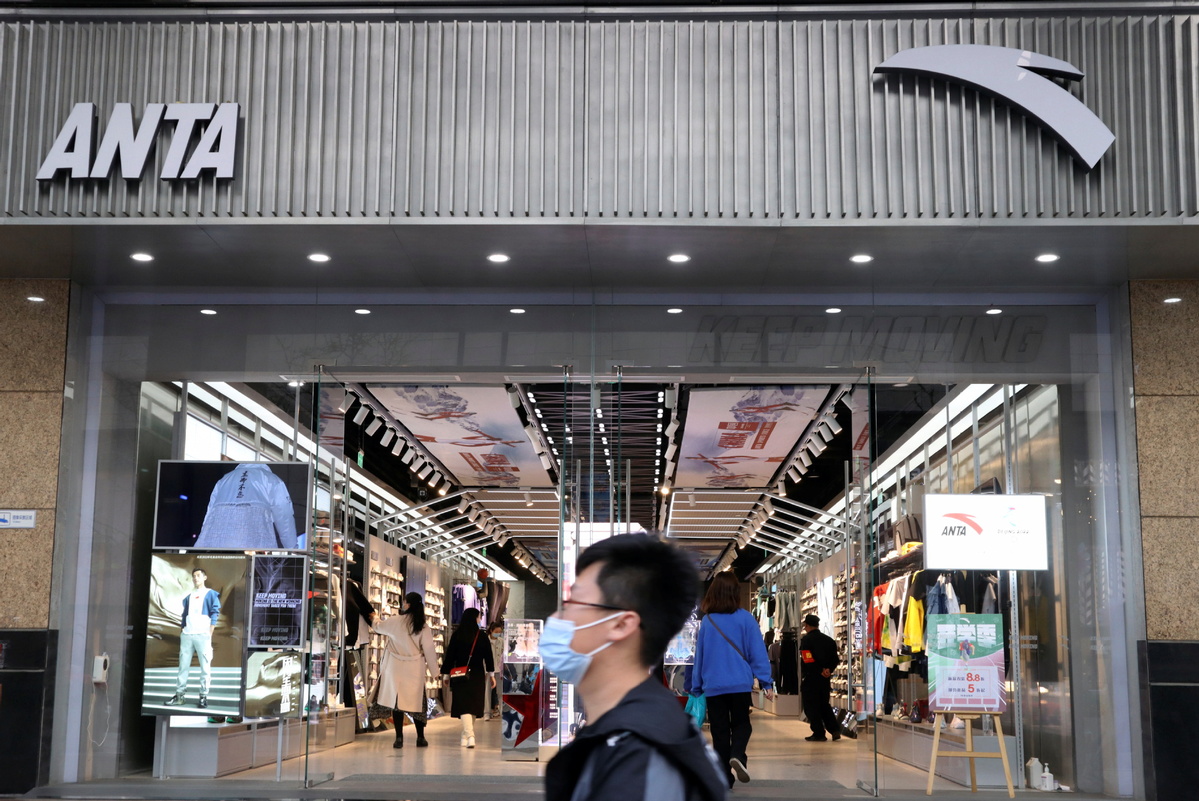 Shares of Chinese mainland sportswear-makers such as Anta and Li Ning rose in Hong Kong this week on recent forecasts of positive first-half financial results.
Both revenues and profits of such companies are expected to rise on the back of increased consumption propelled by improved innovations to attract culturally-conscious consumers.
Anta Sports closed at HK$182.8($23.5) on the Hong Kong stock exchange on Wednesday, representing a whopping 50 percent surge from the levels seen six months ago.
Anta's market value reached HK$494 billion, closely following that of global sportswear market leader Adidas.
Li Ning closed at HK$94.8, representing a massive 70 percent rise from the beginning of this year, with market value reaching HK$236 billion.
In the same period, Xstep's market value rose about 280 percent to HK$38.5 billion, and 361 Degree's surged 300 percent to HK$8.75 billion.
Li Ning's preliminary first-half report on June 25 said a net profit of around 1.8 billion yuan is expected, up 163 percent from 683 million yuan in the same period last year, as revenue is tipped to soar 60 percent year-on-year, matched by sustained improvement in operating margins.
Anta's forecast said year-on-year first-half profit growth will likely be no less than 55 percent. As the impact of the COVID-19 pandemic on the retail market in the Chinese mainland has eased, first-half revenues from individual brands such as Anta and Fila are expected to rebound from comparable levels of 2020.
This could mean that the overall revenue of the company may grow by no less than 50 percent from the first-half level of 2020.
During the recent June 18 or "618"online shopping festival, domestic sportswear brands have shown strong sales growth momentum beating that of international brands-and without offering more discounts.
For instance, Anta's three brands have seen 618 sales rise about 50 percent year-on-year.
A research report from BOC International said the COVID-19 pandemic has brought unforeseen growth opportunities for the domestic textile and apparel segments, spurring the rise of domestic brands.
The trend was boosted by Guo Chao, which can be interpreted as Chinese consumers' confidence and pride in, and support for, homegrown brands and products infused with local cultural elements or having links to intangible assets like heritage.
It is a phenomenon that Chinese sportswear-makers have tapped into, and will likely harness further to build core competitiveness in supply chains, design and New Retail, in order to better compete with global peers, said the BOC report.
Xiamen, Fujian province-based Anta has aimed to further update its innovations in terms of design and materials through strengthened research capacities and collaboration with top talent at Tsinghua University.
The two sides formed a joint research center in June to build a world-leading innovation platform for the sportswear industry. The center launched a "Global Sportswear Design Award", the first such honor in China's sportswear industry open to works from around the world.
Ding Shizhong, board chairman and CEO of Anta Group, said: "To become a top international brand, you must acquire international technological innovation capabilities. The development of China's sports industry requires more innovations to meet the needs of the rapid development of the industry. Innovation is the foundation of enterprise survival."
Sharper focus on technology innovation, research and development based on global resources and industry-university cooperation can help Anta to go global in the future, he said.
Adam Zhang, founder of Key-Solution Sports Consulting Co, said positive investors and the capital market have put their confidence in the domestic sportswear markers, thanks to the latter's strong recovery in sales.
"Chinese sportswear products reflect heavy investments in innovations in designs and materials over the past decade. They have been catching up with their international peers," Zhang said.
The sportswear sector is expected to continue to accelerate its growth, boosted by demand for leisure wears, he said.