After 100 years, CPC still making founding dream a reality
By Mirza Arbab Javaid | chinadaily.com.cn | Updated: 2021-07-01 16:25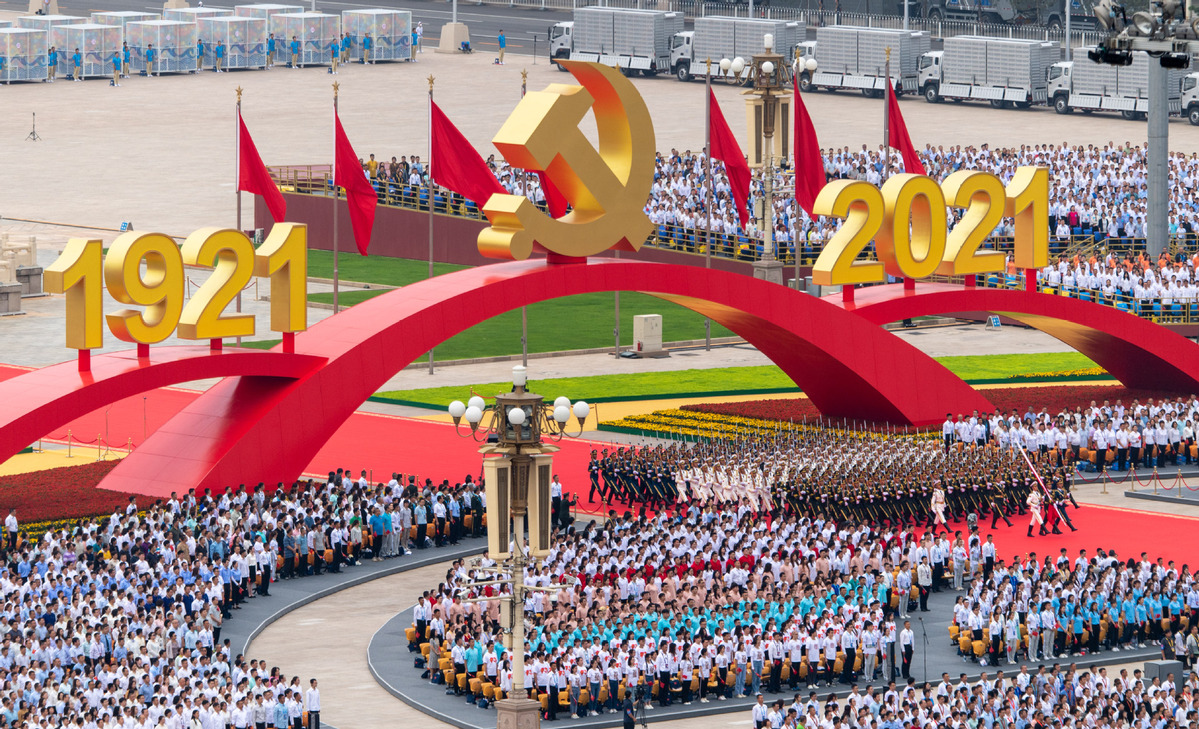 It was the dream of the founding fathers of the Communist Party of China (CPC) to create a prosperous and developed country, an equal society for all and to free the Chinese people from oppression, and stop foreign invaders. A few brave men took charge and called a meeting in July 1921, and founded the CPC.
Whenever I analyze the events of last century, I felt a great miracle happened in China. The dreams of the founding fathers of China are becoming reality. They delivered what they promised. Hundreds of millions of people who were living under the poverty line, are now rising toward prosperity. This is the miracle of the CPC and I believe it wouldn't have happened without the hard work of all party members. In 1949, the life expectancy in China was only 36 years. By the early 1980s, it had increased to 68 years. About 80 percent of China's population was illiterate in 1949, but by 2018 the adult literacy rate was 96.8 percent. China's per-capita disposable income in 1949 was nearly 49.7 yuan, but it topped 28,200 yuan ($4,030) by 2018. From agrarian economy to global superpower in half a century—China's transformation has been an economic success story unlike any other. Today, China is the world's second-largest economy, making up 16 percent of global GDP in nominal terms. If you adjust numbers for purchasing power parity (PPP), the Chinese economy has already been the world's largest since 2014.
The Party's biggest achievement is uniting China again and getting rid of occupiers and invaders. If you go back to the time of the Republic of China, you will see miserable scenes of death, starvation, war and separation. Before the People's Republic of China was established, China was split by warlords and imperialists. There was not a complete and strong country which could offer the protection the people were dying to receive. Before 1949, China was not a country which could claim that she could get her affairs in order without the influence of foreigners. The CPC did it, and members of the Party honestly wanted to make a new world for the Chinese people and changed the country entirely in their own ways. The proof of this is in the advancement and changes happening every day. The country has built a complete industrial system, a strong defense system and an independent and efficient economic system. Without the CPC, the Chinese people would not have any of the above. Those things depend on a great country and great leadership. Without a powerful government, none of these would have any chance to be established. Without an independent country, none of these is practical for Chinese people.
As I grew up, I would hear China is the factory of the world. But after earning a degree in China and now working here, I can say the world should know China's days as the ''world's low-end and low-margin factory'' are coming to an end. China's days as the 'world's innovation, research and development center are beginning. Chinese scientists and engineers are designing and developing apps like TikTok, WeChat and Alipay that are world-class.
We are also seeing China as a global leader in solving the problems of mankind. China launched the Belt and Road Initiative in 2013, which has invested billions of dollars to improve the infrastructure of developing countries in Asia, Africa, Europe and South America. As I am from Pakistan, I have seen in the past years the development in healthcare, motorways, energy and defense. Now we have also seen after the breakout of COVID-19, China has emerged as the supporter of a healthy world. Whereas the Western world has closed its doors to developing countries, China helped the world to fight against this invisible enemy by donating hundreds of millions of vaccine doses.
Due to the launch of the reform and opening-up policy in 1978, China has generated so much wealth that in 2021, there are at least 300 million Chinese in China who enjoy a similar standard of living to their Western counterparts. So we need to take a step back and applaud the CPC for making a prosperous, stable, innovative and powerful China.
The author is from Pakistan and works in Rizhao, East China's Shandong province.
The opinions expressed here are those of the writer and do not represent the views of China Daily and China Daily website.