Height-of-luxury property offers commanding views of Shanghai
By HE QI in Shanghai | China Daily | Updated: 2021-07-05 10:23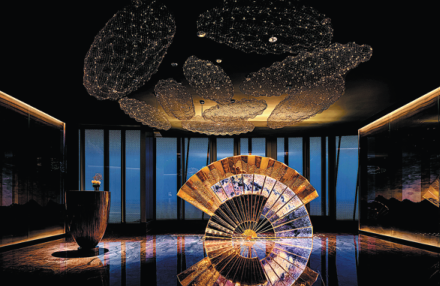 Domestic high-end hotel brand J Hotel Shanghai Tower, the highest hotel in the world, officially opened to the public on June 19.
Located in Shanghai Tower, the tallest skyscraper in China and second-tallest in the world, the hotel has its lobby on the 101st floor, at a height of about 470 meters. At the top of the hotel is the Heavenly Jin restaurant on the 120th floor.
Colaunched by corporations including investment group Shanghai Chengtou Corp and leading travel and hospitality conglomerates Jin Jiang International, J Hotel hopes to interpret and convey a national brand concept that originated in Shanghai and move it toward the wider world.
"The hotel industry is the strength and symbol of a city," said Zhao Qi, Party secretary and CEO of Jin Jiang International. "Meanwhile, J Hotel is also a great project carrying the national brand."
The 632-meter-high Shanghai Tower, which cost 14.8 billion yuan ($2.28 billion) in construction, is located in the core area of Lujiazui, a financial business center in Shanghai.
Covering the 84th to 110th floor and the 120th floor of Shanghai Tower, the new hotel occupies a total of more than 55,000 square meters. It has 165 rooms varying from 62-380 sq m, including 34 suites each with distinctive design themes.
The two major designs of the guest rooms at J Hotel are the New Chinese and the Contemporary, which are separated by different colored doors.