World hails messages from parties summit
By CHEN WEIHUA in Brussels, XU WEIWEI in Hong Kong,XU WEIWEI and LIA ZHU in San Francisco | CHINA DAILY | Updated: 2021-07-08 09:31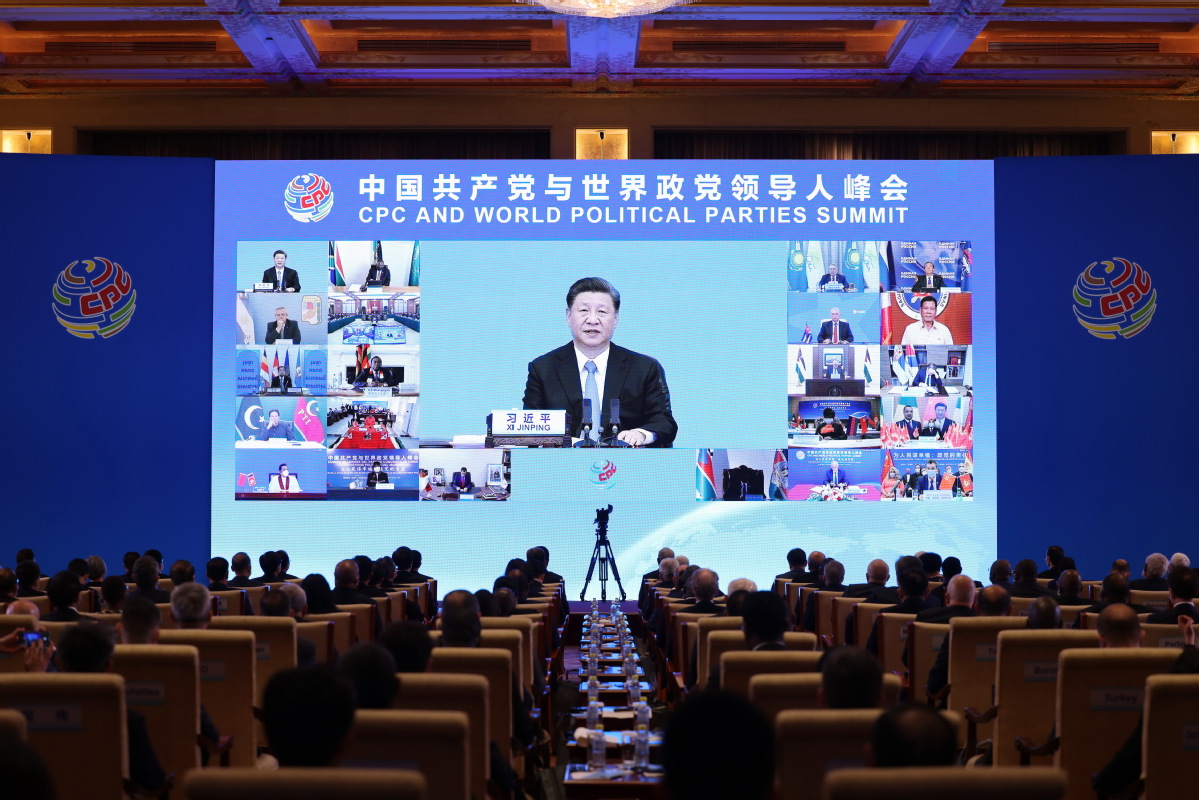 Foreign experts point to vision of peace, multipolarity outlined by President Xi
It is encouraging to hear China's perspective on building a society with equal development opportunities under global cooperation, foreign experts said in highlighting the urgent need for this approach after the concept was expressed at an international summit on Tuesday.
The CPC and World Political Parties Summit, on the theme of "For the People's Wellbeing: The Responsibility of Political Parties", was held via video link at a time when the Communist Party of China is marking the 100th anniversary of its founding.
The overall message emerging from the summit was powerful and timely, said Carlos Martinez, a co-founder of the London-based No Cold War campaign.
"(It) accurately represents the needs and aspirations of the masses of the world, who want a collective global effort against poverty, against climate breakdown, against discrimination, and for peace and prosperity," he said.
In his keynote speech, Xi Jinping, general secretary of the CPC Central Committee, put forward a clear vision of multipolarity, peace and cooperation, Martinez said.
"This message-opposing hegemony, opposing imperialism, opposing war, and building a framework of international relations in which every country is free to choose its own development path-resonates strongly with the Global South," he said.
Mustafa Hyder Sayed, executive director at the Pakistan-China Institute, said the theme of Xi's speech is "people-centered", which is "at the core of the development of the world".
"It has to be equal and fair," he said. "Development should not be a privilege for a few. And all people of the world should have equal opportunities to develop, whether it is in economic growth or in the COVID-immunization drive."
Sayed noted that Xi's speech "highlighted the fact that China will continue to undertake peaceful development, the development that has no intention of hegemony".
"It is noteworthy that Xi also emphasized this is the most important time for global cooperation, of joining hands. And the need to set aside political differences for the larger common values of civilization, of humanity, and to bridge the immunization gap," Sayed said.
The expert also said Xi's speech made a very important point, in terms of civilization, that one country cannot judge whether another is democratic, and only the country's people have the right to judge that.
"Every civilization has its own history, its own culture, its own way of doing things, and its own customs. And we cannot impose different customs or cultures on civilizations," Sayed said.
George Koo, a retired international business adviser in Silicon Valley, the United States, said the concepts revealed in Xi's speech stand in marked contrast with the US position, with its focus on America First.
"Xi proposes collaboration and global unity," he said. "In contrast, (US leaders) insist that in order for the US to win, you must lose. 'You' in this context is not just China but everybody else in the world. The world can see that the policy of 'America First' will accomplish nothing to resolve global warming, quell COVID-19 or put cybercriminals in prison."
In Russia, Vladimir Petrovsky, chief research fellow for studies in Russian-Chinese relations at the Institute of Far Eastern Studies of the Russian Academy of Sciences, said the CPC exchanged experiences with other political parties and discussed future cooperation at the summit. That is meaningful for the world, he said.
More than 500 leaders of political parties and organizations from more than 160 countries, as well as over 10,000 party representatives, participated in the online gathering.
Ren Qi in Moscow and Liu Xuan in Beijing contributed to this story.