Drugmakers increasingly looking abroad
By LIU ZHIHUA | China Daily | Updated: 2021-07-09 10:05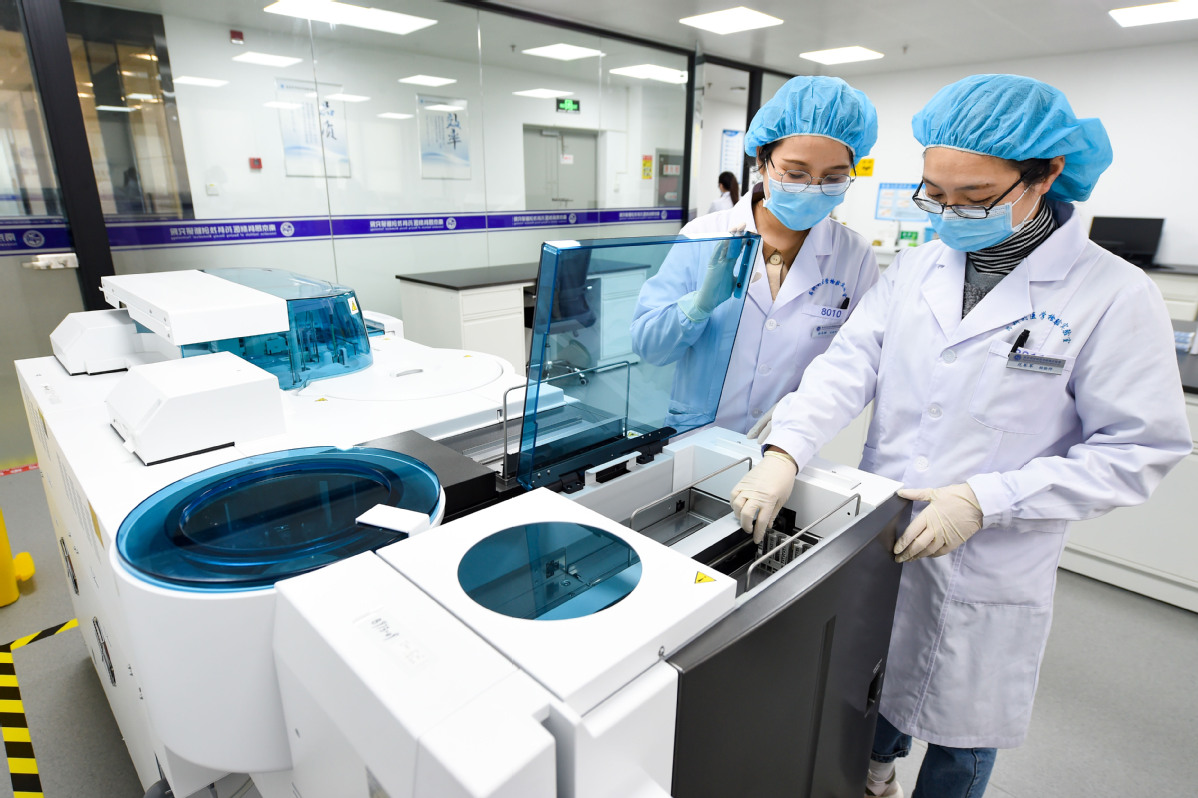 Innovation, talent recruitment and retainment all key to worldwide success
Chinese startup Jacobio Pharmaceuticals, founded in 2015, recently received a $20 million milestone payment from global pharmaceutical giant AbbVie, marking the first milestone payment following the initial upfront fee of $45 million at the outset of Jacobio and AbbVie's collaboration inked in 2020.
The Hong Kong-listed startup is mainly engaged in the research and development of new drugs at the clinical stage. Its main drug development projects include JAB-3068 and JAB-3312.
The milestone payment was triggered by the inoculations of the first two patients in the Phase-1/2 clinical trial of its SHP2 inhibitor JAB-3312 in combination with PD-1 antibody pembrolizumab and MEK inhibitor binimetinib, respectively.
SHP2 is an oncoprotein associated with multiple cancers, as well as a potential immunomodulator. Inhibiting SHP2 activity is therefore of significant therapeutic interest as it can potentially reduce cancer cell growth and modulate immune responses to generate antitumor activities.
Jacobio is just one of an emerging group of Chinese pharmaceutical companies with ambitions to rely on in-house discoveries and develop global-standard first-in-class and best-in-class therapies. Such companies are mostly biotech and biopharmaceutical startups.
Many of them have been able to out-license their innovative products to big-name pharmaceutical giants rather than focusing on in-licensing.
Jacobio entered into a licensing agreement with AbbVie in May 2020 to develop and commercialize SHP2 inhibitors, including JAB-3068 and JAB-3312.
According to the collaboration agreement, AbbVie will be granted an exclusive license to the SHP2 portfolio. Jacobio will continue to conduct early global clinical trials of JAB-3068 and JAB-3312 inhibitors, while AbbVie will cover the R&D expenses.
Upon completion of the trials, AbbVie will be in charge of global development and commercialization. Jacobio will exclusively develop and commercialize the SHP2 inhibitors in the Chinese mainland, Hong Kong and Macao. Jacobio will also receive royalties from AbbVie from global sales.
Wang Yinxiang, chairman and CEO of Jacobio, said the company is the second drug developer in the world to engage in clinical development of an SHP2 inhibitor drug candidate, following Novartis.
JAB-3068 received investigational new drug approval from the US Food and Drug Administration to enter clinical development in January 2018.
JAB-3312 received investigational new drug approval from both the USFDA and China's National Medical Products Administration in 2019.
As of late June, there were only six companies worldwide with SHP2 inhibitors undergoing clinical trials, Wang said.
"When establishing the company, it was clear for us that we must focus on the global market, and to that end, only global-standard first-in-class drugs, rather than 'me too' approaches, will work. It will be of limited value for Chinese companies to develop fast-follower drugs, and for the next decade, opportunities will mainly be for companies that develop global-standard first-in-class drugs," he said.
Since embarking on the collaboration, the company has been working with AbbVie to accelerate the global development of its SHP2 inhibitors in clinical trials via either monotherapy or in combination therapy modalities at more than 30 sites globally.
The company has several projects to file for investigational new drug approvals between 2021 and 2022, Wang said.
According to Liu Jubo, CEO of Chinese biologics company Evive Biotech, the nation's pharmaceutical industry has been shifting from mainly producing generics to innovation-driven novel drug development, and strong independent R&D capability will be the core competence of companies seeking to achieve sustainable growth or expand their global footprint.
Evive recently filed its Biologics License Application for Ryzneuta (also known as F-627) with the USFDA, following successful conclusion of global Phase-3 clinical trials that met primary and secondary endpoints.