Belt and Road Initiative revives glassware hub
China Daily | Updated: 2021-07-22 08:15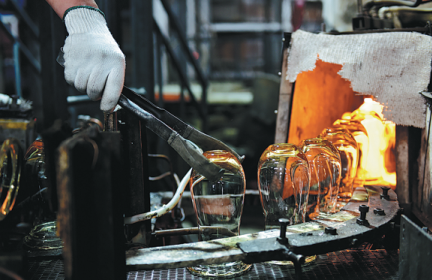 At a glass factory located in North China's Shanxi province, workers are busy painting white flowers on unfinished cups with glass powder.
After completing more than a dozen steps, they begin to use melted gold to draw gorgeous lines on the cups. Not long after that, the delicate glass cups made at the workshops of Hong Hai Glass Company will be packed and shipped to the Middle East. These handblown glass products are made in Qixian county, a glassware manufacturing hub in Shanxi.
Qixian has been engaged in glassware manufacturing for more than a century, but disorderly development once put the county in a bind until the Belt and Road Initiative reignited the glory of this ancient craftsmanship.
"Arab countries involved with the BRI are the main export destinations of our handblown glassware, while hookah bottles and various tableware of Islamic design are the most popular products," says Li Jiansheng, founder of the company.
Glassware made in Qixian has been exported to more than 80 countries and regions over the past few years, including over 40 countries involved in the BRI, registering an average annual export growth of 30 percent.
"We have set up offices in Dubai, which is a trading hub of the Middle East region, to further expand our sales," Li says.
The annual output of Li's enterprise has reached approximately 40 million yuan ($6.17 million), with the export value exceeding 30 million yuan.
"The ties between China and Arab countries are deepening thanks to the BRI," Li says. "It is convenient for us to do business there or for them to come to China."
The county now has 47 glassware factories, among which handblown glassware accounts for about half of the output and 26 percent of the global output, according to Chen Rujia, a staff member of the Qixian glassware industry development center.
The industry has granted more than 20,000 people stable jobs, with an average annual per capita income of 50,000 yuan.
In 2019, the Ministry of Industry and Information Technology approved the establishment of the initiative's industrial cooperation zone for small and medium-sized enterprises in Qixian, the first of its kind in China.
A year later, the local government launched the construction of the first phase of a new industrial town for glassware manufacturing, with an investment of 2 billion yuan and a planned area of 176.47 hectares. A warehousing and logistics center was also established in Germany.
The initiative has brought unprecedented opportunities for the county, says Hu Xiaofeng, director of the Qixian glassware industry development center.
"We must carry it forward and take our glassware to more people in countries involved with the BRI," he says.