Hydrogen hall gets going in Shanghai
By XING YI in Shanghai | China Daily | Updated: 2021-07-27 09:25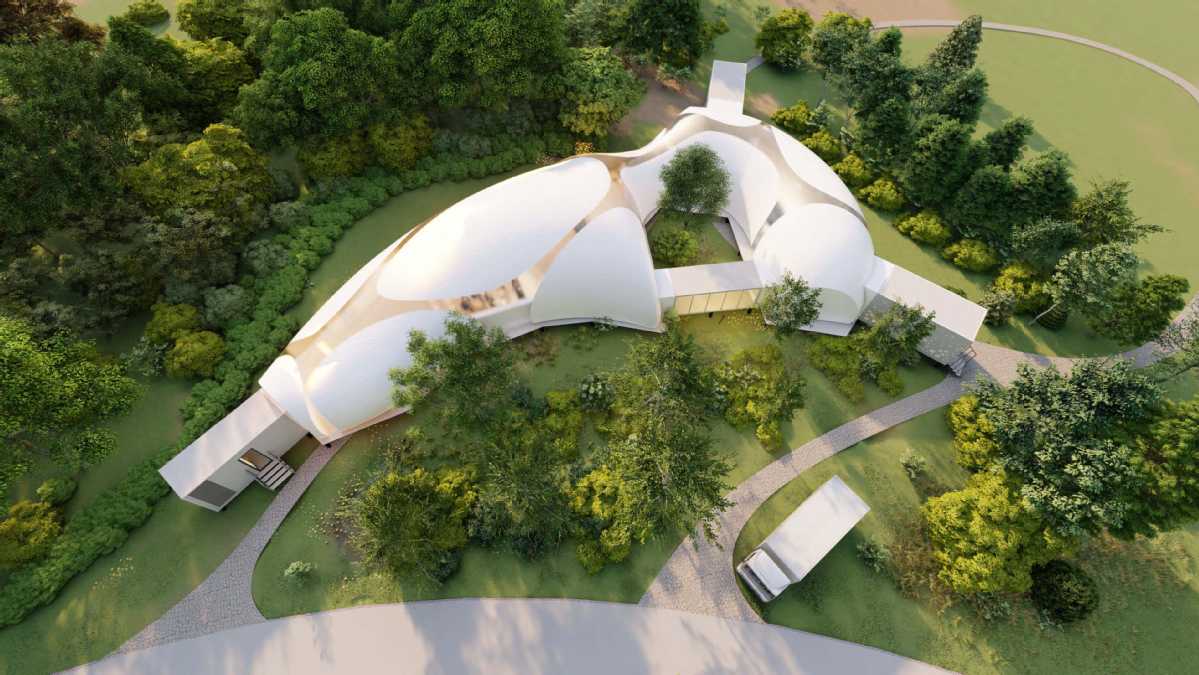 The phase one of an off-grid hydrogen-powered exhibition hall, a joint project by Shanghai International Automobile City and Tongji University, was unveiled in Shanghai's Jiading district on Thursday.
Consisting of a refitted container housing the hydrogen fuel cell and an inflatable dome tent for activities, the prototype of the exhibition hall is the first of its kind in China, which was a brainchild of Wu Zhiqiang, an academician of the Chinese Academy of Engineering and a former professor of Tongji University.
"The project embodied a breakthrough from zero to one, and putting the exhibition hall on the ground is evidence of the safe use of hydrogen power," Wu said in a video for the launching ceremony.
Wu and his research team in recent years have been dedicated to the application of new energy in urban construction.
The full-size exhibition hall, which is expected to be finished by the end of this year, will cover 500 square meters and display the knowledge of hydrogen energy and various applications of hydrogen in everyday life and production.
Its main structure will be using air-supported membrane technology. The air-based structure was inspired by the Fire Eye lab, which had been deployed in many cities around the world for COVID-19 testing last year.
The 5-kilowatt fuel cell was placed in a container with its hydrogen being supplied by tanks. One tank of hydrogen can generate 10 kilowatt-hours of electricity, which can approximately power the lighting for the exhibition hall for a day.
"The off-grid hydrogen power is ideal for emergency use, such as for a military post on a remote island, temporary tents during natural disasters and scientific bases in harsh environments," said Su Yunsheng, executive deputy dean of the Shanghai International College of Design and Innovation of Tongji University, who led the project.
"The technology of hydrogen fuel cells has matured after being applied in cars. However, the use of hydrogen energy for buildings is still in its pilot stage," he said. "We hope it can be used more widely in the future."
Guan Qingping, assistant general manager of Shanghai International Automobile City (Group) Co, said the company has piloted the use of hydrogen fuel cells in automobiles for years, and the pilot hydrogen-powered building will be a good start to promote the use of green energy in other fields.
As a widely available and clean energy, hydrogen was seen by many as a potential substitute for fossil fuels and has been listed in China's long-range objectives through 2035, suggesting the country will accelerate the development of a range of future industries, including the hydrogen power and energy storage industries.
Shanghai has also designated hydrogen energy as one of the six industrial development focuses in its municipal 14th Five-Year Plan (2021-25) along with genetics, photonic chips and the marine industry.
According to the municipal government, the city has nearly 1,500 hydrogen cars and nine hydrogen fueling stations in use. It planned to have more than 70 hydrogen stations covering the five newly planned satellite cities and Hongqiao and Pudong airports by 2025.