Henan flood relief demonstrates special drone utility in natural disaster response
By Barry He | China Daily Global | Updated: 2021-07-30 09:44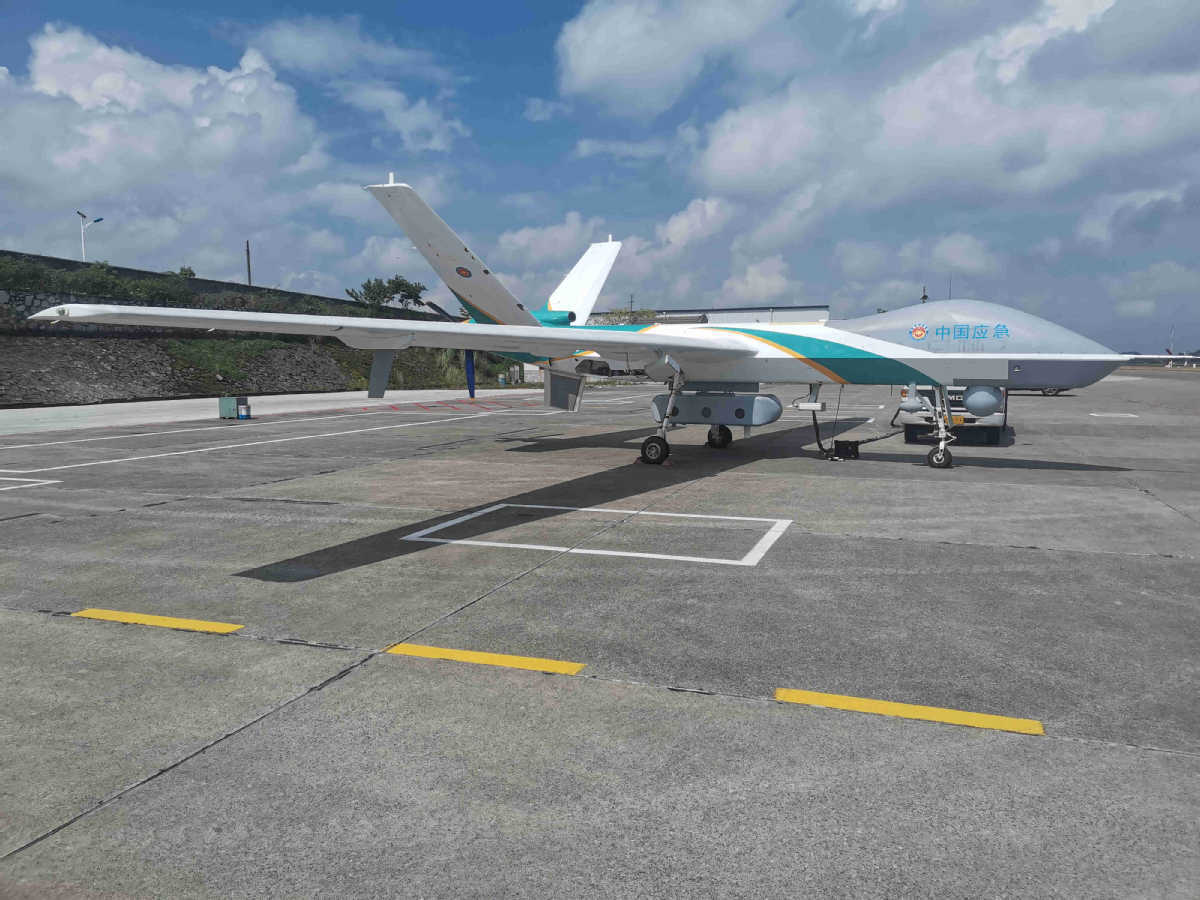 China's deployment of drones to assist with the disaster relief efforts in the flooded Henan province signals a new age in which drones are on the front line in the face of natural disasters.
The Wing Loong 2H drone, among others, has helped provide vital communications infrastructure, transmitting signals overhead to allow those stranded on the ground by the floods to access phone networks.
Drones now offer a variety of new contributions toward rescue operations unimaginable even just five years ago. The Wing Loong 2H, for example, is able to fly long distances, stay airborne for extended periods of time and carry heavy load materials, all transferring well to emergency relief in the 21st century.
Drones provide numerous new benefits in these situations. Emergency response teams in the face of climate change are often working in time-critical scenarios, where the status on the ground can change from risky to deadly in a matter of minutes, with travel to an area made difficult in hazardous terrain. What is known in emergency service work as "the golden hour", rapid deployment within the first 60 minutes of any natural disaster, is crucial. Drones are extremely valuable in reaching points of interest quickly and gathering essential information for workers attending the scene, too.
For floods, drone observations give vital information on which direction water is flowing. This is important for deciding on how best to reach and rescue trapped people. Based on water flow, it can be determined which buildings are most at risk, and therefore prioritize who should be therefore evacuated first. Finding the best route for such evacuations from above are all areas where drones are in their element to assist.
Drones can also provide aid quickly to those in need who are yet to be rescued by boats. Where traditional modes of delivery are downed, items such as food, water or essential medications can be sent to those who need them. Unless there are extreme wind conditions, transport by air is nearly always faster and more reliable than roads and railways in a flooding situation. The fact that such deliveries can be autonomous, too, means that more attention can be given by human rescue workers to other aspects of the mission and away from potential direct danger. Delivery journeys which may otherwise have taken hours can now be fulfilled sometimes in a matter of minutes.
Flooding can cause havoc to a building's infrastructure, providing complex challenges for rescuers looking to enter it and carry out rescues. Safe inspections in person can be time-consuming, and with water levels rising rapidly, this can spell disaster.
Thankfully drones can also be used to assess and take measurements of buildings without anyone having to set foot inside, with images of any causes of concern sent to experts for analysis. Particularly risky stages of a rescue are when added stress is caused to the structure through workers entering the premises with heavy equipment, endangering everyone involved, meaning that quick alternative means of risk assessments are needed.
The technology for producing drones and their capabilities are improving rapidly all the time. This means that any future natural disasters in China will be likely to have more aerial support than in recent years, as shown in Henan province recently. A vital tool for emergency workers, such innovation will provide welcome relief both to those in danger and hardworking rescuers working in dangerous roles.