Dada Group ramping up on-demand unmanned deliveries
By FAN FEIFEI | China Daily | Updated: 2021-07-31 07:41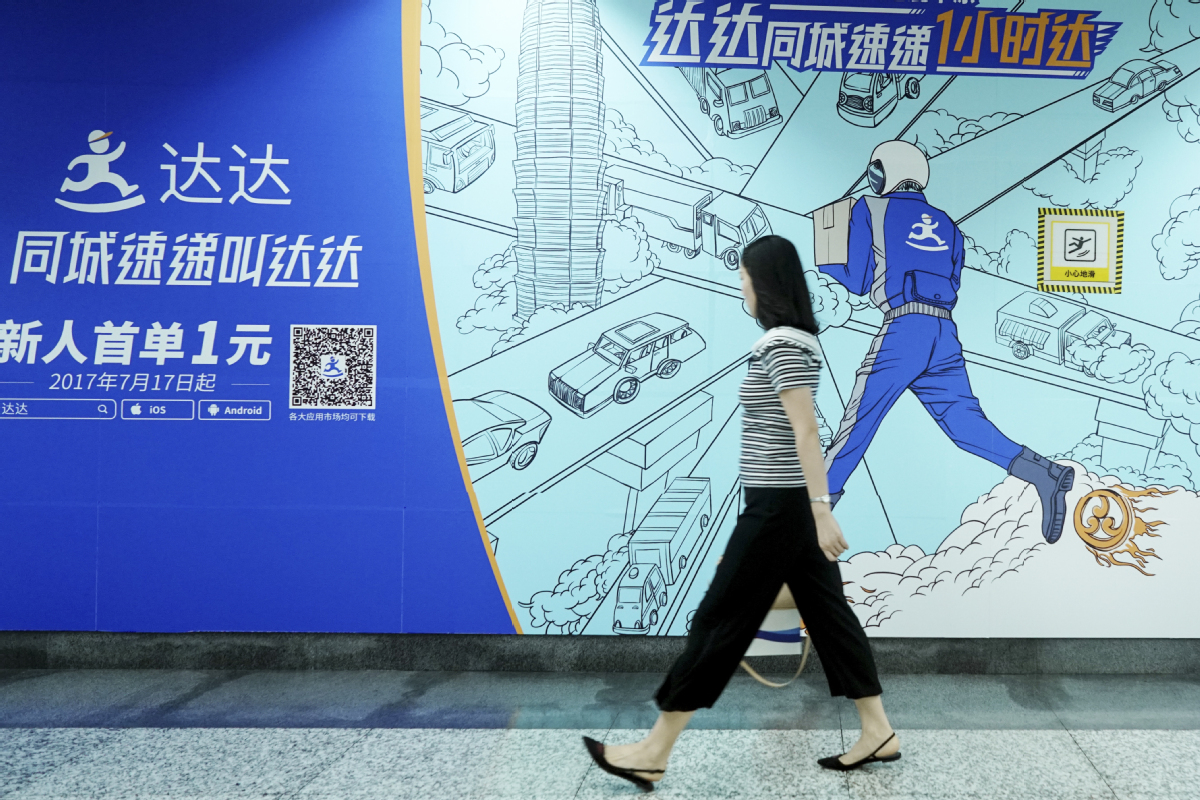 Dada Group, one of China's largest local on-demand delivery and retail platforms, is ramping up the expansion of its autonomous delivery segment.
For the purpose, it has teamed up with JD Logistics, the logistics arm of e-commerce giant JD, and White Rhino, an autonomous delivery vehicle developer.
Dada launched an autonomous delivery open system that has already been adopted by 7Fresh, JD's supermarket chain, and Yonghui Supermarket. The system helps normalize the scalable use of unmanned delivery vehicles and establishes an autonomous delivery ecosystem for on-demand services.
The system can distribute orders automatically for supermarkets, manage package loading, maintain the normal operations of orders through its human-machine interaction technology, as well as dispatch the unmanned vehicles and plan routes to ensure the latter efficiently fulfill online orders.
At present, these unmanned vehicles developed by JD and White Rhino cover more than 10 neighborhoods in Beijing, Shanghai and Chengdu in Sichuan province. Nearly 5,000 orders have been fulfilled and driving mileage exceeds 10,000 kilometers.
Dada said the vehicles support "scheduled delivery," in which customers can designate times for the vehicle to come to their neighborhoods. The unmanned vehicles can also be deployed in extreme weather conditions as well as during peak hours. They can also be used during off-peak hours, to autonomously complete delivery missions when the availability of delivery riders tends to be limited.
"We are confident that the combination of Dada's open system for autonomous delivery and our partners' highly intelligent delivery vehicles will reduce delivery cost, lower carbon emissions and bring greater value to retailers and business partners," said Yang Jun, co-founder, director and chief technology officer of Dada.
The firm also plans to expand its unmanned delivery services to more application scenarios in more cities across the nation, improve the operational efficiency of the system, and scale up the research and development of autonomous delivery to solve the last-mile delivery problem.
Demand for online grocery delivery service is growing fast in China. According to a report based on a survey conducted by market consultancy iResearch in June, consumers are increasingly embracing on-demand consumption, with fruits and vegetables, dairy products, meat and eggs figuring among the most commonly purchased categories.
Compared with traditional delivery, unmanned delivery offers lower delivery cost, larger carrying capacity and higher safety. It also provides a viable alternative to address some challenges, such as rising labor costs and a shortage of couriers, along with the rapid growth of on-demand delivery industry, experts said.
"The unmanned delivery services are deployed in some designated areas and scenarios, like hotels, supermarkets and universities, considering the limitation of the current autonomous driving technologies and complicated traffic situations," said Lu Zhenwang, CEO of Shanghai-based Wanqing Consultancy.
So, it will take a long time for the unmanned delivery services to achieve large-scale commercialization, Lu said.
Chinese technology giants JD and Meituan have stepped up efforts in the autonomous delivery sector. In May, the two companies received permits to run their unmanned delivery vehicles on designated open roads in Beijing.