Banyan Tree prospers promoting well-being
By Yang Cheng in Tianjin | China Daily | Updated: 2021-07-31 16:14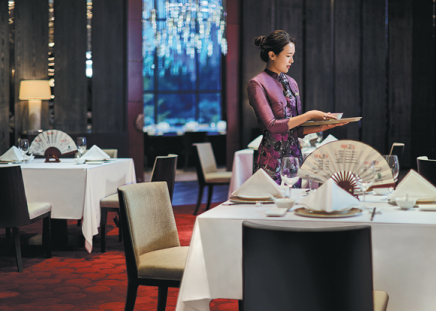 Banyan Tree Tianjin Riverside, located along the banks of the Haihe River and overlooking the vibrant urban cityscape of Tianjin, is performing well in a hospitality market aiming to get back on its feet after being hit by the COVID-19 outbreak.
The luxury hotel was Banyan Tree Holding's first property in China, opening in 2013, and has since become renowned for offering guests unique well-being experiences embedded in the group's core concept of sustainability.
The hotel describes itself as being an "urban oasis imbued with Tianjin's historical and cultural heritage".
These aspects give the hotel its charm and allowed it to achieve occupancy rates of 100 percent during recent festivals and public holidays, according to the hotel.
"Located in a destination of cultural and historical significance, Banyan Tree Tianjin Riverside is within walking distance of Tianjin's ancient culture street, lined with quaint handicraft stores and local specialty shops," said Bao Jiasheng, general manager of the hotel.
The hotel is surrounded by European buildings in the nearby former concession areas which are always popular among tourists, he noted.
Each of the 159 guest rooms is designed to be a tranquil haven for rest and relaxation, artfully crafted with richly textured materials and tastefully accentuated with intricate furnishings and finishes, including a sizable "relaxation tub" for guests to soak in.
Since its establishment in Phuket, Thailand, in 1994, Banyan Tree Holdings has become one of the world's leading independent, multibranded hospitality groups. Its core focus on sustainability has played a vital role from the very beginning in achieving long-term value for all stakeholders, including guests and employees, across the world.
"This drives Banyan Tree's philosophy of well-being-the belief that being well is an inside-out journey connecting self, others and nature," Bao said.
"The brand's service culture begins with its employees, who are the heart and soul of the brand experience, the connection of self, others and nature.
"The group has provided in-depth training programs for local employees, all of which are attended by co-founder Claire Chiang," he noted.
The training focuses on empathy, positive psychology and mindfulness-based stress reduction, and Banyan Tree's employees learn about stress management techniques, resilience and selfcare.