Chinese athletes reaching for the skies
By Zhang Zhouxiang | chinadaily.com.cn | Updated: 2021-08-02 14:54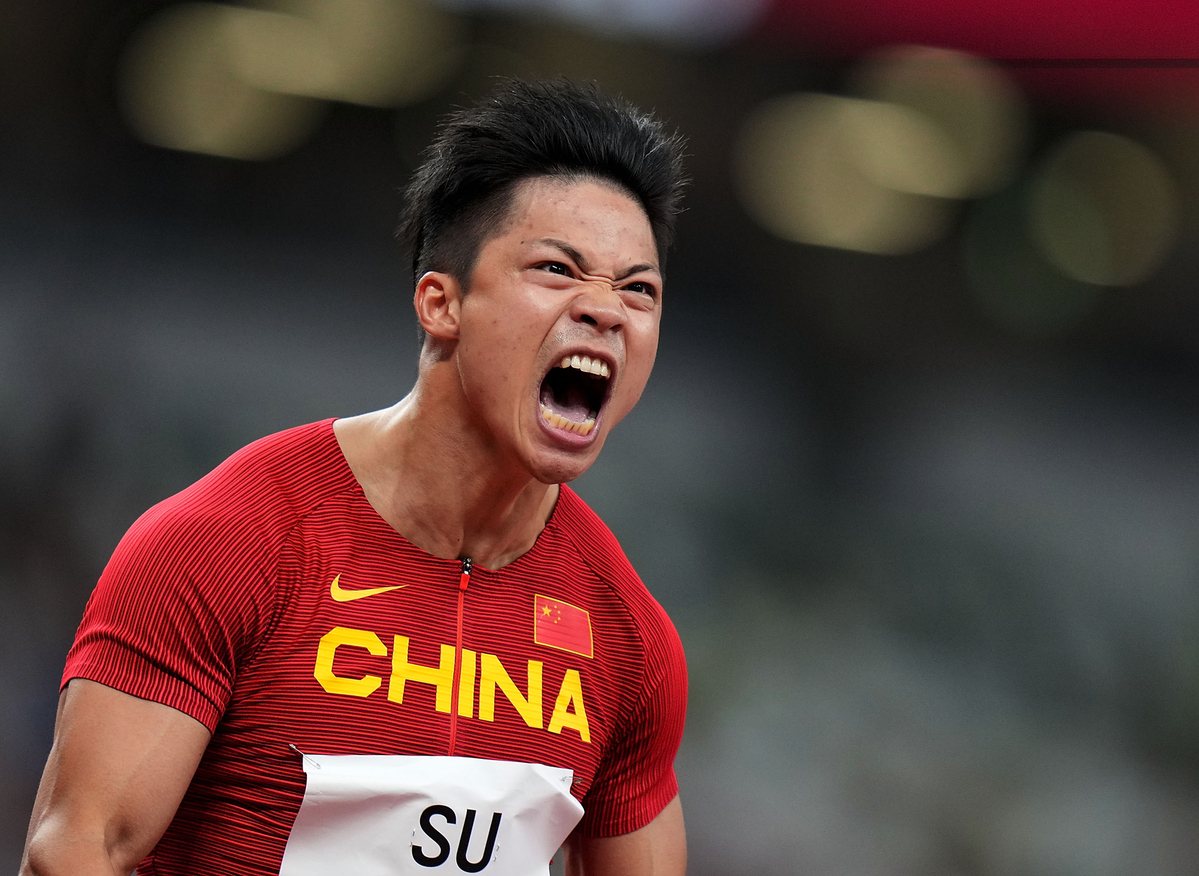 Sprinter Su Bingtian of China set a new Asian record when he clocked 9.83 seconds in the men's 100-meter sprint semifinal at the 2020 Tokyo Summer Olympics. Although he ranked sixth in the final, he clocked a respectable 9.98 seconds, 0.18 seconds behind winner Lamont Marcell Jacobs of Italy, who clocked 9.80 seconds.
Besides setting the shortest time record for Asia, Su is also the first Chinese to make it to the men's 100-meter Olympic final. He has done remarkably well, considering that at 32, he is much older than his competitors, who are mostly in their 20s or even younger. Also, his 172 centimeter height is not what one would call a dream height for a sprinter, many of who are over 190 centimeters.
The spirit of constantly surpassing himself and the Olympics motto of "Faster, higher, stronger" inspired Su, who persisted even though most of his teammates retire by the time they turn 28. In doing so, Su also broke the jinx around Asians and sprinting. Chinese athlete Liu Xiang proved it earlier by winning gold in the men's 110-meter hurdle at the 2004 Olympics in Athens and now Su has done it in the men's 100-meter sprint.
Hopefully, there will be more Asians, particularly Chinese, who will win big in track and field events in the future.
Su and other athletes are further proof of China's arrival in the sporting arena. When Chinese athlete Liu Changchun participated in the men's 100-meter and 200-meter events at the 1932 Los Angeles Olympics, the entire Chinese contingent comprised of just six persons, and Liu had to rely on donation from local Chinese-Americans to pay for his return fare.
Today, the Chinese contingent is 777-member strong and they had won 24 gold medals till Monday morning. For the moment, the days of weakness has long been a thing of the past, and we hope Chinese sportsmen realize more glorious achievements in the days to come.
—ZHANG ZHOUXIANG, CHINA DAILY