S. Korea gains from China's recovery
By YANG HAN in Hong Kong | China Daily | Updated: 2021-08-09 10:04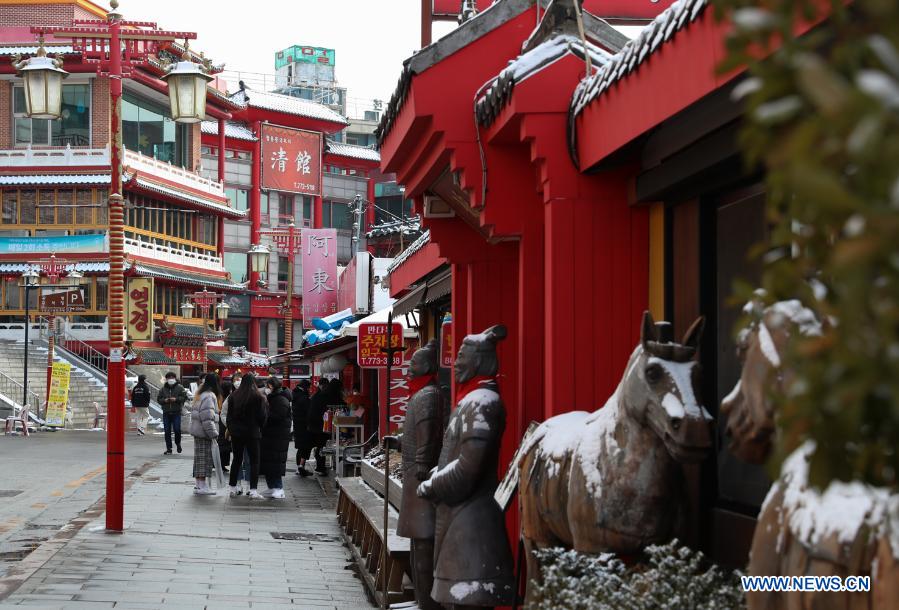 China's strong post-pandemic growth offers opportunities to South Korean recovery and increasing information and communications technology shipments, among others, experts say.
The rebound of the Chinese economy "would definitely" have a positive impact on South Korea, in terms of increased demand, said Woo Su-keun, president of the Institute of East Asian Studies of Korea.
Chinese demand has a significant bearing on the prospects of South Korean industries, particularly in segments such as semiconductors, he said.
South Korea's exports rose 29.6 percent last month, with exports to China, the country's largest trading partner, rising 15.7 percent to $13.6 billion because of stronger demand for chips, petrochemicals and displays, South Korea's Ministry of Trade, Industry and Energy said.
Last month's performance came after the country's shipments of information and communications technology goods to China rose 28 percent to $9.3 billion in June amid robust sales of semiconductors, displays and mobile phones.
South Korean companies operating in China enjoyed record high sales in the three months to June, according to the (South) Korea Institute for Industrial Economics and Trade, the Korea Chamber of Commerce and Industry's Beijing office, and the Korea Chamber of Commerce in China.
The Business Survey Index on South Korean companies in China for the three months to June stood at 94 for market conditions and 100 for sales, the highest since the third quarter of 2018, the report said.
"Since last year China's exports have grown rapidly," said An Yuhua, a professor of finance at Sungkyunkwan University in Seoul. "As the country mainly exports intermediate goods to China, when China's exports to regions such as Europe and the United States rise, exports from South Korea to China also grow."
About 70 percent of the intermediate products exported from South Korea to China are processed for China's exports, she said.
Rising demand
An said rising demand from China for South Korea's information and communications technology products is partly a result of the pandemic-fueled stay-at-home economy, which has resulted in a sharp rise in the use of electronic devices such as computers.
Despite a recent surge in COVID-19 infections in both countries, An said, she does not see it as a big threat to bilateral trade and investment.
The pandemic, while causing disruptions in global supply chains, has made regional supply chains more important, she said.
"Technological and investment cooperation among Asian countries, especially among the major East Asian countries, will be increasingly important," said An, who sees bigger business opportunities in segments such as 5G, batteries, Internet of Things and semiconductors.
The rapid development of the autonomous driving sector and electric vehicles in China will support the demand for South Korea's information and communications technology products, An said.
Shi Jianhua, deputy secretary-general of the China Association of Automobile Manufacturers, has said that sales of new energy vehicles in China are expected to surpass 2 million this year. He welcomes technological collaboration with South Korean companies, Yonhap News Agency quoted him as telling a forum on China and South Korea working closely together on new energy vehicles.
The two countries have been working to improve their trade and investment relations during the pandemic.
China's State Councilor and Foreign Minister Wang Yi said in a phone conversation with his South Korean counterpart Chung Euiyong in June that the two countries should accelerate second-phase negotiations on their bilateral free trade agreement, strengthen collaboration in high technologies and emerging industries, and promote and deepen the two countries' high-quality integrated growth.
"The Chinese companies need products and parts from South Korea, and South Korean companies need the Chinese market from an economic perspective," said Woo of the Institute of East Asian Studies of Korea, adding that he expects bilateral trade and investment exchanges to be enhanced in the coming months.
However, Woo voiced concern about anti-China sentiment among sections of South Korean society.
Companies may hold back on investments and business expansion in China amid fear of negative responses from the public, he said.
"The misunderstanding on China has affected bilateral relations, not only in the political area but also the economic area. People should not view China with a biased attitude."