Havoc left in Henri's wake in US northeast
China Daily | Updated: 2021-08-24 09:46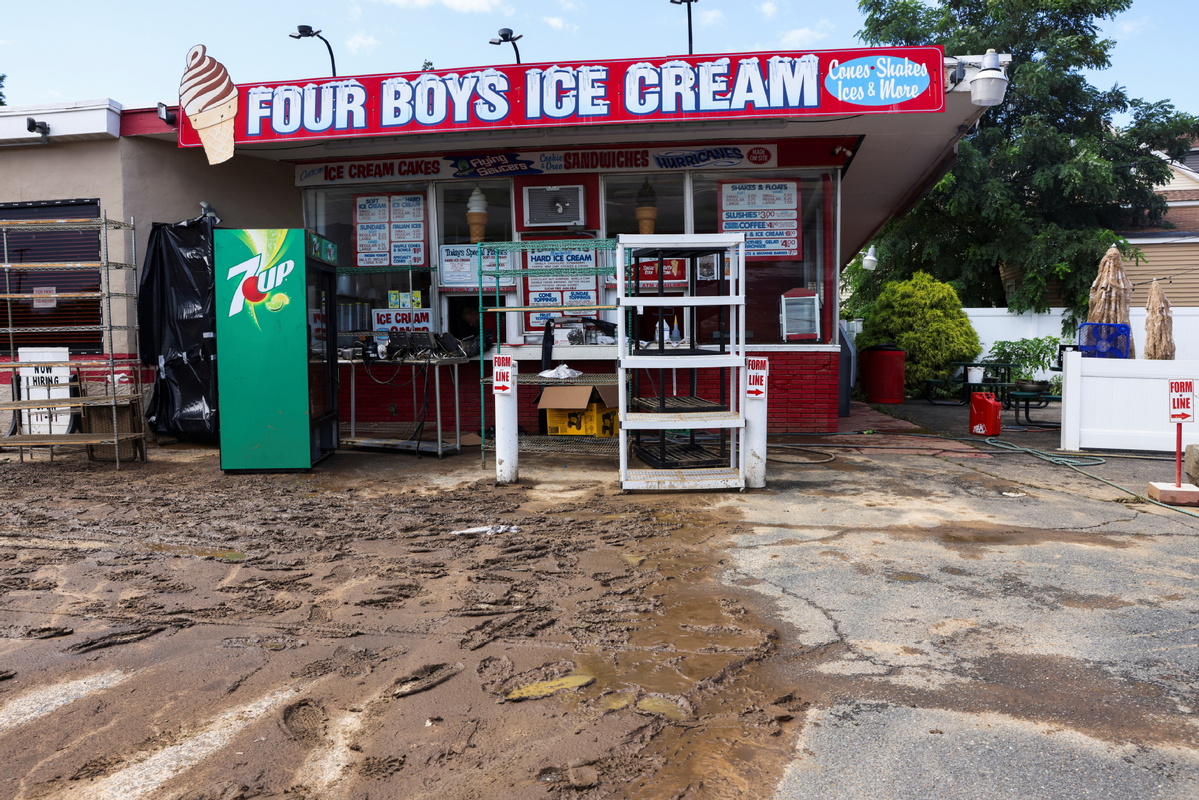 WAVERLY, Tennessee-Tropical Storm Henri socked northeast of the United States with strong winds as it made landfall on Sunday on the coast of Rhode Island and sent lashing bands of rain westward.
The rain knocked out power to more than 140,000 homes and caused deluges that closed bridges, swamped roads and left some people stranded in their vehicles.
The storm was downgraded from a hurricane before reaching New England, leaving many to breathe a sigh of relief, but the National Hurricane Center warned that the slow-moving storm would continue dumping heavy rains on wide swaths of the region well beyond the weekend.
In two days, heavy, sustained rains flooded areas as far southwest as New Jersey, even as it took on tropical depression status.
In the state of Tennessee, at least 22 people were killed and rescue crews searched desperately on Sunday for dozens of missing people amid shattered homes and tangled debris after record-breaking rain sent floodwaters surging through the middle of the state.
Saturday's flooding in rural areas took out roads, cellphone towers and telephone lines, leaving families uncertain about whether their loved ones survived the unprecedented deluge. Kristi Brown, a coordinator for the health and safety supervisor with Humphreys County Schools, said emergency workers were searching door to door.
Many of those missing live in neighborhoods where the water rose the fastest, said Humphreys County Sheriff Chris Davis, who confirmed 22 fatalities in his county. The names of the missing were on a board in the county's emergency center and listed on a city department's Facebook page.
Recovery efforts
"I would expect, given the number of fatalities, that we're going to see mostly recovery efforts at this point rather than rescue efforts," said Patrick Sheehan, director of the Tennessee Emergency Management Agency.
The dead included twin babies who were swept from their father's arms, and a foreman at country music star Loretta Lynn's ranch.
Up to 43 centimeters of rain fell in Humphreys in less than 24 hours on Saturday, shattering the Tennessee record for one-day rainfall by more than 8 cm, according to the National Weather Service.
Tennessee Governor Bill Lee toured the area, calling it a "devastating picture of loss and heartache". He stopped on Main Street in Waverly where some homes were washed off their foundations and people were sifting through their waterlogged possessions. All around the county were debris from wrecked cars, demolished businesses and homes, and a chaotic tangled mix of things inside.
Agencies via Xinhua