US coronavirus cases hit 40 million
By AI HEPING in New York | China Daily Global | Updated: 2021-09-07 10:05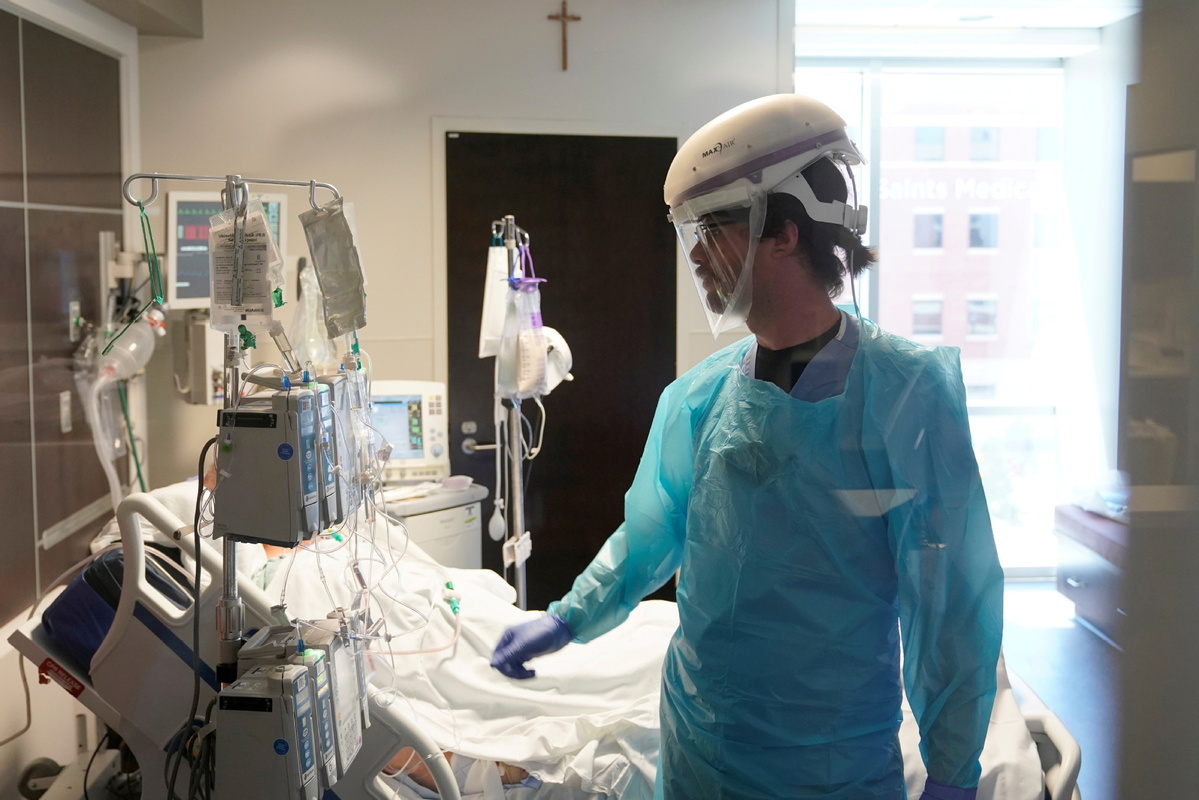 The United States on Monday hit another milestone on the total number of known coronavirus cases since January 2020 when the first confirmed case of the virus in the country was reported: 40 million, according to Johns Hopkins University data, and the number of deaths stood at close to 650,000.
As of Monday, there were more than 161,000 new coronavirus cases a day last week and about 100,000 COVID-19 patients are hospitalized nationwide, according to a New York Times database.
The Delta-driven surge has filled hospitals in many states. Only a handful have more than 30 percent of their overall ICU beds still available, according to the US Health and Human Services Department.
On Sept 5, Dr Anthony Fauci, the director of the National Institute of Allergy and Infectious Diseases and President Joe Biden's chief medical adviser, told CNN: "We are perilously close in certain areas of the country of getting so close to having full occupancy that you're going to be in a situation where you're going to have to make some tough choices.''
Oregon and Idaho have reported running out of ICU beds as they confront a surge in new coronavirus infections.
In Oregon, the seven-day average of hospitalizations hit 1,219 on Friday, almost double the previous high reached in December, according to a Times database.
Idaho had a seven-day average of 512 hospitalizations on Sept 3, a number that has grown rapidly since July, according to the newspaper.
The Oregon Health Authority reported on Sept 4 that only 50 of the state's 638 hospital beds were still available.
Patrick Allen, the director of the Oregon Health Authority, said in an interview on Sept 4 that 127 patients in the state were waiting in emergency departments for beds to open up. He said hospitals in southern Oregon, where vaccination rates were lowest, were especially hard hit.
Idaho Governor Brad Little, a Republican, and Oregon Governor Kate Brown, a Democrat, each mobilized their states' National Guard last month to add extra hospital staff.
Health officials said that other states with August being their worst month for cases were Alabama, Florida, Hawaii, Louisiana, Mississippi, Oregon and Washington.
Hawaii's cases grew by 232 percent compared to its previous highest month, state health officials said. On Aug 23, Hawaii Governor David Ige said Hawaii visitors and residents should delay all non-essential travel through the end of October due to the recent surge in virus cases overburdening the state's healthcare facilities and resources.
On Sunday, the Biden administration reiterated that it won't offer booster shots until the Food and Drug Administration (FDA) and the Centers for Disease and Control (CDC) have more time to evaluate vaccine data before moving ahead with booster shots.
Ron Klain, President Joe Biden's chief of staff, said on CNN that he wanted to be "absolutely clear. No one's going to get boosters until the FDA says they're approved, until the CDC advisory committee makes a recommendation."
In August, the administration announced a plan to start offering booster shots the week of Sept 20 to adults who had received their second shot of the Pfizer-BioNTech or Moderna vaccine at least eight months prior.
At the time, the administration said the plan was contingent on clearance from the FDA and a CDC advisory committee.
"The announcement in August kind of jumped the gun," Dr Stephen Ostroff, former acting FDA commissioner during the Obama administration, told The Associated Press. "They needed to say something, but they could have just said, 'We're working on boosters, more to come.'"
Regulators are beginning to review data that will help them determine how to proceed on boosters. Pfizer finished its booster application to the FDA less than two weeks ago; Moderna said on Sept 3 that it had just completed its own.
Fauci said on CBS News on Saturday that it was possible that only the Pfizer-BioNTech booster would be approved by Sept 20. He said that any delay in clearing the Moderna booster would be only a few weeks at most.
An FDA panel is set to review Pfizer's third-shot data on Sept 17. The need for a Johnson & Johnson booster shot hasn't been determined yet, but the CDC says it is likely.
The FDA already has approved a third dose of the Pfizer and Moderna vaccines for people who are immunocompromised.
Advocates for global health — including the World Health Organization — have said it was morally wrong for the administration to give booster shots to Americans when so many people around the world were still waiting to be vaccinated.