Envoy to US explains the buzz on China
By Zhao Huanxin in Washington | China Daily | Updated: 2021-10-07 21:43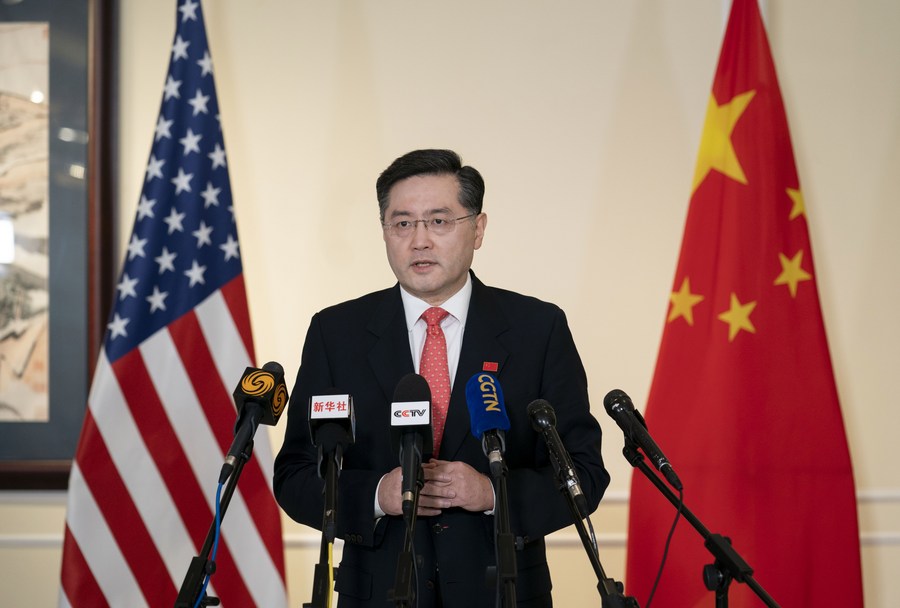 From "people first" and "heroes in harm's way" to "involution", Chinese Ambassador to the United States Qin Gang shared popular buzzwords to explain to people in the US the profound changes in China as he encouraged them to visit the country once the pandemic is over.
Speaking online during the "US-China Regional Dialogue Series: Hospitality, Tourism and Cultural Exchange", Qin said that tourism, hospitality and cultural exchanges between China and the US are the foundations of mutual understanding and help people from the two countries correctly perceive each other.
As many US people haven't been to China for a long time due to the COVID-19 pandemic, recent buzzwords in China may help them understand what is happening in the country and what people are thinking, he said.
The phrase, "people first, life first" came from China's fight against the pandemic, a massive nationwide effort that meant no place was left behind and no life was given up on.
"From a 30-hour-old baby to senior citizens over 100 years old, no cost was spared to save a life, and all the treatment was free," the envoy said. "Now the pandemic has been put under effective control in China, and sporadic or cluster cases in a few regions were all curbed very quickly."
Also made popular during China's efforts to control the pandemic was the saying ni xing zhe, or "heroes in harm's way", which refers to everyday heroes such as medical professionals, military personnel and firefighters who put their duty before their lives and made sacrifices to fight the pandemic.
Another buzzword, tang ping, or "lie flat", describes Chinese youngsters who have little ambition and do the bare minimum to get by. It turns out that the "lie-flatters" are from well-off families, born with a silver spoon in their mouths, or believe that whatever happens to them, they have basic medical insurance, pension and unemployment subsidies to fall back on, Qin said.
"This is totally different from previous generations, who didn't have the luxury to 'lie flat', because they had to tighten their belts and work hard to earn a living," he said, adding that younger people are facing greater pressure than older generations when it comes to employment.
Qin said more people don't approve of the "lie-flatters", who they believe are self-centered, and have greater respect for the "heroes in harm's way".
The ambassador told a personal story to illustrate why the government unveiled a policy to address nei juan, or "involution", a buzzword meaning irrational or involuntary competition, which makes people feel burned out.
"I still remember over 10 years ago, my weekends were spent rushing my kid from one training school to another, and the courses he took ranged from math to physics," he said.
After a whole day of classes, a tutor came to the family home in the evening. When the tutoring session finished, Qin had to help his son with his composition homework.
That's why most parents felt a burden had been lifted when education authorities rolled out shuang jian, or double reduction. The policy reduced the excessive homework load and after-school tutoring hours for students, giving them more time for sports, play and hobbies.
The ambassador also shared some other buzzwords that he said "reflect the changing and unchanging elements in our values" as China experiences rapid economic growth and profound social transformation.
"We need to keep fine traditional values, uphold fairness and justice and not get lost in a market economy," he said.
Payment apps necessary
For those who visit China in person in the post-pandemic period, Qin advised that they take their phone wherever they go, as scanning QR codes is more convenient when taking buses, high-speed trains, planes and ships, or hiring a bicycle.
Phone payment apps are also necessary, because from street vendors to shopping malls, people prefer e-payments.
Speaking in Las Vegas, Nevada, where the US-China regional dialogue was held, US Congresswoman Dina Titus, a Democrat from Nevada, said international tourism directly employs about 1.5 million people across the US.
"There's a lot of virtual travel these days, but there's nothing the equivalent of going someplace, seeing it for yourself, tasting the food and learning how things really are," Titus said. "A picture postcard of the Great Wall is just not the same as climbing it and walking it yourself."
The two-day event, sponsored by the US-Asia Institute and Las Vegas Sands Corp, focused on commercial opportunities, people-to-people exchanges and education. It followed a dialogue on China-US agricultural trade in May.
In 2022, the dialogue series will focus on the environment, energy and sustainability.