Targeted sanctions lifted for Nuland visit to Russia
By REN QI in Moscow | China Daily | Updated: 2021-10-12 10:34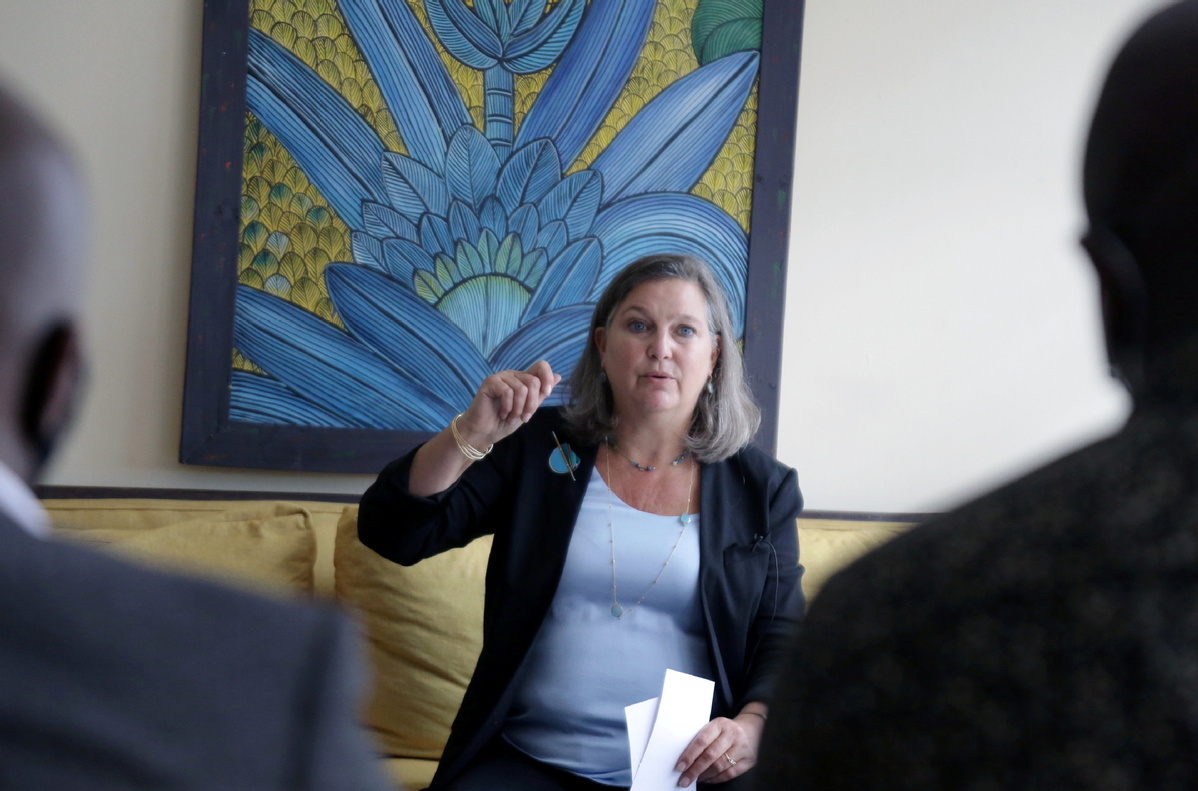 Russia and the United States have lifted targeted sanctions to allow US Under Secretary of State for Political Affairs Victoria Nuland to visit Moscow this week for meetings with Russian officials.
Maria Zakharova, spokeswoman for Russia's Foreign Ministry, said Nuland was on the sanctions list that prohibits individuals from entering the country, but has since been removed after the US nixed a similar restriction barring a Russian citizen from entering the country.
"Indeed, she was on a sanction list. It means that such a person cannot cross the border. They put Russian representatives on their sanction lists, hence, in this case the matter was settled on the parity basis," said Zakharova in an interview on the Rossiya 1 television channel.
Zakharova confirmed that the US had removed some Russian representatives from their sanction lists, and said Nuland's visit to Russia was requested by the US.
"I think our Western partners should analyze this approach and understand that we can respond in a negative manner to negative things. We can also respond in a positive manner to positive things and have always been opting for the latter," she said.
Zakharova later clarified to Govorit Moskva radio that one Russian citizen had been removed from the US sanctions list, but she did not disclose the person's name.
The US State Department said Nuland is expected to meet senior Russian officials to discuss bilateral, regional and global issues in Moscow from Monday to Wednesday.
After spending time in Russia, Nuland will travel to Beirut on Thursday. On Friday, she will travel to the United Kingdom.
Nuland's visit comes at a time when political ties between the US and Russia are badly strained.
The US has imposed an array of sanctions on Russia. Bilateral ties sank to post-Cold War lows since Crimea's incorporation into Russia in March 2014 following a local referendum.
Since taking office, US President Joe Biden has approved sanctions against Russia for the alleged poisoning of opposition leader Alexei Navalny and alleged meddling in the 2020 presidential election. The Russian government has repeatedly denied these accusations.
Biden, however, met one-on-one with Russian President Vladimir Putin during a summit in June, which the US leader framed as a foreign policy win.
Last week, Biden nominated James O'Brien as State Department sanctions coordinator, reviving a position that has been vacant since 2017. It is a move that was described by Russian newspaper Nezavisimaya Gazeta as a great concern to Russia.