Zepp Health banks on new smartwatches for growth
By MA SI | China Daily | Updated: 2021-10-14 10:00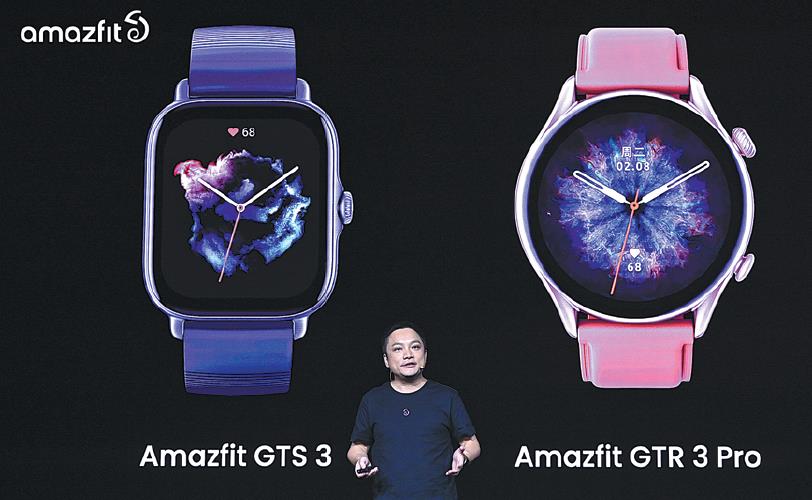 Zepp Health Corp, a US-listed maker of smart wearables, has unveiled its latest smartwatches to ride consumers' growing demand for smart devices.
The move came after the Chinese company, which changed its name from Huami Corp into Zepp Health Corp earlier this year, garnered more than 24 million users in over 90 countries and regions such as the United Kingdom, Spain, Germany, the United States and India.
Huang Wang, founder and CEO of Zepp Health, said the company's smartwatch brand Amazfit, created in 2015, has grown into a popular brand worldwide.
In the first quarter, Zepp Health became the fourth largest smartwatch vendor by shipments in the world for the first time, according to data from market research company International Data Corp. In that time frame, Zepp Health sold 1.65 million units of smartwatches worldwide, a year-on-year growth of 68.8 percent.
The IDC report also showcased that the company is the top smartwatch vendor in several markets, including Brazil, Russia and Spain. It also ranked second in markets like Italy, third in Poland, and fourth in Germany, India, Indonesia, and Thailand.
Though lagging behind market leaders such as Apple Inc, Zepp Health is continuing to raise its investment into its research and development, sales and marketing efforts.
On Tuesday, Zepp Health unveiled its latest fashion smartwatch Amazfit GTR 3 and GTS 3 series, which are equipped with Zepp Health's self-developed smartwatch operating system Zepp OS for the first time, paired with a new generation of biological tracking optical sensors, which fully upgrade health, sports, and smart experiences.
"Smartwatch vendors are attempting to make a big generational leap in smartwatch technologies. To stand out, they are improving the fundamentals, such as user experience and battery life, and leveraging their respective ecosystems to draw out new and unique use cases," said Jason Low, research manager at market research company Canalys.
"But health tracking is the most prominent use case for smartwatches. The ability to deliver cutting-edge health-tracking features and to offer users meaningful data and actionable health insights will set winners and losers apart," Low said.
"It is vital that vendors invest in next-generation health sensors and developing in-house algorithms and solutions to not only track vital biomarkers, but also to ensure good accuracy and reliability. Vendors should focus on giving users insights into health trends involving data collected over a longer period of time, so that they can understand how their lifestyles are affecting their well-being," Low added.
In the second quarter, shipments of basic watches and smartwatches reached 25.4 million units, up 37.9 percent year-on-year, data from Canalys showed.
Zepp Health in September released its second-quarter financial report. Its revenue in that quarter rose 61.4 percent year-on-year to 1.8 billion yuan ($279 million).