William Shatner conquers the final frontier of space at age 90
By BELINDA ROBINSON in New York | chinadaily.com.cn | Updated: 2021-10-14 11:10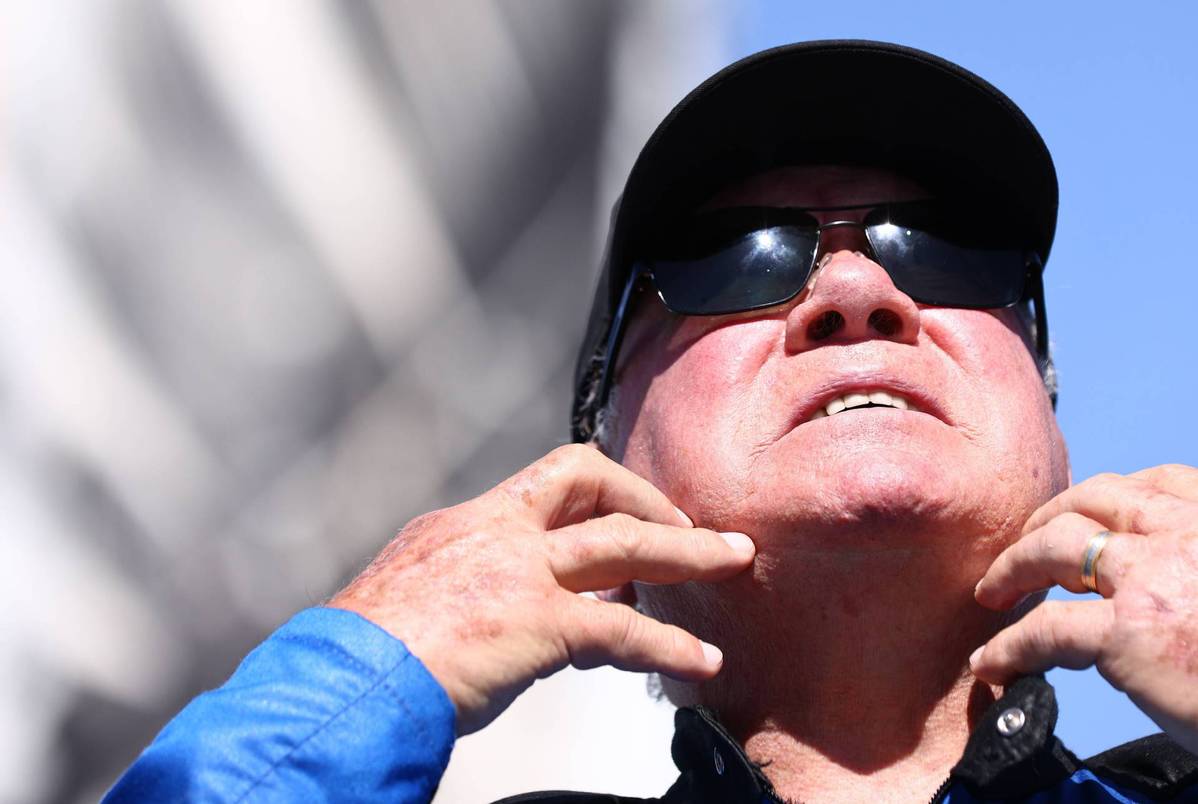 Star Trek actor William Shatner went where no 90-year-old has gone before when he blasted off aboard a Blue Origin space flight into the edge of space on Wednesday.
The Hollywood star and three other crew members took off at 10:49 am EDT from the launch site in Van Horn, West Texas, and reached a peak altitude of 66.5 miles above the Earth at speeds of 2,235 miles per hour.
Shatner's journey on the New Shepard, an automated capsule, lasted 10 minutes and 17 seconds and made him the oldest person to travel to space. The crew experienced a few minutes of weightlessness and then landed on solid ground at 10:59 am.
Back on Earth, Shatner, who was overcome with emotion, stepped out of the hatch and stood for a moment, clasping his hands in sheer disbelief as he was greeted by a jubilant Jeff Bezos, Blue Origin CEO, and partner, Lauren Sanchez, while others around popped champagne corks.
"What you have given me is the most profound experience," Shatner told Bezos. "I am so filled with emotion at what just happened. It's extraordinary.
"I hope I never recover from this. I hope that I can maintain what I feel now. I don't want to lose it."
Shatner, an actor for seven decades, is also a spoken word artist.
Standing in the West Texas desert, he eloquently described how the space flight had made him feel.
"In an instant you go, 'Whoa, that's death.' That's what I saw. Everybody in the world needs to do this," he added. "Everybody in the world needs to see. To see the blue color whip by and now you're staring into the blackness, that's the thing."
Shatner usurped the title of oldest space traveler from Wally Funk, the 82-year-old astronaut who accompanied Bezos and his brother on a flight in July.
Bezos, a huge sci-fi fan and "Trekkie" who has appeared in a recent Star Trek movie, allowed Shatner to take a free ride on his New Shepard capsule as a publicity stunt. But the experience was clearly profound to the actor.
"The covering of blue, this sheath, this blanket, this comforter of blue that we have around, we say, 'Oh that's blue sky,' Shatner said. "And then suddenly you shoot through it all and you're looking into blackness, into black ugliness."
The other passengers on board the flight were Audrey Powers, a Blue Origin vice-president; Chris Boshuizen, a former NASA employee, and software company CEO Glen de Vries; both men paid an undisclosed amount for their rides.
Shatner became internationally known after playing Captain James T. Kirk on the original Star Trek science fiction TV show from 1966 to 1969. He also has starred in Star Trek movies.
Bezos gave the actor some Star Trek paraphernalia to take on the flight that the Amazon.com Inc founder had made when he was 9 years old.
Before the flight, Bezos drove Shatner and the other crew members to the launch site. He shut the hatch and waved them off.
The launch comes amid renewed interest from the public in space travel, space tourism and space exploration.
On July 11, British billionaire and Virgin Galactic CEO Richard Branson and his crew flew to the edge of space.
Virgin Galactic, founded in 2004, plans to run two more test flights before it launches commercial flights for customers in 2022.
It already has 600 reservations costing $250,000 per ticket for space tourists who want to blast off from New Mexico.
Bezos, 57, followed Branson into space days later on the first-ever crewed mission for Blue Origin's New Shepard suborbital rocket from West Texas.
He was accompanied by his brother Mark, 50; Oliver Daeman, 18, the youngest person in space; and Funk, an astronaut who first trained in the 1960s but was overlooked because she was a woman.
Blue Origin is getting ready to offer space tourism. It has created a reusable rocket called New Glenn to kick-start its space travel business in the next few years. The rocket will be capable of carrying 100,000 pounds of satellites and other equipment.