US dollar as sanction tool 'a big mistake', Putin says
By REN QI in Moscow | CHINA DAILY | Updated: 2021-10-15 08:59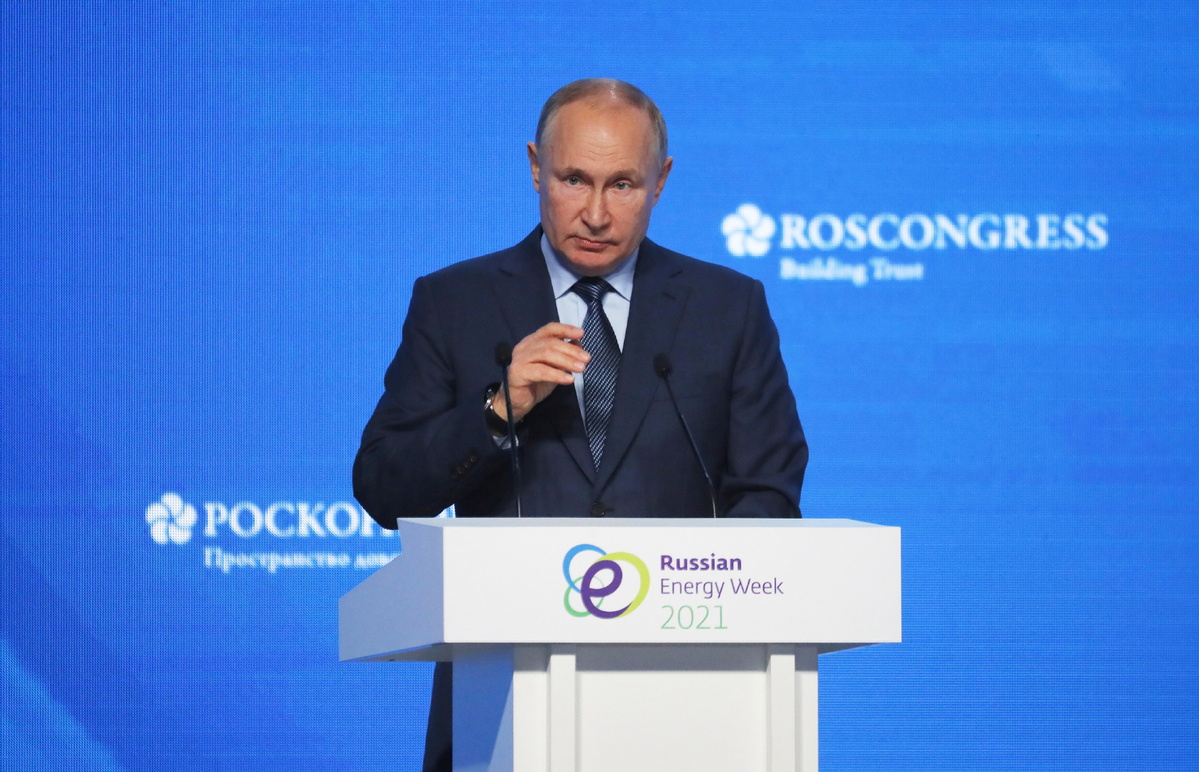 The United States is making a big mistake when it uses the dollar as a sanction instrument, said Russian President Vladimir Putin at a forum on Wednesday. He also spoke of Russia's readiness to work with the European Union in the energy sector.
Putin made the remarks during the Russian Energy Week Forum in Moscow, saying that Washington is doing it to stop settlements in dollars for sanctioned products.
Putin said Moscow is reducing the dollar's share in its reserves and settlements.
"It is not always possible, but we are trying to use national currencies," he said. "So, it can be said that the US is quarreling with its bread and butter because it is undermining the dollar's absolute competitive edge as a universal reserve currency and is damaging its strategic economic interests for the sake of timeserving political reasons.
"But we are not interested in stopping to use dollars in settlements. But if the American authorities continue the sanctions, they will ruin trust to the dollar itself."
As for Europe, Putin claimed that Russia insists on the need for honest and open dialogue with European countries, and is ready to work to prevent problems in the energy markets of Europe.
Putin also said Russia was ready to provide more gas to Europe if requested, emphatically rejecting the suggestion that Moscow was squeezing supplies for political motives.
"If they ask us to increase further, we are ready to increase further. We will increase by as much as our partners ask us. There is no refusal, none," he said.
Russia and Europe have been embroiled in a dispute over new pipeline Nord Stream 2 to supply Russian gas across the Baltic Sea to Germany. The pipeline has been built, but awaits approval to start pumping amid opposition from the US and some European nations that fear it will make Europe even more reliant on Russia.
At a news conference, Putin dismissed criticism that Russia is using gas as a geopolitical weapon, calling the accusations utter nonsense.
"This is just politically motivated chatter, which has no basis whatsoever," he said.
European gas prices have hit record levels this month, but the Kremlin has repeatedly denied that Russia is withholding supplies in order to exert pressure for quick regulatory approval of the Nord Stream 2 pipeline.
Putin said the gas market is not balanced or predictable, particularly in Europe, but said Russia is meeting its contractual obligations to supply clients and is ready to boost supplies if asked.
Increasing trade
Also at the energy forum, Putin said Russia's trade with China is increasing and it remains a "highly reliable partner for us".
China is Russia's largest trade partner despite the deep decline in the global economy, and trade turnover between China and Russia is increasing during the past nine months this year, exceeding $100 billion so far.
In terms of energy, Russia's Novatek and Chinese companies worked together to develop one of the largest LNG projects, proving to be a successful one.
Putin said the leadership of China has made great effort to eliminate coal generation and replacing it with clean energy, and that it has a very careful and balanced plan to decrease the carbon footprint.