Major underground gas storage cluster opens
By ZHENG XIN | China Daily | Updated: 2021-10-19 09:04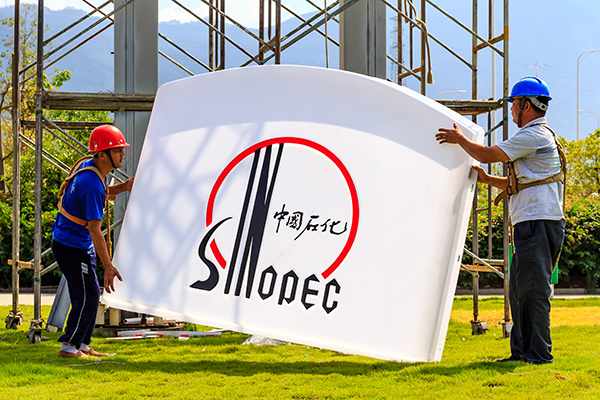 China Petroleum and Chemical Corp's biggest underground gas storage cluster, located in northern China, was put into operation on Monday, with the Wei-11 underground gas storage facility finishing gas injection, said the company.
With a total storage capacity of 10.03 billion cubic meters, the Zhongyuan underground gas storage cluster, including the Wen-23, Wen-96 and Wei-11 underground gas storage facilities, will be able to effectively meet upcoming winter fuel demand, said the company, also known as Sinopec.
The Wei-11 gas storage facility has a designed storage capacity of more than 1 billion cubic meters. Peak load regulation capacity has reached 5 million cubic meters per day, and will be able to satisfy gas demand for 10 million households, it said.
The underground gas storage facilities will be connected to several natural gas lines operated by Sinopec, including the Yulin-Jinan line and Ordos-Changzhou line that connect gas fields in North China's Ordos basin with consumers in eastern provinces.
An analyst said underground gas storage construction in China has entered a new development stage after years of exploration, and Wei-11 becoming operational signaled a step up for underground storage expansion in China.
"The commissioning of the underground gas storage cluster will further ensure gas supply security in the coming winter, which will be potentially colder than normal due to La Nina," said Li Ziyue, an analyst with BloombergNEF.
"Sinopec has also endeavored to build up gas storage by achieving 1.69 billion cubic meters of working gas capacity by the end of October, 15.5 percent higher year-on-year," Li said.
As China sees surging gas demand with soaring natural gas imports predicted to rise over 40 percent, it is necessary to accelerate the development of underground gas storage facilities in the country, she added.
China has been stepping up construction of underground gas storage facilities to meet increasing demand during the peak winter consumption period in recent years. While demand for natural gas will surge sharply over the cold winter and spring months, gas shortages are unlikely this heating season.
According to Sinopec, gas storage facilities-including Wen-13 and Bai-9-will also be completed and become operational by the end of this year, which is expected to add up to more than 1 billion cubic meters of gas storage capacity and further enhance the country's peak load regulation capacity for natural gas.