Concrete actions urged for Tokyo to win neighbors' trust
By WANG XU in Tokyo, ZHOU JIN,ZHOU JIN and ZHAO JIA in Beijing | China Daily Global | Updated: 2021-10-19 11:40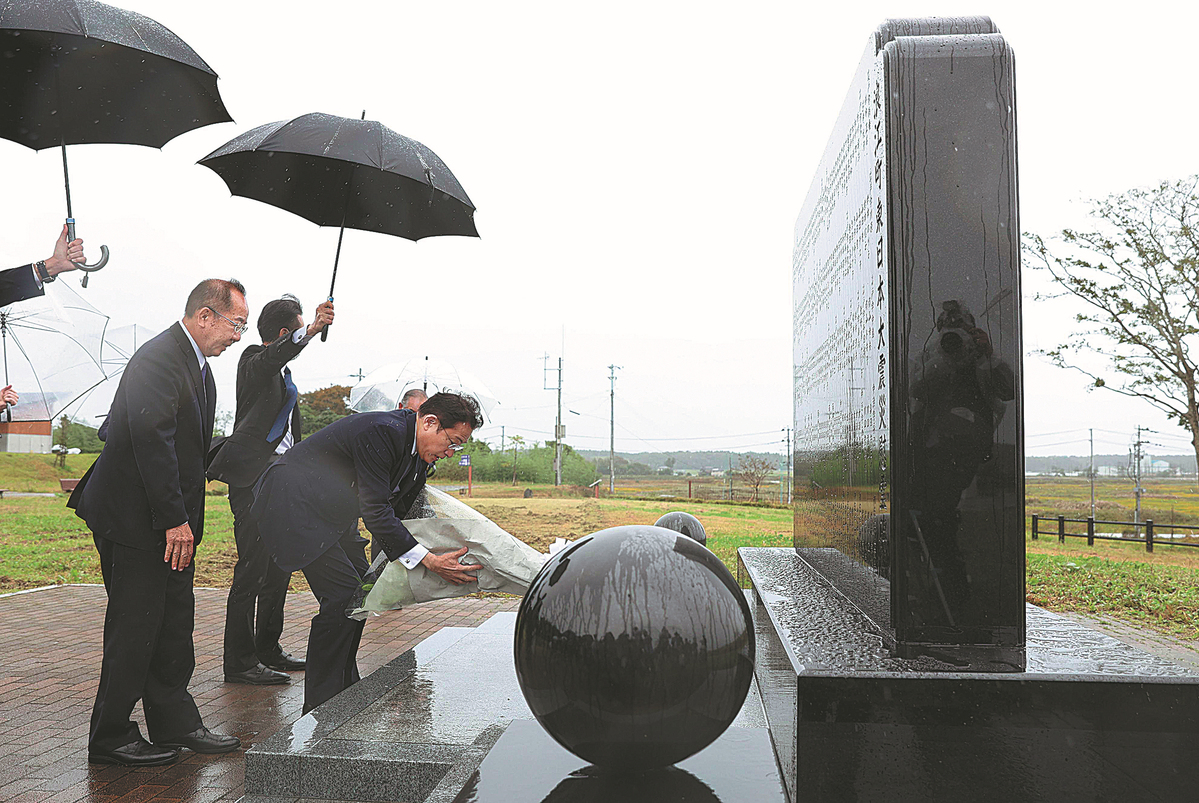 Beijing on Monday urged Tokyo to tread carefully on historical issues including the Yasukuni Shrine and make a clear break with militarism, after Japan's new Prime Minister Fumio Kishida made an offering to the war symbol only weeks after becoming leader of the government.
The negative move again reflected the wrong attitude of Japan toward its history of aggression, Foreign Ministry spokesman Zhao Lijian told a daily news conference, adding that Beijing has lodged solemn representations with Tokyo through diplomatic channels over Kishida's move.
Japan should earnestly honor its statements and commitments reflecting on its history of aggression, and win the trust of its Asian neighbors and the international community through concrete actions, he said.
On Sunday, Kishida sent a masakaki tree offering under his name as prime minister to celebrate the shrine's two-day autumn festival that ran through Monday.
His predecessor, Yoshihide Suga, who had avoided going to the shrine as prime minister, also visited Yasukuni the same day.
In response, South Korea's Foreign Ministry on Sunday said in a statement that "the government expresses deep disappointment and regrets that Japanese leaders again sent the offering or repeated their visits to the Yasukuni Shrine".
The Tokyo shrine as well as visits and offerings sent by Japanese leaders have consistently sparked outrage and criticism from neighboring countries because Yasukuni honors 14 Class-A convicted war criminals among 2.5 million Japanese war dead from World War II.
Yushukan, a war museum inside the shrine, adopted Japan's right-wing narrative of the war, which portrayed Japan as a victim of the war and was forced into the Pacific War because of Western blockade.
No serving Japanese prime ministers has visited the shrine since 2013 when Shinzo Abe's visit sparked fury not only from Beijing and Seoul, but also earned a diplomatic rebuke from the United States.
Separately, concerning Kishida's claim that there can be no delay to plans to release contaminated water from the wrecked Fukushima Daiichi nuclear power plant into the sea, Beijing said the Japanese side should heed the call of the international community, revoke erroneous decisions and stop pushing preparations for discharging nuclear contaminated waste waters into the ocean.
Widespread opposition
"Japan should refrain from wantonly discharging the contaminated water before reaching consensus with all stakeholders and relevant international organizations," Zhao said.
Zhao noted that the decision had met with widespread doubt and opposition from peoples both in Japan and Pacific Rim countries at large since Japan unilaterally decided in April to discharge nuclear contaminated water from Fukushima nuclear plant into the sea.
The decision was made before exhausting all safe ways of disposal and without fully consulting with stakeholders including neighboring countries, he said.
He also pointed out that Japan did not release relevant information in a comprehensive manner and failed to make effective arrangements for monitoring and verification.