Policy unveiled set to advance carbon goals
China Daily | Updated: 2021-10-25 06:30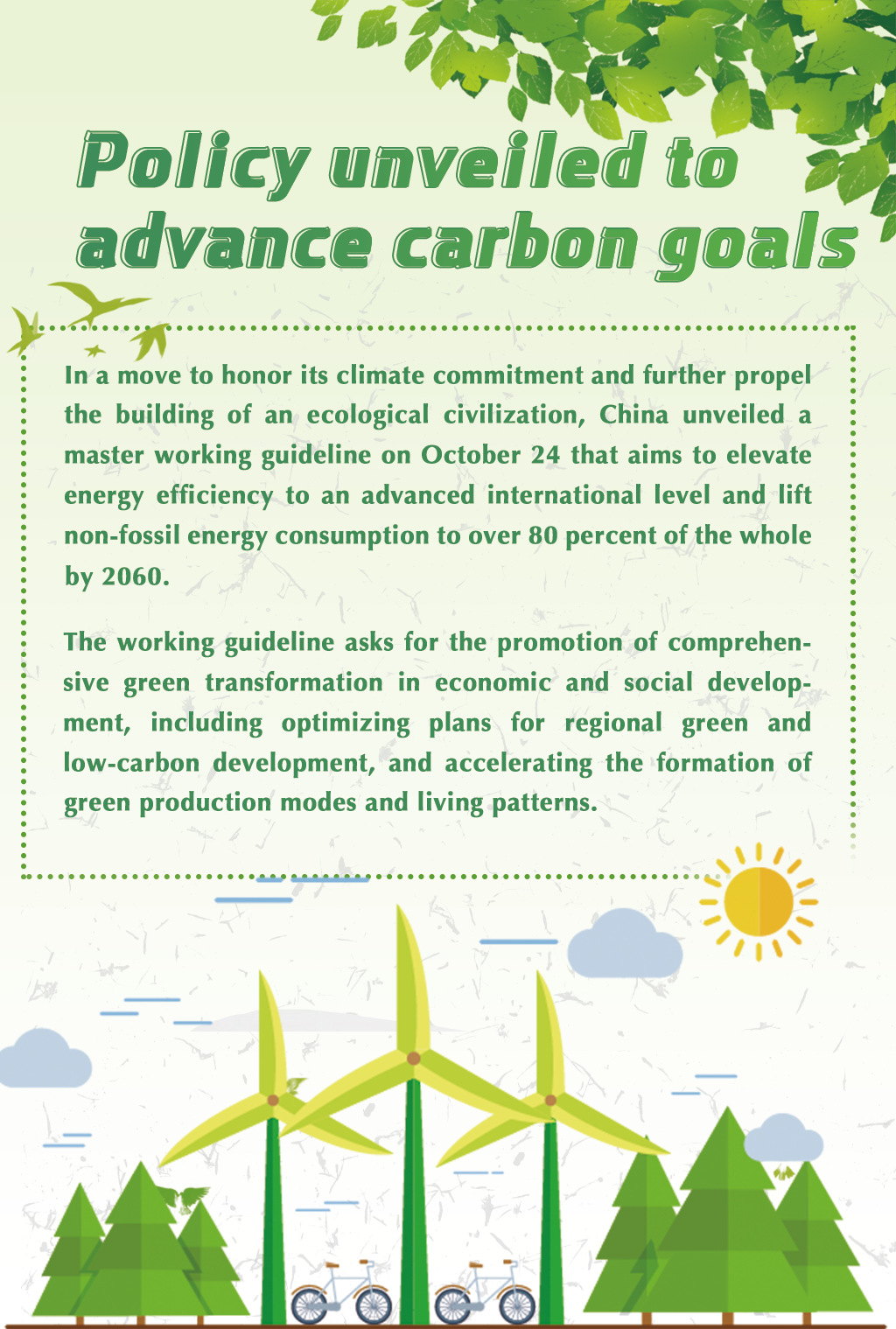 Unlike many rich countries, China hasn't yet seen its carbon dioxide emissions peak. However, it promises to achieve carbon neutrality almost at the same time as the rich countries, Wang said.
With the working guideline as an overarching guide, the country will also develop specific action plans for different industrial sectors and introduce supporting policies, including financial instruments and procedures for supervision and assessment, according to the National Development and Reform Commission, China's top economic planner.
The working guideline asks for the promotion of comprehensive green transformation in economic and social development, including optimizing plans for regional green and low-carbon development, and accelerating the formation of green production modes and living patterns.
It also urges in-depth industrial restructuring, for instance, "firmly curbing irrational expansion of energy-intensive and high-emission projects", and "vigorously developing green and low-carbon industries", while accelerating the development of a clean, low-carbon, safe and efficient energy system.
Other main facets include accelerating the construction of a low-carbon transportation system, improving the quality of green and low-carbon development of urban and rural areas, strengthening research on green and low-carbon technologies and promoting their application, and continuing to consolidate and improve carbon sink capacity.
Carbon sinks are natural and artificial deposits that absorb and hold carbon.
While promoting China's climate process, the wide-ranging transformation will also have long-lasting significance for the country's sustainable and high-quality development, according to experts.
The nation will step up reforms and improvements in energy and electricity pricing, including that for electricity transmission and distribution, they said.
High-level proportions of renewable electricity can be included in the power grid and distributed to consumers only by improving the on-grid pricing of wind, solar and other new energy sources of electricity, deepening reforms in the hydropower pricing, establishing and enhancing the pricing procedures for power storage used to balance the grid, and reforming the electricity transmission and distribution pricing regimen, according to Yang Juan, a researcher at the NDRC's market and price research institute.