Cutting-edge patrol ship opens up deep sea and beyond
By ZHENG CAIXIONG in Guangzhou | China Daily | Updated: 2021-10-25 08:34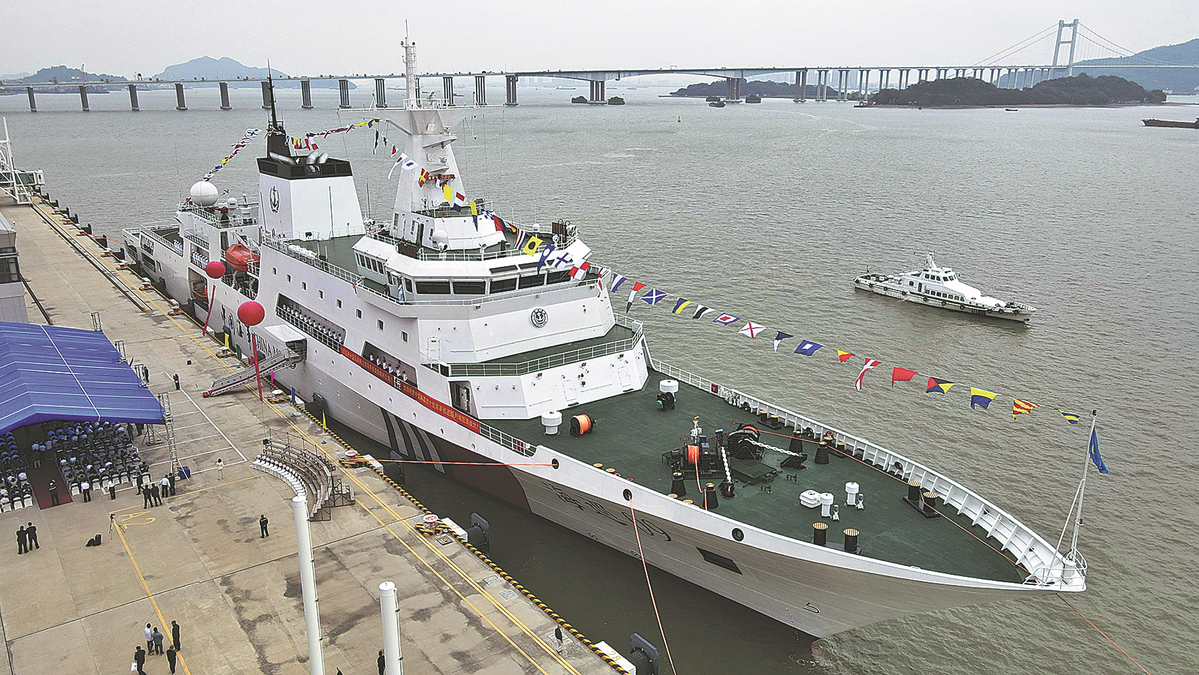 A large ocean patrol vessel officially entered service in Guangdong's provincial capital, Guangzhou, on Saturday. It will play an important role in safeguarding China's maritime rights and interests, strengthening maritime law enforcement and promoting international maritime cooperation.
Cao Desheng, director of the Maritime Safety Administration at the Ministry of Transport, said that the ship, Haixun 09, will help China's maritime system better perform its duties, standardize law enforcement and provide high-quality maritime services.
"In addition, Haixun 09 will help China participate in international maritime exchanges and collaboration, fulfill international convention obligations, and implement deep and far sea search and emergency rescue practices in the years to come," Cao said at the grand delivery ceremony, held in Guangzhou's Nansha district at the mouth of the Pearl River, on Saturday.
Cao said that Haixun 09 should become a world-class official ship and represent the Chinese dream to sail the deep seas and demonstrate the country's maritime abilities.
Zhuang Zeping, director of the Guangdong Maritime Safety Administration, said that the arrival of Haixun 09 has added new force to the development of Guangdong's maritime industry and opens a new chapter in building first-class facilities and equipment.
The vessel, which is managed and operated by the GMSA, will help strengthen the dynamic control and emergency support of marine traffic in the area, and ensure its safe and smooth flow, better serving the development of the Guangdong-Hong Kong-Macao Greater Bay Area.
Construction of the ship, which was built by the China State Shipbuilding Corp's Guangzhou Huangpu Wenchong Shipbuilding Co, began in May 2019.
It has a full load displacement of 13,000 metric tons, making it the country's first official vessel with a displacement of more than 10,000 tons. Until now, China's largest ocean patrol ship had a displacement of about 5,000 tons.
Xiang Huiming, chairman of the Guangzhou Huangpu Wenchong Shipbuilding, said that Haixun 09 is at the world-class level in terms of platform performance, intelligence and informatization.
"It also represents the highest level of official ship construction in China," he added.
The 165-meter-long and 20.6-meter-wide vessel has a speed of up to 25 knots, or about 47 kilometers per hour.
It can sail more than 10,000 nautical miles (18,520 km) at an economical speed of 16 knots and undertake voyages in excess of 90 days.