Anglers lured by nature's attractions
By XIN WEN | China Daily | Updated: 2021-10-26 07:20
Enthusiast finds there is far more to the sport than casting a line
Wang Zheng is happy to drive more than an hour to reach mountains on the outskirts of Beijing and enjoy nature.
The 44-year-old, who lives in the Chinese capital and treasures every opportunity to be outdoors, delights in lure fishing, a hobby little-known to many in China.
The colored lures used for such fishing usually resemble a small fish or a fly.
"I love this type of fishing, as it allows me to walk among the mountains, visit rivers and enjoy outdoor life," Wang said. "The natural environment is ideal for this activity and you never get tired of it."
He bought his first set of lure fishing tackle in 2008. Five years later, he had become so enthusiastic about the activity that he spent every weekend, apart from in the depths of winter when rivers froze, driving to different waterways in Beijing with his wife to explore potential fishing locations.
"We fished all over Beijing in 2014 and 2015, traveling a total distance of more than 20,000 kilometers," Wang said. "Historically, Beijing has been rich in water resources, and lure fishing has taken us to the city's five major water systems, their tributaries, and reservoirs across the capital."
Wang, an associate researcher at the Beijing Academy of Agriculture and Forestry Sciences, finds lure fishing, with its fly-tying, wading and rhythmic casting, the ideal antidote to a working day.
A native of Benxi city, Liaoning province, he said he has enjoyed fishing since childhood.
"This is not only because you get your own set of fishing tackle, but also because you can encounter some species of fish that you normally don't see in daily life," he said.
Wang had no fishing equipment when he was a boy, but he often joined friends in building dams from stones and mud to catch fish with their hands.
"To catch a big fish, you need to know how it lives and about the environment the fish flourishes in. It's like getting to know a friend," he said.
"Good fishing now depends more on protecting the environment. It's not a test of fishing skills."
Many species of fish can be found in Beijing, and Wang said residents are casting their lines in local waters without traveling unnecessarily long distances.
Mackerel, topmouth gudgeon, Chinese false gudgeon, rainbow gudgeon and gobiidae are among the species Wang has found in Beijing.
As he became familiar with more local species, he said he no longer paid attention to the size and quantity of the fish he tried to catch, but focused more instead on nature and the evolution of fish.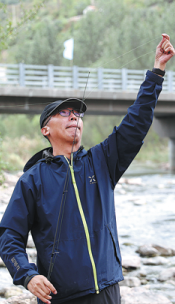 Second nature
In 1999, Wang received a bachelor's degree in animal science from China Agricultural University. Being close to wildlife is second nature to him. However, before becoming addicted to lure fishing, his contact with animal life was mostly in the laboratory.
Lure fishing made him venture into valleys, among mountains and walk riverbanks, where he began to look at nature beyond angling.
When he walks to fish in a valley on the outskirts of Beijing, the sound of rushing water from a brook drowns out everything else.
"Fish have their own mealtimes. They usually feed twice a day-once in the morning and then again at dusk," he said.
Wang added that fish also like to hide under bridges or between stones in a river. Each time he casts his line, he assesses where the fish are, the type of algae growing there, and sees how insects entice fish out of the water.
When he began studying natural history, he also read books on plants and minerals.
Now, when he drives beyond the Fifth Ring Road in Beijing, he fully appreciates green hills on the horizon, fresh river water and lush roadside plants.
Enjoyable times
Wang most enjoys lure fishing when he feels a tug on his line and has to battle to land a catch. He uses bait that it stimulates a fish's sense of smell and attracts it to the hook.
"But this method of fishing does not take fully into account the powerful lateral lines on the fish and their underwater vision," Wang said.
Lateral lines are related to schooling behavior, where fish swim in cohesive formation with many others. A lateral line tells fish where other fish are in the school and helps a fish maintain a constant distance from its nearest neighbor.
Wang added that the lateral lines and vision of predatory fish are more developed than those of other species.
A lure is usually made from inedible materials, is odor-free and mimics the shape and color of small fish and insects. The lures are cast in a variety of postures to induce fish to bite.
Three types of artificial bait are used for lure fishing-feather, hard bait and soft bait.
According to the China Angling Association, in 2015, some 120 million Chinese went fishing at least four times a year. On the short-video app Douyin, the hashtag "lure fishing" has been viewed 2.4 billion times and the activity has been named by netizens as the top sport.
"It's a whole-body exercise," Wang said. "The equipment for lure fishing is also relatively simple and convenient to use. In addition, an angler needs to take the initiative in searching for fish based on his understanding of their habits."
Wang now owns eight fishing rods and several sets of windproof and waterproof clothing.
He said that unlike in the past, fishing is now a recreational activity-not hunting for food-so humans should be kind to all types of wildlife.
Wang, who releases the fish he catches, urges other anglers to follow his example.
"Lure fishing is for the sheer pleasure of catching fish, and definitely not for the enjoyment of eating them. If anglers are still exhilarated by capturing fish en masse and satisfying their appetites, they still have a lot to learn," he said.
Trips agreement
Autumn has arrived in Beijing, and the leaves on trees in the mountains west of the city are yellowing.
On a recent Sunday morning, Wang took his wife, Jiang Xin, to a fishing location on the Yongding River, the largest such waterway in neighboring Hebei province.
Over the years, Jiang, 41, who has two children and works for a foreign-owned enterprise, has accompanied her husband to discover potential areas around Beijing for lure fishing.
The couple has reached an agreement on the places they visit. If one of them wants to go to open areas outside the city, the first stop in exploring nature is Mentougou district in the western suburbs, with 93 percent of its area occupied by mountains.
Jiang said, "The second stop on such trips is Cuandixia village, nearly the westernmost point of the city about 90 kilometers northwest of central Beijing in the Taihang mountains."
The third stop is a secluded little-visited valley in Youzhou, an aboriginal village home to 152 households on the border between Hebei and Beijing.
The narrow road to the valley along the Yongding River is also little-used, appearing like a winding path cutting through lush vegetation.
Only one vehicle a time can pass along the road. While waiting for a car to pass, Jiang noticed some wild jujube growing on the roadside. She is excited by such discoveries and is always prepared to bring them home for her children to see.
Wang finds both curiosity and wonder on the banks of the Yongding River, which flows slowly.
Where the banks run directly to the water, he runs down, takes out his fishing rod and moves cautiously among the rocks and swift currents, casting his line back and forth.
He is swift and perceptive. He casts the line several times under a bridge spanning the river, keeping it taut while rhythmically reeling it in to allow it to float freely and attract fish.
Fish appeared and followed the darting bait, but Wang ended the day by failing to catch any.
However, he was undeterred by this disappointment.
"If it had been summertime, we could have waded into the water and stood on rocks in the middle of the river, as its much easier then to catch fish," he said.