Virus cases 'could start to fall' in UK
By JONATHAN POWELL in London | China Daily Global | Updated: 2021-10-26 09:01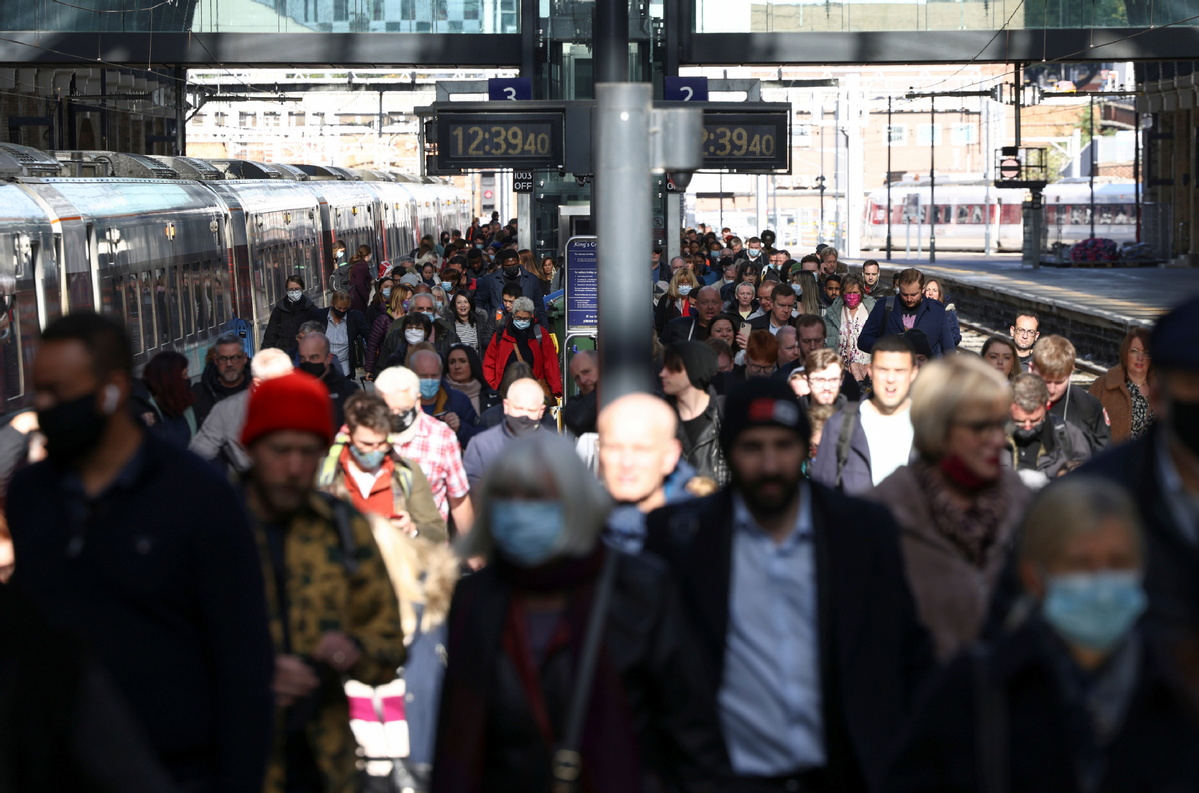 COVID-19 cases in the United Kingdom are projected to drop significantly next month even without the so-called Plan B social restrictions, according to scientists.
Modeling published by the London School of Hygiene and Tropical Medicine last week suggests infections will peak soon before plummeting over winter, the Daily Telegraph reported.
Government ministers have faced calls to introduce face mask rules and work from home guidance, after daily cases topped 50,000 and 223 people died in one day last week.
The paper said officials are holding off introducing new restrictions after seeing projections from several groups that show infections declining, with some forecasting cases dropping to around 5,000 a day before Christmas.
Quoted by the Telegraph, John Edmunds, of the London School of Hygiene and Tropical Medicine and a member of the government advisory group SAGE, said: "When we were doing the work about two weeks ago, the Health Secretary had made it very clear that the government was not planning to introduce Plan B in the near future.
"Our model was projecting that cases would start to decline some time in the autumn.
"However, the model also suggests that cases may start to climb again in the spring, due to a combination of waning immunity and increased contacts."
The Telegraph said that some experts believe numbers are being driven by children returning to school after the summer holidays, but that there is increasing immunity through both infection and vaccinations.
Speaking to the BBC on Sunday, the Chancellor of the Exchequer Rishi Sunak ruled out additional restrictions and said there would not be a lockdown that required the economy to shut down.
"We're monitoring everything, but at the moment the data does not suggest that we should be immediately moving to Plan B, but of course we will keep an eye on that and the plans are ready," Sunak told The Andrew Marr Show. He added that the vaccine rollout was "the best line of defense against having to move to put in place any restrictions".
On Monday, Health Secretary Sajid Javid told Sky News: "We don't think the data shows that we need to move to Plan B."
The government has come under increasing pressure, and the opposition Labour Party has been calling for the immediate reintroduction of restrictions.
On Sunday, infections fell below 40,000 for the first time in 12 days and deaths dropped to 72.
Experts told the Telegraph that if the models were correct, then restrictions are not necessary at this stage and would only serve to delay an outbreak.
Meanwhile, Peter Openshaw, a member of the New and Emerging Respiratory Virus Threats Advisory Group, warned on Saturday that case numbers and death rates are currently "unacceptable".
Speaking to the BBC, he advised people and employers to "take matters into your own hands". He said: "Don't wait necessarily for government policy.
"What we're facing at the moment is unacceptable; we've got roughly 1 in 55 people infected, which is an astonishingly high rate compared to most other west European countries."