Chretien: Ottawa shouldn't tell Beijing 'what to do'
By RENA LI in Toronto | China Daily Global | Updated: 2021-10-28 09:49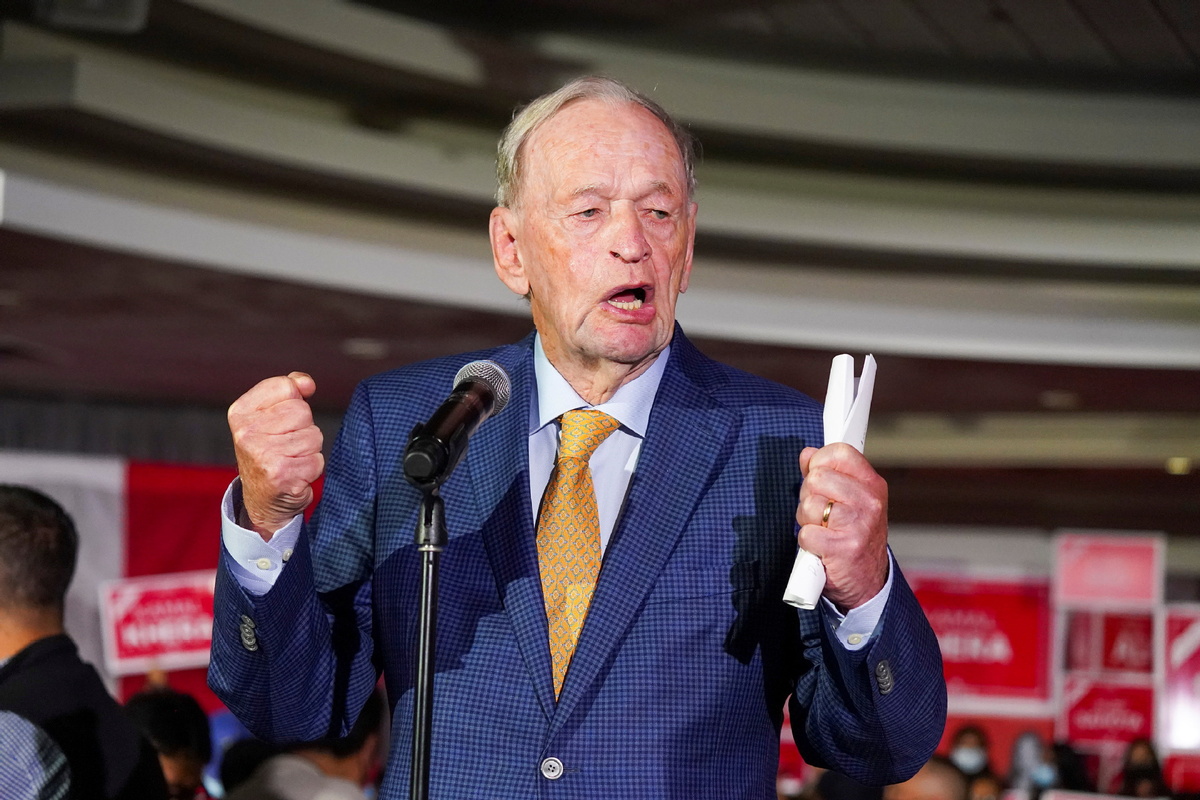 Former Canadian prime minister Jean Chretien said the federal government needs to deal with the reality that China is a superpower like the United States, and that Canadian politicians should not believe that "they could tell them what to do".
Chretien made the comments in an interview with CTV's Question Period while promoting his new book My Stories, My Times, Volume 2. He asserted in the interview that the Meng Wanzhou case was always a "political problem", not a legal one.
He said Canada was a "victim" of the US and he disagreed with how Prime Minister Justin Trudeau's government handled the extradition case of the Huawei executive and the matter of the former Canadian detainees.
The Globe and Mail reported in June 2019 that Chretien had floated the idea of Trudeau intervening to drop the case against Meng.
In a 2019 interview, Chretien said tensions between Canada and China were the result of a "trap" laid by former US president Donald Trump, and it was very "unfair" because Canada paid the price for "something that Trump wanted us to do".
At the request of the US, Meng was arrested at the Vancouver International Airport on Dec 1, 2018. She was then placed under house arrest in Vancouver. Last month, the US Department of Justice and Meng's defense team reached an agreement that led to her returning to China.
Chretien told broadcaster CBC that he always had a "special relationship" with China. During his tenure from 1993 to 2003, Chretien balanced a working relationship with China, especially on economic issues, while being "very candid" on human rights.
"They don't always agree with you, and most of the time we have to say, 'We agree to disagree'," he said.
Chretien also acknowledged that China had changed since his time as prime minister, and Canada should recognize that too.
"It's a different time today," he said. "We had disagreements, but now they have become a power, and they're playing as a power. I'm not surprised."
Margaret Cornish, a former Canadian foreign service officer, said Canada is no longer the "middle power" that it used to be, and it needs more "humility".
"Canada is treated as a 'minor power' by both the United States and China. It's time to take responsibility for our own core interests, recognizing our responsibilities to the US, but aware and focused with respect to our own interests," said Cornish, speaking at a Canada-China relations panel discussion hosted by the Institute for Peace and Diplomacy. Minor power status is when a major power neither consults nor accommodates the other country.
The US has failed to accommodate Canada's interests in relation to steel and aluminum tariffs, and in forestry negotiations of the United States-Mexico-Canada Agreement.
The deal also gives the US veto power over any future trade agreement between Canada and China. And if the US does not like what Canada has negotiated with China, Canada will be kicked out of the agreement, Cornish said.
Cabinet reshuffle
Meanwhile, Trudeau overhauled his Cabinet on Tuesday and named women to the foreign affairs and defense posts. He also said he intends to lead his party into the next election.
Trudeau named Melanie Joly as foreign minister and Anita Anand as defense minister. Chrystia Freeland retained her positions as deputy prime minister and finance minister.
Women make up half of the Cabinet as they have since Trudeau's Liberal government was first elected in 2015.
Trudeau has won three straight elections, but failed to win a majority of the seats in Parliament in the last two elections. His Liberal party has to rely on at least one party to pass legislation and remain in power in a minority Parliament.
Agencies via Xinhua contributed to this story.