Kenya issues strict directives to boost vaccine uptake
By Edith Mutethya in Nairobi, Kenya | chinadaily.com.cn | Updated: 2021-11-22 17:13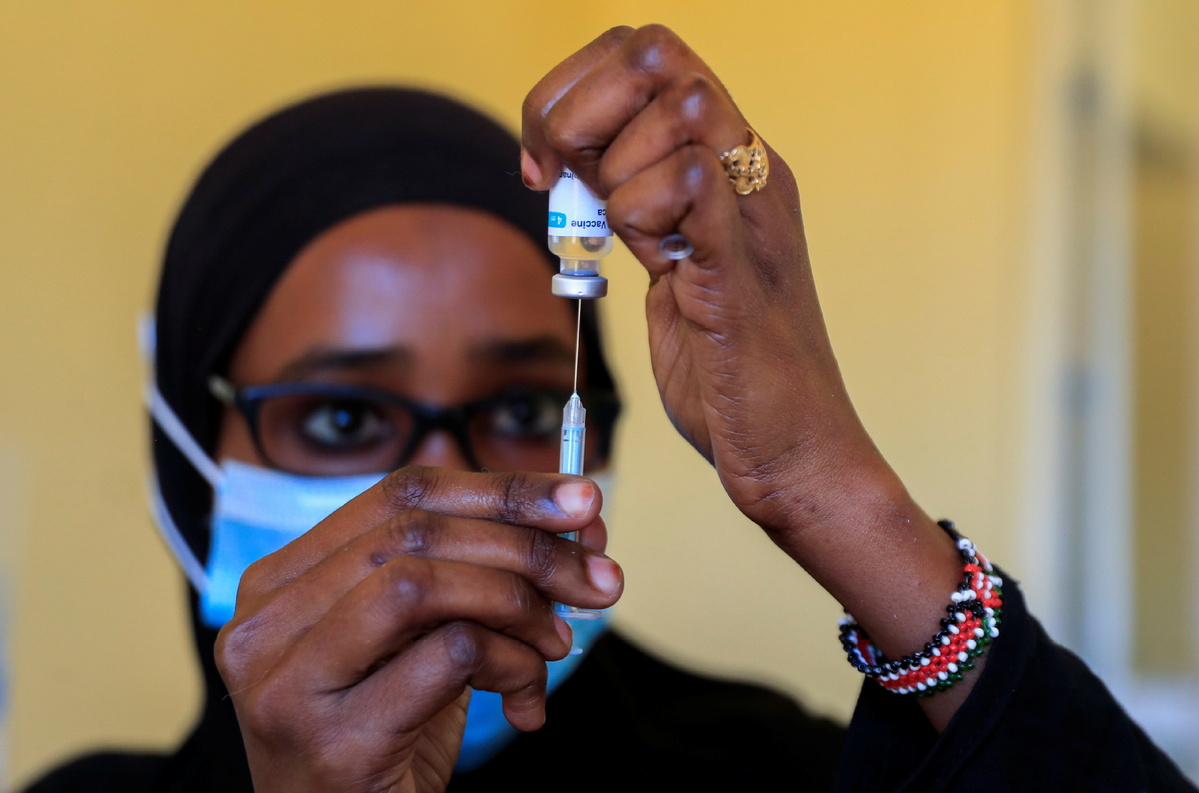 In efforts to increase the COVID-19 vaccine uptake, on Sunday the Kenyan government issued strict directives that will see those who are not fully vaccinated denied access to in-person government services.
Mutahi Kagwe, the health cabinet secretary, said from Dec 21, Kenyans seeking services offered by the Kenya Revenue Authority, National Transport and Safety Authority as well as hotels, will be required to present proof of COVID-19 vaccination.
This is in addition to hospital and prison visitations as well as education, port and immigration services among others.
"Drivers, conductors, bodaboda riders, pilots, air hostesses and all other workers in the sector should be fully vaccinated and carry proof of vaccination at all times," Kagwe said.
People will also be required to show proof of vaccination for admission into national parks and game reserves, hotels, bars and restaurants.
All businesses, including small and medium-sized enterprises serving 50 or more people a day, will be required to put up signage requiring proof of vaccination before entry into their premises.
Kagwe said the decision had been reached following a review of the prevailing situation in the country and consultation with epidemiologists, the National Emergency Response Committee and the Ministry of Health technical advisers as well as need to ensure the country remains on track in the containment of the disease.
"The key reason why all of us need to be vaccinated is to ensure that we keep the economy going and make sure we do not go back to hospitalization and people suffering at home," he said.
"Those who have been vaccinated will not risk their lives serving those who have refused to be vaccinated."
Kagwe said vaccination is a critical pillar in the control of the pandemic as a long term solution to prevent severe cases of the disease, deaths and an enabler for a return to normalcy.
"Over 95 percent of all those hospitalized are unvaccinated, meaning those vaccinated stand a better chance of fighting and avoiding severe disease," he said.
To accelerate vaccination, Kagwe said the Ministry of Health in collaboration with the county governments and other stakeholders will undertake a 10-day mass vaccination exercise from Nov 26 with the aim of administering adequate vaccines to as many people as possible.
Kenya is looking at vaccinating 10 million adults by the end of next month and all the adult population of 26 million by next year.
So far, the East African country has fully vaccinated slightly over 2.4 million people representing 8.8 percent of the adult population.
"Our overall goal of achieving herd immunity is vaccinating at least 30 million Kenyans by the end of next year," Kagwe said.
Kagwe said Kenya has to date received 10. 7 million COVID-19 vaccines, of which 6.4 million have been administered. The country is expecting 8 million doses of various vaccines in the coming days.
Kagwe announced that the Kenya Pharmacy and Poisons Board had reviewed and given emergency use authorization for the administration of Pfizer vaccines for those aged 12 years and above.
"We are expecting 4 million doses of this vaccine which will be administered to the teenagers," he said.
Following the authorization, Kagwe said Kenya will start vaccination for teenagers aged 15 and above, with a target to vaccinate 5.7 million youngsters who are in the age bracket.